Now you've seen it all - a museum of paan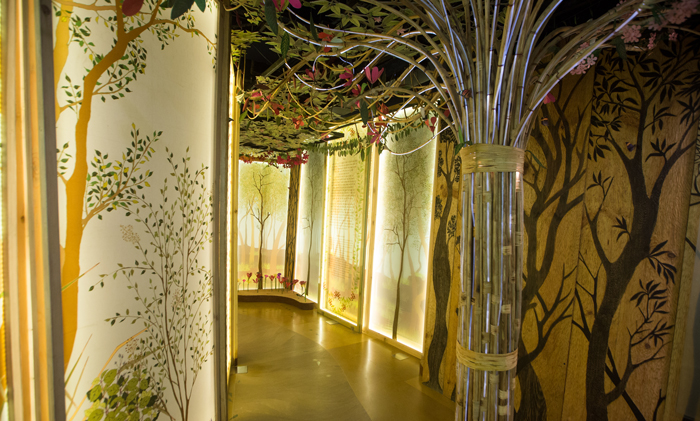 There's a street in Noida that's thick with the fragrance of paan. Okay, so there are many streets in Noida thick with the fragrance of paan, but this one's special. It's home to a private museum built by the DS Group - the proprietors of Rajnigandha.
Actually, it's closer to a shrine than a museum, because it's dedicated to themselves.
Welcome to the DS Museum, a multi-crore labour of self-love.
The DS Group is a mighty 86-year-old conglomerate with an annual turnover of Rs 6,500 crores. It owns a fleet of steel manufacturing units, hotels, spice brands, mineral water brands and - above all, the backbone of their business - Baba, Tulsi and Rajnigandha. It's located on a street named after the founders - Dharampal and Satyapal.
The bizarre experience that is Rajnigandha's museum
When you think paan manufacturers you're probably not imagining hi-tech sophistication, but you're wrong. From the moment you enter, when you're greeted by a mustachioed man in a suit awkwardly addressing you from an LED screen, technology is everywhere. He's flanked by an ostentatious cascade of rose petals. This is Ravinder Kumar, chairman of the DS Group. He thanks me for the opportunity to 'rubaru'.
A particularly soft-spoken man, Pradeep Oli is in charge of chaperoning me around. There isn't a person, other than Oli and a nameless colleague, to be seen for a hundred feet in any direction. Notably, neither is a paan stain.
The Chairman, meanwhile, continues to expound on the virtues of prakriti and the DS Group, oblivious to us and to the red petals cascading endlessly behind him like a PG-13 version of American Beauty.
Where do I begin
With both the chairman's politeness and the rose petals seemingly exhausted, the screen is finally off. But the journey has only just begun. Literally. I'm shepherded to the imaginatively named Journey Room, which attempts to chronicle the group's - well, journey - from a humble start to the eventual success that has left an indelible mark on the heart and teeth of the country.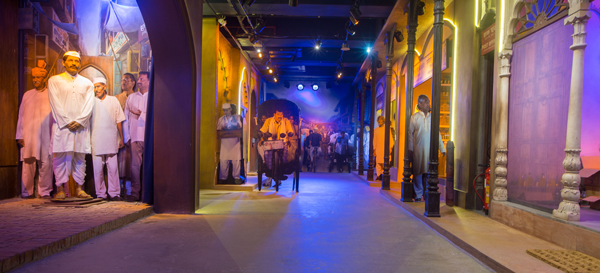 We begin in 1940s Chandni Chowk. This isn't some shoddy, penny-pinching government museum recreation. Because with great paan comes great responsibility. So what we get is a startlingly true to life tableaux, one that visitors to that other Delhi homage to kitsch, Kingdom of Dreams, are probably familiar with. It's lined with shops, stalls, life-size rickshaw-wala cutouts and pedestrians, the atmosphere enriched with a soundtrack that would be equally at home in Attenborough's Gandhi.
There are no anachronisms. The watchmaker's watches, if you examine the shelves carefully, are dated. Each shop has stone-chipped flooring - now found almost exclusively in zamindari homes of North Calcutta. The sarees on display are abominably coloured chiffons, all the rage back then. The packaged products on sale have illustrations of white women in gaudy dresses, reminding us that not everything has changed between then and now.
One shop on this street is the original ittar store of our journey's protagonist, Dharampal Premchand. As we enter, we see a havan in progress. A disembodied voice tells us that history is in the making - Dharampal is going to announce himself to the world.
But alas! Disaster, Bollywood-approved, strikes - a fire breaks out. Flames consume the shop. The music builds to a crescendo. Dharampal's efforts are reduced to ash. The lights go dim.
On another corner of the street a woman in wax appears. She is Sharvati Devi, wife of Dharampal. Unconcerned at the effect the fire may have on her waxy countenance, she says, "Sell my jewellery, and restart your shop". Dharampal resists, then accepts, for he has no choice. The music takes a happier turn.
The new shop is a success. Baba, DS Group's iconic 'dilon ko chhoone walla' brand is launched. The rest, as they say, is history.
Enter the psychedelics
If all of this was too 'normal' for your liking, relax, the DS group has you covered. We exit Chandni Chowk through a corridor lined with photographs of the DS family posing uncomfortably with Vinod Khanna and Jeetendra, among others - and emerge into an amphitheatre with a 360 degree screen. A show begins.
I expected to learn about ittars and spices, but was instead introduced to the family's Bollywood connections
Even in retrospect, its purpose remains a mystery. Spices dance with unbridled exuberance to contemporary music. Silver elaichi balls, cloves and saffron create elaborate formations. Without warning, we're bombarded with photographs of the family and their products. The onslaught is relentless. The imagery surrounds us, leaving us disoriented, helpless and hypnotised in a paan empire-themed abyss.
The lights come on. The show ends. I breathe out, perhaps too audibly. Oli doesn't react. He wears the look of a man who's seen this before.
As we exit, I'm led past shelves of products first, then elaborate art installations that represent those same products and then out. I expected to learn about ittars and spices, but was instead introduced to the family's Bollywood connections.
Can't make this stuff up
If the museum has a name, then no one is sure what it is. One person referred to it as the Sugandhi Museum, another as The Journey. Oli doesn't know which it is.
I eventually get an email addressing it as the DS Museum. Fitting perhaps, for the museum is little but an exercise in familial narcissism. The word museum becomes a misnomer, because this is no education in the business of tobacco-making. It exists primarily for the company's employees to gawk at the family's success.
And yet, the DS Museum of the DS Group on DS Road is a must-see for the insight it provides into the banality of self-importance. It's an outsize display of affluence with all the subtlety of a Kamaal R Khan tweet.