5 April Fools pranks that won the internet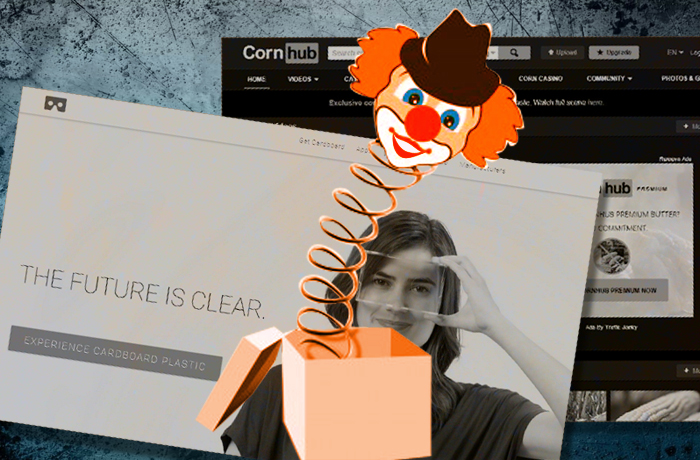 Don't believe everything you read is sound advice for navigating the internet. Today, however, there is nothing you can take on face value. April Fools' Day has traditionally been a bastion of mischief, but, in today's web-driven world, the scale and scope of April Fools' knows no bounds. Here's a quick rundown of the best (unless you fell for them) online April Fools' pranks pulled today:
01
The a-maize-ing Pornhub
When it comes to savvy marketing, few do it better than PornHub. We imagine they're marketing and PR teams work long and hard to come up with their campaigns, and April Fools' was no different.
Millions of users hoping for a quick date with Palmela Handerson were left momentarily confused when they logged on to Pornhub today, and instead of being greeted with the usual years and years of porn were instead greeted by ears and ears of corn.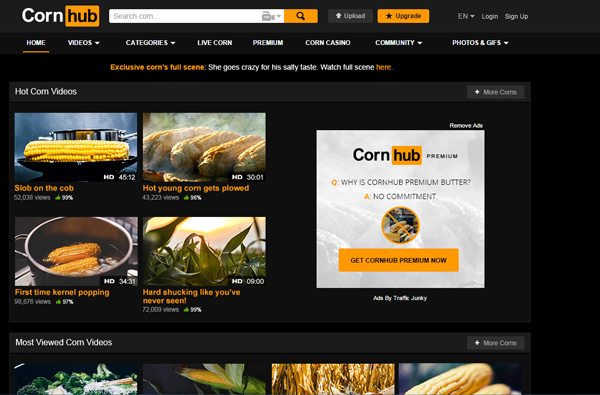 That's right, a stroke of marketing genius and a fake landing page, introduced us to Cornhub.com, the racy corn-streaming video website you never knew you wanted. From the more conventional hardcore corn to interracial corn shucking, the innuendo-laced page was genius, well, as long as humour turns you on.
02
Google drops mic and ball
Google isn't just the world's largest search engine, they're also the pioneers of April tomfoolery. But, as today proved, even 15 years of experience doesn't mean a prank won't blow up in your face.
In their search for the perfect prank, Google decided to play around with Gmail - by adding a new mic drop button feature. The button, which appears right next to the usual send mail button adds a gif to the email of a minion dropping a mic, implying that the conversation is over. Harmless enough, right?
Wrong. it did more than just imply the conversation is over -- it actually ended them too. The feature archived conversations, preventing users from seeing notifications of replies to their mails unless they checked the rarely-used All Mail folder. The prank was good for a little while, but then things started to go horribly south.
Strange, none of these people seem to share the Gmail team's sense of humor. https://t.co/12tIQvgrEM pic.twitter.com/60VAp4SZ5P

- Andy Baio (@waxpancake) April 1, 2016
People complained about losing jobs as a result of accidentally clicking the mic drop button instead of send. Google pulled the feature in response to the backlash, but we're not sure whether the prank's victims will be using Google to look for new jobs.
03
Google Cardboard Plastic - thinking outside the cardboard box
Okay, so Google's mic drop prank bombed, but Google didn't get to where Google is without hedging their bets. And this prank was hysterical.
Even if you've just emerged from under a rock, you probably know about Google Cardboard - Google's low-cost virtual reality (VR) headset. But virtual reality just wasn't enough for Google, so the landing page of the Google Cardboard project had this instead: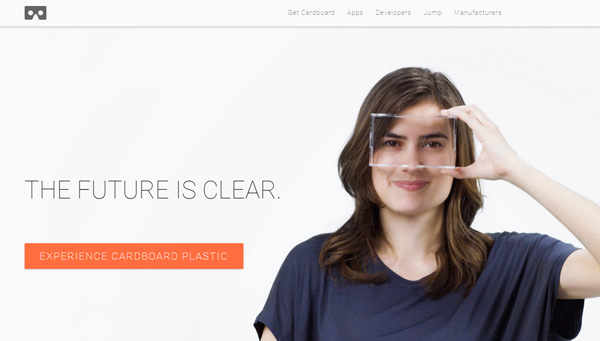 That's right, forget headsets for virtual reality, Google's team of pranksters came up with the world's first actual reality headset. Boasting 20-20 vision, 360 degree sound and a product as powerful as you (but not more powerful than you), Google Cardboard Plastic is proof that good marketing can make even a parody sound appealing. And if the concept wasn't already funny enough, the video for it was even better:
04
YouTube does it Doggystyle
When YouTube's first showcased 360 degree videos it seemed almost unreal. But, on April Fools, Youtube found a way to top that - not just 360 degree viewing, but 360 degree viewing. with Snoop Dogg:
The feature, implemented as a tiny Snoop Dogg icon, takes you to a select group of viral videos which have been Snooptimised. Each of the videos are in 360, beginning with a shot of Snoop Dogg and popular youtubers watching and commenting on viral videos in a theatre and allowing the user to pan - allowing them to view the video while listening to Snoop Dogg's hilarious commentary.
For those of you who've already seen Snoop's nature documentary series, you already know what's in store. For those of you who haven't, check out the video below, and if you're still not convinced you need some Snoop in your life, you're probably dead inside.
Generally when the US Army is involved in a story it means some middle-eastern country is about to experience a really grim few years. But, as it turns out, the US Army isn't just about killer drones, but killer April Fools' pranks as well, like this:
#BREAKING: #USArmy @NatickSSC scientists successfully 'teleport' Soldiers https://t.co/4P8ZJsNg32 pic.twitter.com/Z4UUj3yWzX

- U.S. Army (@USArmy) April 1, 2016
That's right, teleportation, because flying overseas to bomb tinpot dictators and search for non-existent WMDs is just too much effort.
The Army actually put out a whole article detailing how they'd successfully teleported a soldier to Germany. The piece is replete with quotes from scientists and soldiers talking about the development and seems serious enough. if you're a gullible twit.
We doubt it's fooling anyone, but we'd like to believe that somewhere in the territory of ISIS, there's a load of humourless jihadis who just shat themselves with fear.
Edited by Aditya Menon