With an eye on ending terror in the region, Modi and Ghani discuss security and Pak's role
Catch Team
| Updated on: 24 October 2017, 21:35 IST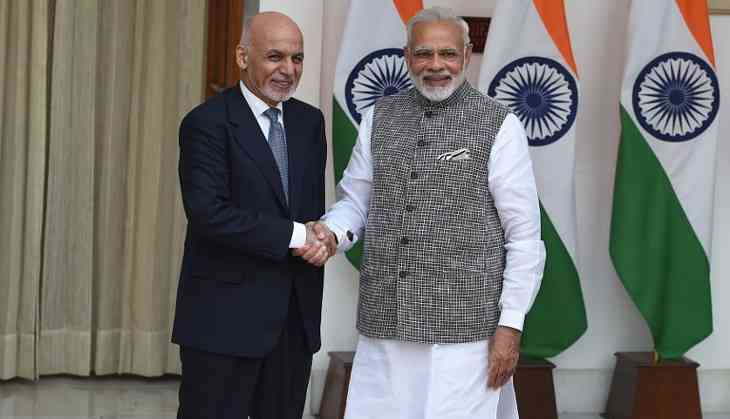 Hours before US Secretary of State Rex Tillerson touches down in New Delhi for his first visit, Afghan President Ashraf Ghani and Prime Minister Narendra Modi held wide-ranging talks on 24 October.
The Afghan President told India that it must not feel left out as efforts are made to bring in the Taliban to talk of peace, something which may have bothered India owing to confusing noises emanating from Washington.
In his address at Vivekananda Foundation, Ghani reassured New Delhi even as he was unsparing towards Pakistan. The Afghan President spoke of how India is not ignored during discussions with the Taliban leadership and that a broader Kabul dialogue process would happen in January.
The Afghan president also called the recently-held Quadrilateral Group talks as necessary, but not sufficient.
Ghani's visit follows National Security Advisor Ajit Doval's surprise visit to Kabul as the QCG comprising of US, Pakistan, China and Afghanistan met in Muscat, Oman, to what experts say is a revival of the process which has failed in the past. The QCG talks came to a halt after an American drone strike took out Taliban leader Mullah Mansoor as he travelled in a car.
The resumption of QCG, days after Trump announced the new policy for the region had caused discomfit in Delhi. Hence, Ghani's visit to Delhi to show India-Afghanistan bonhomie.
Pointing fingers at Pakistan
Both the Donald Trump administration and the Afghans are continuing to up the ante on terror groups operating from Pakistan, demanding that the latter act against them.
Tillerson, talking to media at Bagram, spoke of how the US has made very specific requests to Pakistan about the support Taliban is receiving and how Pakistan needs to "take a clear-eyed view of the situation that they are confronted with in terms of the number of terrorist organisations that find safe haven inside..."
Ghani, in his address in Delhi, did not spare Islamabad either as he pointed out how distinction between good and bad terrorism is still haunting Afghanistan, a clear reference to Pakistani security establishment's policy of supporting specific terror groups. Ghani said how Pakistan needs to make a choice at this key juncture when it comes to supporting terror groups. Afghanistan is currently going through perhaps the worst phase of violence since 2001.
Trump's new policy on Afghanistan has caused quite an upheaval in the region. More so, concerns over how it would interplay with his strict stance on the Iranian nuclear deal has experts in a quandary.
The Russians too have upped their involvement. Earlier this month, Russia's special envoy to the region Zamir Kabulov had travelled to assuage Indian concerns over the Afghan peace talks. Russia, too, unnerved by the possibility of ISIS gaining a foothold in the region, has been advocating an outreach to the Taliban and a critical role for Pakistan.
Double speak
A security expert who has worked on the region for long says India should not be taken in completely by the attractive sounds that the Americans are making. He was referring to how Trump had appreciated India's role and demanded that Pakistan acts against terror groups.
This expert says the new policy would involve some double speak on the part of the Americans for Pakistan, too, is important in their scheme of things to sort out the embroglio in Afghanistan. More so, he says, India should take it in its stride and continue to focus on strengthening its bilateral relationship with Kabul, which has grown considerably. India should also particularly target the security relationship between both the countries and continue to equip the Afghans as per their demands.
Ghani, in his address, praised how India gave four military helicopters and said Afghanistan was open to receiving more. Earlier, a statement released by the Ministry of External Affairs spoke of how "the support extended by India in the defence and security fields, including training of thousands of Afghan defence and security personnel was positively assessed."
The Indian side agreed to extend further assistance depending upon the needs of the Afghan defence and police forces.
With things in Afghanistan at a critical juncture, some security experts advocate that India should reach out to the section of moderate Taliban just keeping in mind the future government scenario in Kabul with even Tillerson offering moderate Taliban a part in the government. But others differ - another expert says with no clarity on the different factions and who holds how much sway there is little point in engaging with them.