Who won, who lost and how it changes dynamics: decoding Super Tuesday results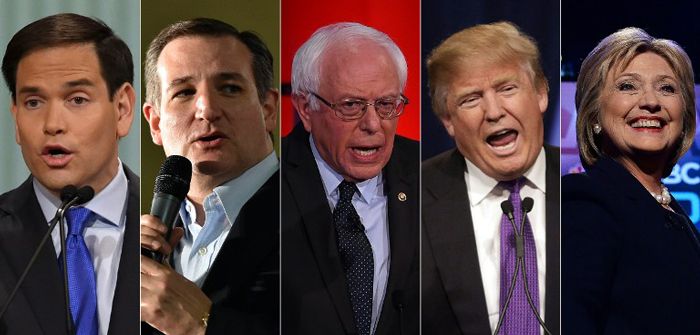 A month on from the first Presidential primary in Iowa on Feb 1, and with Super Tuesday now in the bag, the race is looking more and more decisive.
Super Tuesday, the day on which "the largest number of states hold their nominating contests" has made two thing clear: Donald Trump is a seemingly unstoppable force and Hillary Clinton may be one step closer to becoming the first female President of the United States of America.
Here's a short recap of what went down:
Donald Trump is not yet the Republican nominee
Big nights for Donald Trump and Hillary Clinton

It is not over on both sides of the race, Republican or Democratic

Neither Ben Carson nor Marco Rubio are dropping out of the Republican Presidential race

Florida senator Marco Rubio failed to secure the 20% minimum needed to earn any delegates in three states - Alabama, Texas and Vermont

By 15 March, we could have an even clearer idea of how the race is unfolding as nine different states hold contests between now and then

The loser of the night seems to have been someone not even in the race anymore: New Jersey governor Chris Christie
Also read: All eyes on the US: here's why Super Tuesday is such a big deal
The winners
Donald Trump
The candidate no-one though would last through the fall, let alone Super Tuesday, keeps on surprising. Trump, may not have swept all states, or even won the state with most delegates - Texas - but he did win seven states. What's more, Marco Rubio, who many Republicans are hoping will be "The One" to defeat Trump, won only one state out of eleven. That state was the first for Rubio in the entire race so far.
With it still very much a three-horse race, it seems more and more likely that Donald Trump will benefit most from this fractured race.
Ted Cruz
Yes, Cruz won only three states, less than half of Trump's seven, but still emerged a winner.
Or maybe not.
It all depends on what your expectations were before the night started and how you feel after. The south could have been a place where he made up the deficit to Trump, but that didn't happen.
Also read: Donald Trump's Super Tuesday speech may be his strangest one yet
In Cruz's favour is the perception that he's increasingly the only viable non-Trump candidate for the Republicans - and that could be a big deal going forward.
His future - and his path to overcoming Trump - depends on a lot of factors but if he can dwindle the race into just him and Trump, that may be the springboard his campaign desperately needs. Super Tuesday has shown that the Republican field should start dropping out in order to give him a chance of defeating Trump.
Hillary Clinton
Hillary Clinton won and won big. Like Trump, Clinton won seven states out of eleven. In Alaska, she won 78% of the vote. In Georgia it was 71%. Arkansas, Tennessee, Texas and Virginia all had her winning by over 60% - basically a landslide. Crucially she won Massachusetts, that neighbours Sanders' home state of Vermont. Alabama, Georgia, Tennessee and Virginia, all called results almost immediately after polls closed.
Clinton had a huge edge among the black voters in the south and that helped her beat Bernie; she now has more than double the delegate count of Sanders. In her victory speech she barely mentioned Sanders, seemingly brushing him aside as a challenger. She instead focused her attention on Trump, the likely Republican candidate. It seems that Clinton is already running a general election campaign, and in coming days, we might see her and her campaign declare victory over Vermont senator Bernie Sanders.
Chris Christie
New Jersey Governor Chris Christie's decision to bow out of the race and endorse Donald Trump seems to be paying off - he could become the first from the Republican establishment to back the eventual winner.
Also read: Despite an underwhelming Super Tuesday, Marco Rubio says he'll defeat 'conman' Donald Trump
Losers
Bernie Sanders
Yes, Sanders showed resilience on Super Tuesday with four wins including his home state of Vermont, and his win in Minnesota was a surprise to all, but saying that, Sanders needs to do a lot more to overcome the juggernaut that is Clinton.
Winning the odd small state, here and there, is not nearly enough. It's also not the national revolution of nonvoters turning out of Bernie that was hoped for. The problem for Sanders is that he hasn't made any inroads with the black voters, something that helped Barack Obama triumph back in 2008 and that is a major concern for the campaign. Sanders campaign hasn't been all negative and with his small victories here and there, there is enough for him to stay in the race for another few weeks. He needs to do superbly well on 15 March, where 5 states - Florida, Illinois, Missouri, North Carolina and Ohio - are voting. A decisive loss there and his campaign could be all but over.
Marco Rubio
Yes, Marco Rubio was the biggest loser from the Republican field. Rubio finished Super Tuesday with a solitary victory. Rubio didn't even finish second in most of the states. He finished a distant third to Trump and Cruz. In many states - Alabama, Texas and Vermont - he missed the minimum threshold of 20% to get any delegates. Rubio may have been running a campaign and pinning his hopes that the establishment would vote for him instead of Cruz or Trump but none of that is happening. In a number of states, that just wasn't happening.
It is hard to imagine a scenario in which Rubio stays in the race post 15 March. He is polling behind Trump, by 20 points, in his home state of Florida. That is significant.
Also read: 'What a Super Tuesday!' Hillary Clinton tells supporters, takes on Donald Trump
Ben Carson
Ben Carson is not dropping out of the race even though he should. He finished 4th or 5th in all 11 of the Super Tuesday states and with just 8 delegates to his name, everyone is bewildered as to why he doesn't just drop out of the race and help Cruz with the anti-Trump vote.
Chris Christie
Chris Christie introduced Trump and then awkwardly stood behind him the whole time. His look of doom, just said it all. Even Vanity Fair just called it.
Trump Your Enthusiasm pic.twitter.com/cPeweKwgVD

- Seinfeld Current Day (@Seinfeld2000) March 2, 2016
The internet agrees: the saddest loser on #SuperTuesday was Chris Christie https://t.co/1f9XZD8UuF pic.twitter.com/zHFZVoIMm6

- VANITY FAIR (@VanityFair) March 2, 2016
Also read: Did Donald Trump just make some sense? Twitter speculates over Super Tuesday speech