Watch Video: Crocodile attacks zoo-keeper's hand at Phokkathara Crocodile Farm in Thailand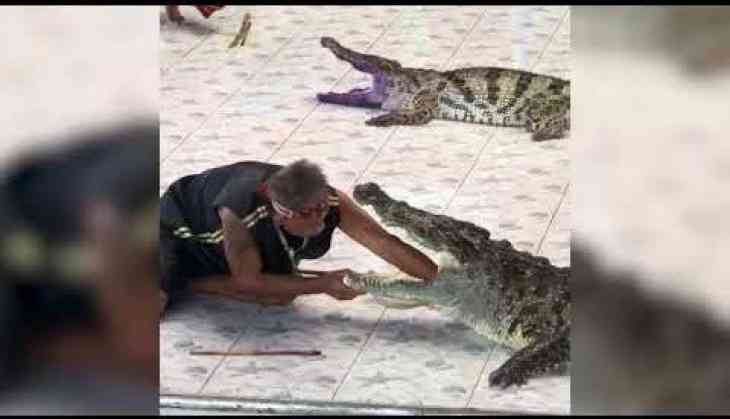 In a scary incident, which took place at Phokkathara Crocodile Farm and zoo in Chiang Rai, a crocodile attacked zoo-keeper's hand. At the zoo, the trainers often put their head and head in the mouth of the reptile to entertain visitors.
The man was pushing his hands more than once before the animal strikes. The shocking moment happened during one such live shows and the daunting images left the audience, including children scared and screaming.
The jaw-dropping scene was captured by Khun Phusawit, 35, who had been visiting the Phokkathara Crocodile Farm and zoo with wife Nok and two children. The footage showed the zoo-keeper reaching inside the crocodile's mouth and pushing deeper down its throat. He continues to nudge deeper looking at the audience unsuspecting the impending attack.
Also Read: Viral Video: Watch Chinese woman speaking in Tamil is winning hearts on Twitter
Suddenly, the crocodile closed its jaw and clutching the hands. He managed to get his hands out from its mouth but not without a fight. The bloody scene made the announcer to stop the music, as he is seen rushing off from the arena.
According to The Sun, the owner of the crocodile park, Dong Wittawat, said the trainer who had been bitten was treated at the farm with bandaging to his arm. "He was was treated at the farm with bandaging. He loves crocodiles and he will be working again soon in the next two weeks. It is very rare for this to happen," he said.
Also Read: Watch Video: Twitterati isn't happy after men save dog from clutches of python, know why