US Elections 2020: Why Donald Trump's rhetoric could trip up Joe Biden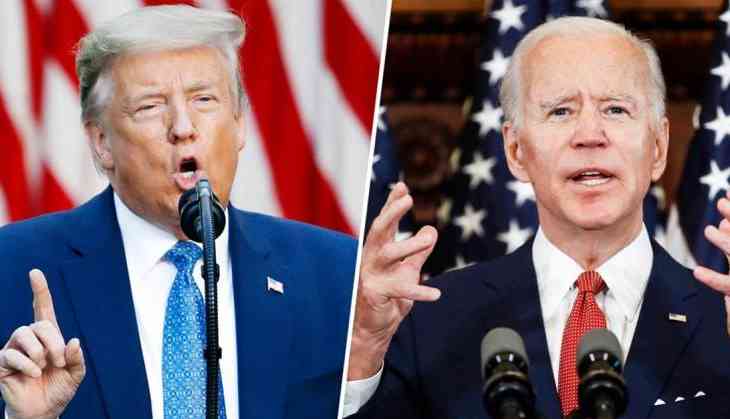 Donald Trump and Joe Biden
The war of words between Republicans and Democrats in the US Presidential Elections 2020 is beginning to get nasty. Republican presidential nominee Donald Trump has started terming Democrat presidential nominee Joe Biden's record as being against the spirit of the American dream. Trump has accused Biden of supporting unmindful wars on foreign territories which led to unnecessary deaths of American soldiers in those wars.
Both sides love rhetoric, but going by the experience, Trump is a veteran when it comes to the rhetoric game. It is difficult to predict Trump's outburst on any issue. Trump has a reputation for speaking his mind and getting things done—these two qualities could tilt the scale in Trump's favours if Joe Biden falters under pressure. Trump is unapologetic and raw in may respects—something many people find as being real—but Joe Biden appears to be someone who wants to embrace the top post, but lacks the fire and attitude.
How Joe Biden counters Donald Trump's attacks during Presidential debates remains to be seen. Last time, even with his limited administrative knowledge and understanding of international affairs, Trump managed to survive the onslaught of one of the best orators Hillary Clinton. Now, Trump has evolved as a politician and bragging about his ability to move and get things done, even forcing China to mend its ways on many fronts. Trump will play on the front foot on foreign policy and Joe Biden will be alone to face him during the debates. Joe Biden has a long administrative and political experience and Trump will dig out facts to question Biden's achievements on various fronts.
Coronavirus confusion
Democrats have been questioning President Donald Trump's handling of Coronavirus. But Trump is not only willing to deal with it but also making it a poll issue. Trump claims his handling has saved lives and the economy. Trump team maintains the President goes by common sense and never hesitates to take tough calls on challenging issues.
At a time when the world is not very clear about the appropriate handling the Coronavirus, Trump now appears to have taken a reasonable call as lockdown is not being considered a perfect and only solution. Rather, we all need to learn to live with the virus and save the economy and society. So, Coronavirus handling issue could backfire and may work in Trump's favour as the voting day approaches.
Racial Uproar
Democrats are probably aware that corning Trump on the economic front is not going to bear fruits, So, racial conflict is being flared up by vested interest, say Republicans. Polarisation may eventually benefit Trump as he can't be blamed for the social structure in the United States and lack of police reforms till this day. Trump has already taken steps to introduce reforms in the police force but not much can be changed at this stage and controlling the riots remains a priority of the present government.
It is too early to predict anything concrete at this stage, but one thing is very clear: Democrats are not able to go beyond racism, and it would be tough to blame all this on Trump.
Also Read: Donald Trump calls Joe Biden 'destroyer of American greatness'