Turkey shudders under attempted military coup ousting President Erdogan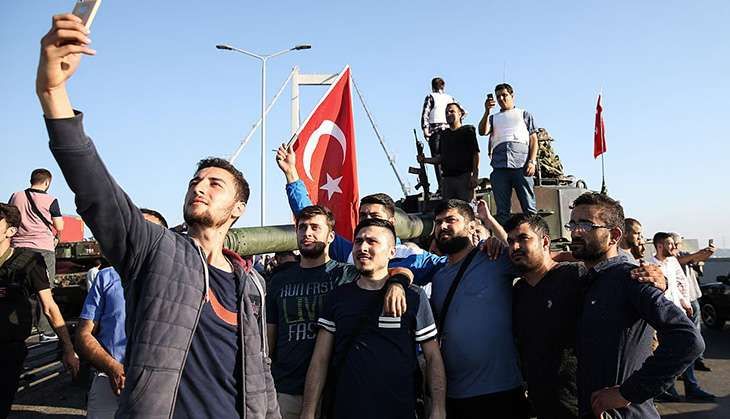 An attempted Turkish military coup - either by the military themselves or staged by President Tayyip Erdogan - started to crumble early Saturday morning. Erdogan was accused of " undermining the country's secular traditions." Erdogan has been in power since 2003 and if the coup was successful, it would have been one of the biggest shifts in power in the Middle East in years.
The latest death toll comes from General Umit Dundar, the newly appointed acting chief. More than 190 people have been killed and here is the breakdown:
41 police officers
Two soldiers
47 civilians
104 people described as 'coup plotters'
13 soldiers who attempted to storm the presidential palace in Akara have also been arrested. In total, 1,563 members of the armed forces have been arrested.
104 coup plotters have been killed according to Reuters. This is above the 90 people declared dead, says new appointed acting chief of military staff, Umit Dundar.
Some people have climbed inside the army trucks to wave their flags. They think the coup has failed pic.twitter.com/nPbYNhk245

— Patrick Kingsley (@PatrickKingsley) July 16, 2016
People in Turkey say they've began receiving SMS messages from government authorities urging them to gather in the streets once again, in support of democracy.
I wonder how many Pakistani news channels will broadcast these scenes -- of police in Turkey arresting soldiers pic.twitter.com/Dt0niWBs2s

— omar r quraishi (@omar_quraishi) July 15, 2016
SMS fra tyrkiske myndigheder her til morgen opfordrer folk til at gå på gaden for at støtte demokrati pic.twitter.com/ObzyBkCj9B

— Nanna Muus (@NannaMuus) July 16, 2016
Guardian says that many of those protesting do not support the government but will demonstrate in support of "the democratically elected government in the face of an attempted - if apparently failed - military coup."
There were chaotic scenes when people took to the streets for the first time. Thousands protested alongside tanks.
As the dust began to settle, videos emerged of Turkish police attempting to arrest soldiers involved in the coup:
cnn'de darbecilere önce polis, sonra siviller müdahale etti pic.twitter.com/fiw5jVRC9v

— İsmail Saymaz (@ismailsaymaz) July 16, 2016
I wonder how many Pakistani news channels will broadcast these scenes -- of police in Turkey arresting soldiers pic.twitter.com/Dt0niWBs2s

— omar r quraishi (@omar_quraishi) July 15, 2016
A policeman arrests a soldier in Turkey -- as a crowd of civilians looks on

https://t.co/LxEnUBmSdl

— omar r quraishi (@omar_quraishi) July 15, 2016
And some other videos from the attempted coup:
damn shouts out to everybody at #Turkey in the middle of a revolution pic.twitter.com/fGbZGZe66K

— BILL NYE THO (@Bill_Nye_Tho) July 16, 2016
Footage allegedly showing a helicopter firing on civilians in Turkey 👀 pic.twitter.com/yrrqwyPzjC

— WORLDSTARHIPHOP (@WORLDSTAR) July 16, 2016
After leaving his hotel in the South West coast, Erdogan addressed a large crowd of supporters outside the Ataturk Airport in Istanbul. Erdogan said, "They have pointed the people's guns against the people. The president, whom 52 percent of the people brought to power, is in charge. This government brought to power by the people, is in charge."
Earlier in the day, President Erdoğan's government received backing from China and Japan.
Here's the military opening fire at the MIT headquarters:
#TurkeyCoup: Military helicopter opens fire at main Turkish intelligence agency MIT headquarters pic.twitter.com/VkvqcnSe2v

— WikiLeaks (@wikileaks) July 15, 2016
The best of all came from Erdogan himself, when he gave a statement via FaceTime and it was broadcast live on national television.
Erdogan giving a statement via FaceTime held up on live TV - what a time to be alive pic.twitter.com/aHCRNPnsQa

— NorthCaucasus Caucus (@NCaucasusCaucus) July 15, 2016
Some though say that Turkey was blocking or 'slowing access' to social media. There are conflicting reports on this. As Guardian reported, "Turkey Blocks, an organization that monitors internet censorship in the country, tweeted on Friday evening that Facebook, Twitter, and YouTube were being blocked, but that Vimeo and Instagram were still functioning.
"Our data indicated a 2 hour period of social media throttling but no evidence of a full internet blackout in #Turkey," the group subsequently tweeted. Facebook and Twitter users confirmed the service had been inaccessible but had since returned, albeit slowly."