Trump's Muslim travel ban draws ire from leaders across the world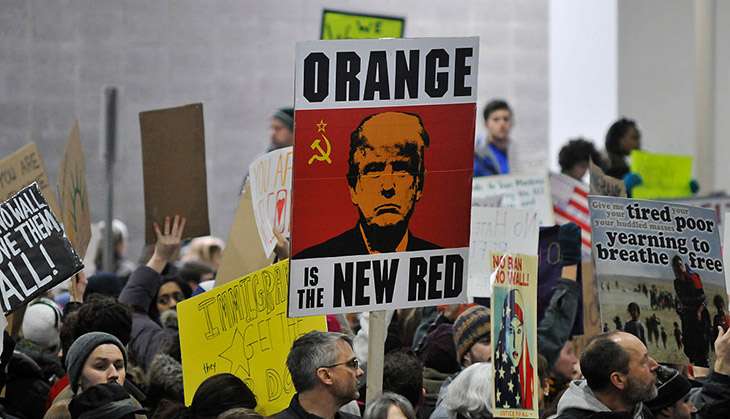 Amidst massive protests at most major United States airport, President Donald Trump is not backing down. Donald Trump signed an executive order halting travel from seven Muslim-majority countries - Iraq, Syria, Iran, Yemen, Sudan, Libya and Somalia. On Monday, here\'s what he had to say:
If the ban were announced with a one week notice, the "bad" would rush into our country during that week. A lot of bad "dudes" out there!

— Donald J. Trump (@realDonaldTrump) January 30, 2017
Trump's order, which abides by his poll promise, drew ire worldwide and criticism from various international leaders. The most prominent of those being German chancellor Angela Merkel
Merkel regretted Trump's decision. She told the media that she "explained" the Geneva refugee convention over a phone call to Trump on Saturday and the obligations of the US toward it. "The chancellor regrets the US government's entry ban against refugees and the citizens of certain countries," Merkel's spokesman Steffen Seibert said in a statement. "She is convinced that the necessary, decisive battle against terrorism does not justify a general suspicion against people of a certain origin or a certain religion.
The Geneva refugee convention basically requires the international community to take in a certain number of war refugees on the basis of humanitarian grounds. All the signatory states are required to do so. This is what Merkel explained to Trump over a 'phone' call.
Merkel on Monday criticised the "US immigration policy as being biased against Muslims".
BREAKING: Merkel criticises US immigration policy as being biased against Muslims

— The Int'l Spectator (@spectatorindex) January 30, 2017
Here's what other leaders had to say:
01
French president - François Hollande
François Hollande, the French president, said on Saturday, ""when [Trump] rejects the arrival of refugees, while Europe has done its duty, we should respond to him". He then added, that in an uncertain world, "withdrawal into oneself is a dead-end response".
Democratic principles require "the principles on which it is founded, in particular the acceptance of refugees", Hollande reiterated.
02
Italy's prime minister - Paolo Gentiloni
Italy's prime minister, Paolo Gentiloni, had this to say in a tweet:
L'Italia è ancorata ai propri valori. Società aperta, identità plurale, nessuna discriminazione. Sono i pilastri dell'Europa

— Paolo Gentiloni (@PaoloGentiloni) January 29, 2017
It translates to, thanks to Google Translate, "Italy is anchored to its values. Open Society, the plural identity, no discrimination. Are the pillars of Europe".
03
Minister for Foreign Affairs and Trade in Ireland - Charlie Flanagan
Charlie Flanagan, Minister for Foreign Affairs and Trade, had this to say in a statement, "While US immigration policy is a matter for the US authorities, it is clear that the most recent decisions could have far-reaching implications - both on humanitarian grounds and on relations between the US and the global Muslim community. Accordingly, I share the concerns of other EU partners regarding this most recent development.
Many people are feeling great concern about these changes including some Irish citizens in the United States. Our Embassy in Washington and Consulates remain in active and ongoing contact with Irish immigration centres throughout the US. I am conscious that matters are still evolving and that the US courts are now involved. We will continue to monitor developments in this area very closely".
04
Canadian prime minister - Justin Trudeau
Justin Trudeau had this heartwarming message on Twitter:
To those fleeing persecution, terror & war, Canadians will welcome you, regardless of your faith. Diversity is our strength #WelcomeToCanada

— Justin Trudeau (@JustinTrudeau) January 28, 2017
05
Iran's foreign minister - Javad Zarif
Javad Zarif, Iran's Foreign Minister, said the decision was "a great gift to extemists". Iran took retaliatory action and banned US citizens from entering the country.

"While respecting the American people and distinguishing between them and the hostile policies of the US government, Iran will implement the principle of reciprocity until the offensive US limitations against Iranian nationals are lifted," a Foreign Ministry statement said.

"The restrictions against travel by Muslims to America . . . are an open affront against the Muslim world and the Iranian nation in particular and will be known as a great gift to extremists," said the statement. Zarif added that all visitors "with valid Iranian visa will be gladly welcomed".
06
Swedish foreign affairs minister - Margot Wallström
Margot Wallström said she was "deeply concerned". Here's the rest of her statement on Twitter:
Deeply concerned about US decision not to allow entry of people from certain countries. Creates mistrust between people.

— Margot Wallström (@margotwallstrom) January 28, 2017
07
Australia's foreign affairs minister - Julie Bishop
Julie Bishop said the government would be working closely with the Trump administration to implement the "strong border policies". She added, "We share a common view on many issues so we will continue to work very closely with the Trump administration," adding: "The very best days of the Australia-US relationship lie ahead".
08
United Nations refugee agency and International Organization for Migration
The United Nations refugee agency and International Organization for Migration, on Saturday, urged Trump and his administration to continue offering asylum to those fleeing the war. It added that the resettlement programme was 'vital'.
Sudan called the decision by Trump "very unfortunate" and a reverse of the "historic steps" taken by former presient Barack Obama just weeks earlier. It is particularly unfortunate that this decision coincides with the two countries' historic move to lift economic and trade sanctions ... and just as economic and financial institutions as well as businessmen in the country were set to continue developing their investment projects," the statement said.