Tomb of Jesus Christ reopens to public post $3mn restoration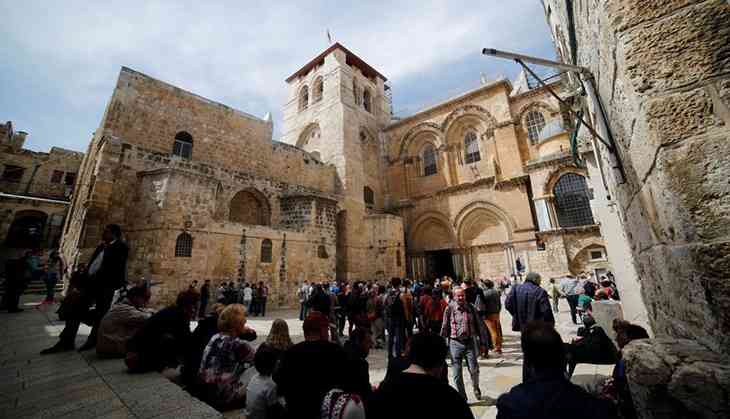 People gather outside of the Church of the Holy Sepulchre which is opened to worship after the restoration in Jerusalem on 22 March, 2017. (Mostafa Alkharouf/Anadolu Agency/Getty Images)
Thousands of Christians and members of the clergy gathered in Jerusalem's Old City to celebrate the completion of a month long effort of the restoration and repair of Jesus' tomb on Wednesday.
The edifice, contained in the Church of the Holy Sepulcher, is one of Christianity's holiest sites. The site was damaged due to centuries of erosion caused by water, fire, smoke, humidity and human visitors.
"For the first time in over two centuries, this sacred edicule has been restored," the Greek Orthodox patriarch, Theophilos III of Jerusalem, said, when the shrine reopened to the public. "This is not only a gift to our holy land, but to the whole world."

The shrine, known as the edicule, was in danger of collapse, and had been propped up by an unsightly iron cage since the 19th century. Constructed by the Roman emperor Constantine I in the fourth century, the shrine covers the cave in which, the faithful believe, Jesus was buried before his resurrection.

The Greek Orthodox, Armenian Orthodox and the Roman Catholics currently share the ownership of the church. The tomb was last restored in 1810 after a fire, but the religious custodians were compelled last year to make repairs after the Israeli authorities deemed the building unsafe.

The restoration cost more than $3 million, financed mostly by a donation from the World Monuments Fund. Other funding came from the three religious groups and a personal donation from King Abdullah II of Jordan.

The work, which began last May, was directed by Antonia Moropoulou, a professor at the National Technical University of Athens. In October, the restoration team revealed and removed a stone slab covering a marble bench on which Jesus was buried, according to tradition. The team also created an opening in a wall in the tomb, through which visitors can peer at the underlying rock.
Christian clergymen and other guests attend a ceremony next to the Edicule at the Church of the Holy Sepulchre, traditionally believed to be the burial site of Jesus Christ, in Jerusalem's Old City, on 22 March, 2017. (AFP PHOTO / POOL / MENAHEM KAHANA)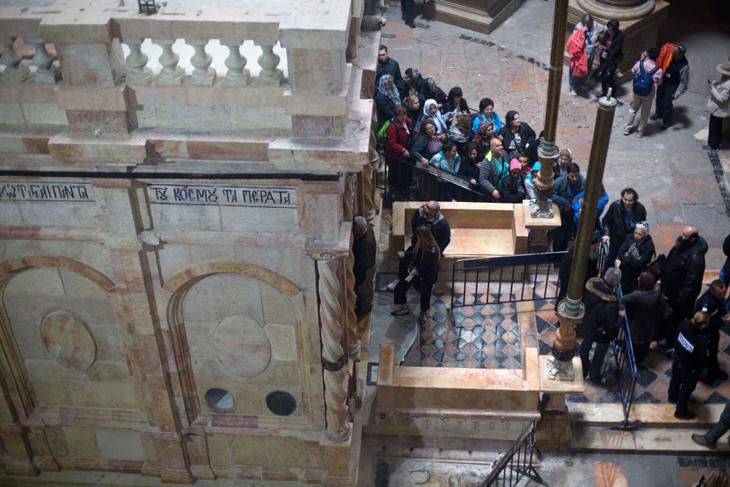 People visit The tomb of Jesus Christ with the rotunda is seen in the Church of the Holy Sepulchre on 21 March, 2017 in Jerusalem, Israel (Lior Mizrahi/Getty Images)
Christian clergymen and other guests attend a ceremony next to the Edicule surrounding the Tomb of Jesus (where his body is believed to have been laid) at the Church of the Holy Sepulchre in Jerusalemís Old City, on 22 March, 2017. (AFP PHOTO / POOL / MENAHEM KAHANA)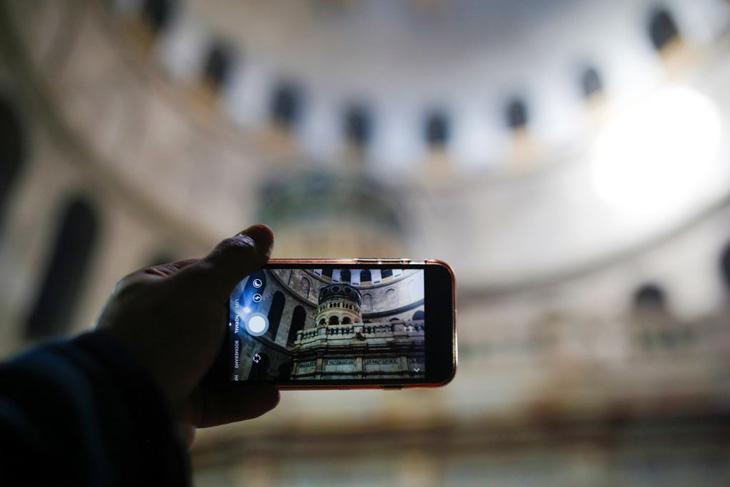 An inside view of the Church of the Holy Sepulchre which is opened to worship after the restoration in Jerusalem on 22 March, 2017. (Mostafa Alkharouf/Anadolu Agency/Getty Images)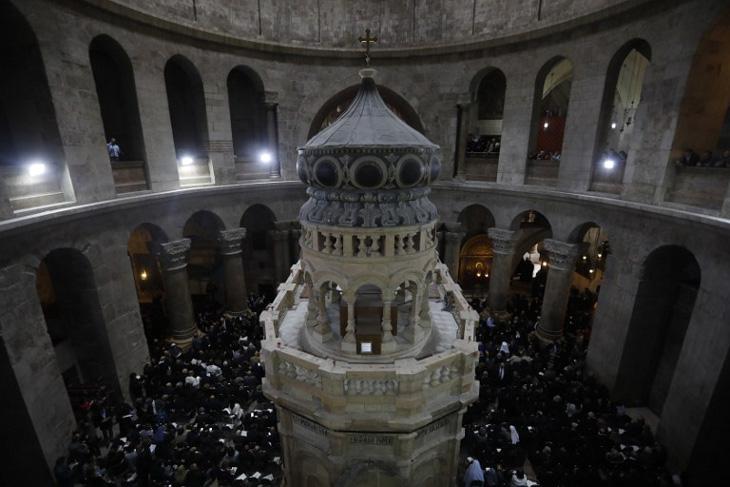 Christian clergymen and other guests attend a ceremony next to the Edicule surrounding the Tomb of Jesus (where his body is believed to have been laid) at the Church of the Holy Sepulchre in Jerusalemís Old City, on 22 March, 2017. (AFP PHOTO / POOL / MENAHEM KAHANA)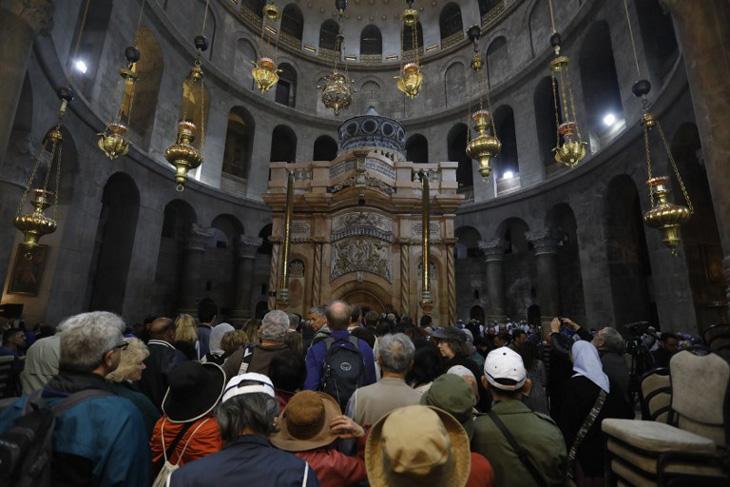 Tourists and worshippers wait to access the newly restored shrine surrounding what is believed to be Jesus's tomb which was unveiled at a ceremony in Jerusalem on 22 March, 2017 following months of delicate work (AFP PHOTO / MENAHEM KAHANA)