Istanbul airport terror: As many as 36 dead in suspected ISIS attack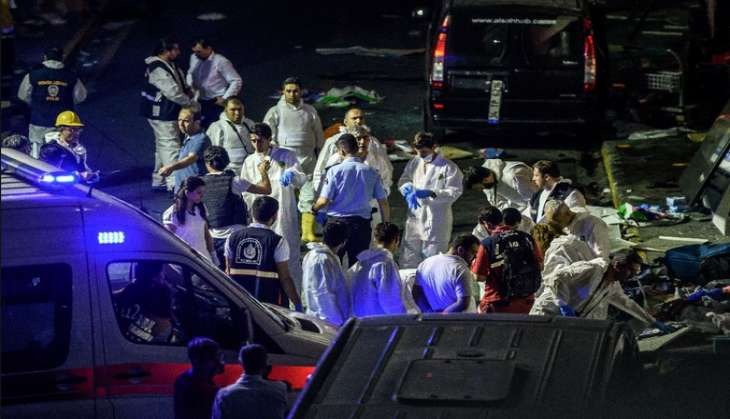 This is a breaking news story. Some information reported early may turn out to be inaccurate. We'll keep updating the story as fresh information comes in.
Suicide bombers attacked Turkey's busiest airport - Istanbul's Ataturk - on Tuesday evening, killing at least 36 people and injuring about 147 others.
At least two blasts rocked the international terminal of Istanbul Ataturk Airport at about 10 pm local time, according to a Turkish official. Police fired on two suicide bombers who blew up themselves at the entrance to terminal, the official said.
Most of the casualties are Turkish citizens, a senior government official said.
According to Al Jazeera Turk, based on a document from the Istanbul Health Directorate Crisis Centre, 106 people have definitely been injured in the attack.
İstanbul Sağlık Müdürlüğü Kriz Merkezi'nin verilerine göre saldırıda 106 kişi yaralandı. https://t.co/jiidmxEwxK pic.twitter.com/yr16MiSfGA

— Al Jazeera Türk (@AJTurk) June 28, 2016
The strike
Turkey's NTV television quoted Istanbul Governor Vasip Sahin as saying at least three suicide bombers carried out the attack.
According to Reuters, Turkish Justice Minister Bekir Bozdag earlier said that according to preliminary information, "a terrorist at the international terminal entrance first opened fire with a Kalashnikov and then blew himself up."
The Associated Press has tweeted an image of one of the attackers:
Breaking: Exclusive picture of one of the Turkey airport attack suicide bomber. FBI says he was denied entry to US pic.twitter.com/l7QkyMWQWv

— justin trudog (@YGSIU) June 28, 2016
A chilling video shot at the airport shows people yelling "Get down!" amid what sounds like short bursts of gunfire.
Explosion and gunshots at the international terminal of Istanbul Ataturk Airport via @140journos pic.twitter.com/4fI6JMoE6X

— Mutlu Civiroglu (@mutludc) June 28, 2016
Reuters also published a photo that showed a Kalashnikov rifle on the ground inside the airport terminal.
A weapon is seen on the floor at Istanbul's Ataturk airport after a deadly suicide blast https://t.co/dYJhUnOkVk pic.twitter.com/BYSqv44kM1

— Reuters Pictures (@reuterspictures) June 28, 2016
A view of the entrance of Istanbul's Ataturk airport after deadly suicide attack https://t.co/dYJhUnOkVk pic.twitter.com/0EmjSYX1jw

— Reuters Pictures (@reuterspictures) June 28, 2016
Steve Nabil, a journalist who was in transit at the airport with his wife, has given a dramatic account of events on Twitter:
We just left the aiport. My wife was injured during the attack. We were face to face with the attacker while he sprayed #istanbul part1

— Steven nabil (@thestevennabil) June 28, 2016
I ran back got my wife pulled her to store broke in and waited in terror while he was shooting outside the store.we barely made it#istanbul

— Steven nabil (@thestevennabil) June 28, 2016
We were transiting from our honeymoon tonight through #istanbul back to NYC when the bullets were closer i hugged and kissed her

— Steven nabil (@thestevennabil) June 28, 2016
#istanbul we then took cover in a closet inside a hair salon.The 45 minutes we were sitting ducks waiting to find out who will open the door

— Steven nabil (@thestevennabil) June 28, 2016
The BBC's Turkey correspondent Mark Lowen pointed out some holes in security at the airport:
#Istanbul #Ataturk airport long seen as a vulnerable target. X-Ray scanners at entry to terminal but security checks for cars limited

— Mark Lowen (@marklowen) June 28, 2016
Ataturk Airport is one of the busiest ports in the world serving more than 60 million passengers in 2015. But at present, all outbound flights have been cancelled and most of the inbound flights have been diverted. Only planes that were already approaching the airport are being allowed to land.
A joint fight
The attack comes after a string of attacks linked to the Islamic State or to the conflict with Kurdish separatists in the country's southeast. Earlier this month, a car bomb tore through a police bus in central Istanbul during rush hour, killing 11 and injuring 36. In March, a suicide bomber blew themselves up in a busy shopping district in Istanbul, killing four. In January, more than 28 people were killed in Ankara, the Turkish capital, when a bomb exploded near a bus station in a central square.
Turkish President Recep Tayyip Erdogan called for a "joint fight" against terror after the attack.
"If states, as all humanity, fail to join forces and wage a joint fight against terrorist organisations, all the possibilities that we dread in our minds will come true one by one," he said in a statement.
There was no immediate claim of responsibility for the attack. But one security analyst told Al Jazeera that the attack bore the hallmarks of ISIS, which carried out a "similar attack" at the Brussels airport in March.
Our thoughts are with the victims of the attacks at @istanbulairport. We wish them, their relatives & all airport staff strength & courage.

— Brussels Airport (@BrusselsAirport) June 28, 2016
Speculation is rife that the timing of the attack was intended to mark the two-year anniversary of Abu Bakr al-Baghdadi's creation of a "caliphate" - Islamist rule on all lands controlled by his fighters.