Spy racket busted, Pak High Commission says it's just media hysteria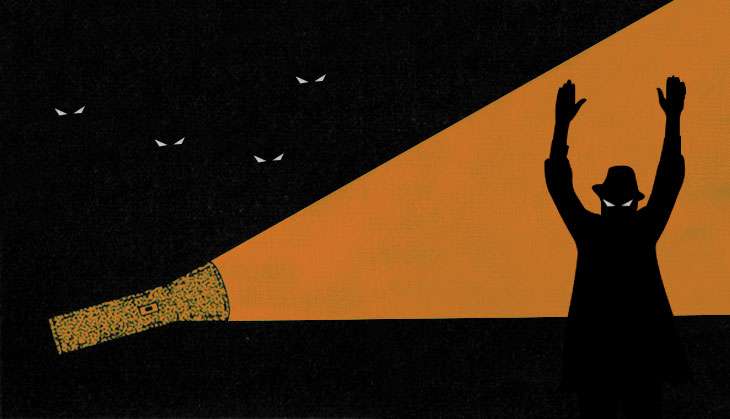 Pakistan's spy racket in India, believed to involve several officials of its High Commission in New Delhi, continues unravel. The Delhi Police, which is probing the case, has made some startling claims.
On Saturday, Farhat Singh, personal secretary of Samajwadi Party Rajya Sabha MP Munawwar Saleem was arrested on the charge of spying. He is the fourth person to be arrested under the Official Secrets Act (OSA).
Singh has reportedly named three more staffers in the Pakistan High Commission - Syed Farukh Habib, Khadim Hussain and Mudassir Iqbal Cheema.
Mehmood Akhtar asked to leave
The Delhi Police, meanwhile, named Mehmood Akhtar, another High Commission staffer, on Wednesday, and claimed to have unearthed an entire network of spies being run from the High Commission, buttressing Farhat Singh's claims.
Akhtar has been asked to leave the country within 48 hours, since he couldn't be arrested due to diplomatic immunity.
Akhtar, 35, was caught red-handed by the police on Wednesday at Delhi Zoo, while receiving sensitive intel documents from two men from Rajasthan - Maulana Ramzan and Subhash Jangir.
Senior Delhi Police officials, on the condition of anonymity, said apart from Akhtar, four other Pak High Commission staffers were allegedly involved in running the spy network.
"⁠⁠⁠Mehmood Akhtar, who was caught on Wednesday, is an NCO (non-commissioned officer) rank officer of the ISI. As per our information, there are four other officers who gave instructions to Akhtar - a colonel rank officer, whose name is Syed Farukh, heads this spy team. Khadim Hussain, another staffer, is the second-in-command. There are two other officers, Shahid Iqbal and Dr Mudassir Iqbal Cheema [deputy director], in the High Commission in the core team."
Delhi Police officials said they had spent 18 months trying to crack this alleged spy network case, and that 'big developments' were expected to happen in the coming days.
Akhtar told the police he had got his information from an ISRO official. Police officials said they were probing this link as well.
Farhat Singh's role
Delhi Police sources say Farhat Singh had been selling sensitive documents to ISI agents for the past 10 years.
"Farhat Singh's job was to sell sensitive papers, photocopied from original Parliamentary documents, to ISI agents. Some documents were from Parliamentary Standing Committee meetings. There were other very sensitive documents also. He would charge between Rs 10,000 to Rs 1 lakh for these documents."
Despite several attempts to contact him, Saleem was not available for comment.
Saleem is not the first MP Farhat has worked with. Police officers said Singh worked with four MPs in all. Before Saleem, he was the personal assistant of SP's Munawwar Hasan.
Farhat was first detained for questioning, and the police only arrested him after it was certain of his active involvement in passing classified documents to Mehmood Akhtar.
Pakistan High Commission's response
While the Pakistan High Commission chose not to respond officially, a senior official, on the condition of anonymity, spoke about this case, which may ultimately have a serious impact on the diplomatic relations between the two countries.
The officer claimed that Pakistan High Commission officials were being targeted because India "wanted revenge for the arrest of Indian spy Kulbhushan Jadhav". He said the embassy had not received any information from the Delhi Police, through the Ministry of External Affairs.
"Because we arrested the Indian spy, and his dubious involvement and credentials were proved before the whole world, India wants to retaliate by creating this fake monster [of a spy network]. All the events in the past two days have been products of Indian media hysteria. It is unfortunate. The Pakistani media can also get into this, but our media back home is behaving with restraint."
A video of Akhtar being questioned by the Delhi Police has surfaced, but the official said Akhtar was speaking under duress. When asked why would Akhtar, who enjoyed diplomatic immunity, take the names of his associates in the alleged spy network, the officer repeated that the statements had been coerced out of him.
"It was a coercive situation, where anyone can speak whatever the interrogators want. Look, let's think positively and avoid the agenda that the media is setting for us," the official added.
Charged atmosphere
The diplomatic wrangling between India and Pakistan is only expected to escalate in the coming days. There are heightened tensions along the border and the Line of Control.
Sources in the Ministry of Defence said Pakistan had violated the ceasefire along the Line of Control as many as 60 times in the past one month, since India carried out surgical strikes on Pakistan-controlled territory.
Now, tempers in the Indian defence establishment are running higher than ever, after the mutilated body of an Indian soldier, believed to have been killed and beheaded by Pakistan's Border Action Team (BAT) inside Indian territory, was found on Saturday evening.
Very strong reactions by Indian military and a relentless probe into the Pakistan High Commission's alleged spy activities can be expected in the days to come.
This Diwali may mark the beginning of fresh fireworks - on both sides of the border.
Edited by Shreyas Sharma
More in Catch
Indian jawan killed, body mutilated. But does Pak have more sinister plans?
Sailor or spy: is the Indian arrested in Pakistan really an R&AW agent?
Kulbhushan Jadhav: why has Pakistan Army chosen to name NSA Ajit Doval?