Keep talking: Balochistan and the murder of Sabeen Mahmud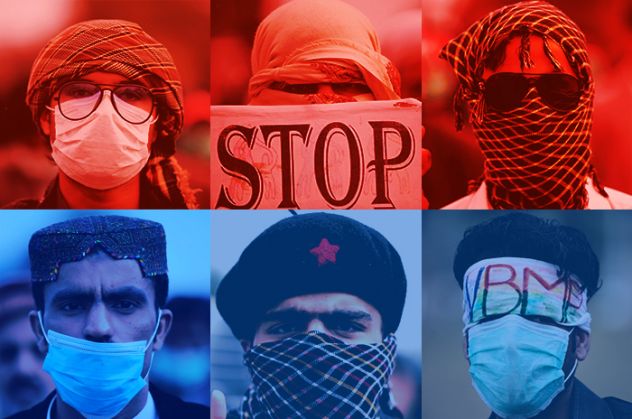 The murder
Pakistani civil rights activist Sabeen Mahmud was shot dead in Karachi on 24 April.
She had just hosted a talk called \'Unsilencing Balochistan\'.
It was about the mysterious disappearance of over 20,000 Baloch activists in 10 years.
Pakistani security forces are believed to be responsible for the disappearances.
The conflict
The people of Balochistan have never accepted being a part of Pakistan.
Baloch nationalists have been fighting the Pakistani army on and off and since 1947.
The latest round of Baloch insurgency began in 2004.
It intensified in 2006 when the Pakistan Army killed Baloch nationalist Nawab Akbar Bugti.
The accusation
Baloch activist Mama Qadeer holds the ISI responsible for Mahmud\'s murder.
Qadeer claims Pakistani forces have been particularly brutal in Balochistan under Prime Minister Nawaz Sharif.
The \'Indian hand\'
Pakistan accuses India of fomenting trouble in Balochistan.
Many Baloch activists like Mama Qadeer are accused of being Indian spies.
These allegations have never been proven and India denies any role in Balochistan.
Civil rights activist Sabeen Mahmud could have seceded from strife-torn Karachi and lived a life of comfort abroad like many of her peers.
But she believed in freedoms, wanted to make space for liberals in her city, and fight against bigotry. Her ammunition was a cafe in Karachi: T2F.
"I wondered if I could create a minuscule postmodern hippie outpost, a safe haven for artists, musicians, writers, poets, activists, and thinkers - essentially anyone who wanted to escape the relentless tyranny of the city for a little while," she had once written in Innovations magazine.
But the tyranny caught up with her on 24 April. Mahmud was shot dead, point-blank in her car, by two gunmen, minutes after she left her cafe. Her mother, who was with her, was also shot twice but survived.
Mahmud was 40.
She had just hosted a discussion on 'Unsilencing Balochistan (Take 2)'. This was an attempt to break the silence on the disappearance of over 20,000 men, women and children from Pakistan's largest province over the last 10 years.
The talk was earlier scheduled to be held in Lahore university but was abruptly cancelled on government orders.
Mahmud's own murder seems inextricably linked with the issue. Hamid Mir, a prominent TV journalist, was similarly attacked soon after he held a panel discussion on the topic.
Here is a brief explanation of the Bloch national movement and why even speaking of it has such deadly impacts in Pakistan.
Balochistan is Pakistan's largest province, located on the country's southwestern border with Afghanistan and Iran.
The province is rich in minerals, coal and natural gas. It also has high levels of poverty.
Three tribes are the main inhabitants of Balochistan - the Baloch, the Brahvi and the Pashtoon.
The predominant religion of these tribes is Sunni Islam.
The Baloch are the largest tribe in the province.
02
What is the controversy over Balochistan about?
Balochistan is a conflict-ridden province of Pakistan. Ever since the creation of Pakistan, a large number of Baloch people have refused to be considered a part of the country.
The Baloch nationalists claim they have a distinct language, custom, culture and lifestyle which defines them as a separate nation.
They allege that Pakistan annexed Balochistan by brute force after the partition of India.
They claim that successive Pakistani governments have exploited the region's rich natural resources but kept its people mired in poverty.
The Baloch struggle for an independent Balochistan turned into an insurgency quite early on, triggering a conflict with the Pakistani security forces. This continues even today.
The Pakistani government and Army believe the Baloch insurgency to be a separatist movement and have tried to crush it.
Although the hostilities have peaked and ebbed since 1947, they have been on the upswing in the last decade.
In the latest round of the conflict beginning in 2004, at least 20,000 people have reportedly disappeared. About 6,000 bodies showing signs of brutal torture have been discovered so far.
The Pakistani security forces maintain a heavy presence in the province and journalists are discouraged from reporting on the situation in Balochistan. As a result, the conflict receives very little public attention in Pakistan.
03
Who are the key characters in this conflict?
The Balochistan Liberation Army (BLA), Lashkar-e-Balochistan and the Baloch Liberation United Front (BLUF) are the most well-known Baloch separatist groups.
Pakistan identifies the largest of these, the BLA, as a terrorist organisation. The BLA is believed to have a force of 500 active militants.
There have been Baloch political leaders like Nawab Akbar Khan Bugti and Mir Balach Marri who tried to negotiate with Islamabad for a greater control over the province's natural resources.
These efforts failed repeatedly, forcing them to pick up the gun once again. Nawab Bugti was killed while fighting the Pakistan Army in 2006.
04
What is the connection between the conflict and Sabeen's assassination?
The Pakistani security forces have routinely killed Baloch activists to neutralise the nationalist movement.
Activists disappear mysteriously and their dead bodies with signs of torture and mutilation resurface days or weeks later.
These disappearances and deaths, which receive very little public attention, have become the subject of a civil society movement.
Sabeen Mahmud hosted a public event to create greater awareness about the twin issues of the struggle of Baloch activists and the disappearance of a large number of Baloch nationalists.
Three panelists at the event hosted by her were activists who are a part of the civil society movement against disappearances.
Mama Qadeer, who organised a 2,000-km-long protest march from Balochistan's capital Quetta to Islamabad to highlight the issue of forced disappearances, his colleagues Farzana Baloch and Mir Mohammad Ali Talpur, were part of the discussion organised by Mahmud.
This event was originally to be held at a university in Lahore, but was cancelled on government orders.
05
Who are the suspects behind Sabeen's murder?
Any personal enmity angle has been ruled out by senior police officers.
Terrorist group Tehreek-i-Taliban Pakistan has disassociated itself from the assassination.
Sabeen's mother who was also injured in the attack has said that her daughter had received threats from people 'claiming to be working for sectarian organisations and the agencies'. 'Agencies' is a popular reference in Pakistan to the all-powerful ISI and the other intelligence arms of the State.
Pakistani journalist Hamid Mir, who was seriously injured in a similar attack last year, said that he saw several parallels with the attack on Sabeen Mahmud and him. Mir had also received threats when he had invited Qadeer on his TV show.
Some observers, including eminent journalist Najam Sethi, have claimed that India's involvement could not be ruled out.
06
Has anybody directly connected with Sabeen blamed Pakistani forces on record?
Mama Qadeer told this writer in a telephonic interview that he unequivocally holds the ISI responsible for Sabeen Mahmud's assassination.
Qadeer claimed that the Pakistani assault on the Balochistan movement had intensified under Prime Minister Nawaz Sharif. The number of disappearances had gone up.
He also pointed out that China was also actively supporting Islamabad's offensive against the Baloch leaders. Beijing stood to gain from Balochistan's natural resources, having signed the deal on setting up the China-Pakistan Economic Corridor which passes through the province and requires stability there.
07
What is India's connection with the Balochistan conflict?
Pakistan accuses India's spy agency RAW of actively supporting the insurgency. India denies any role in Balochistan.
Several Indian observers, however, believe RAW could indeed be active in Balochistan.
These observers argue that it makes sense for India to keep the fire in Balochistan burning as a response to Pakistan's involvement in the Jammu and Kashmir militancy.
Mama Qadeer himself has often been accused of being a RAW agent. He denied the allegation and pointed out that the ISI had never been able to furnish any evidence to prove their claim.