Putting Fukushima behind: Japan inches back towards nuclear power again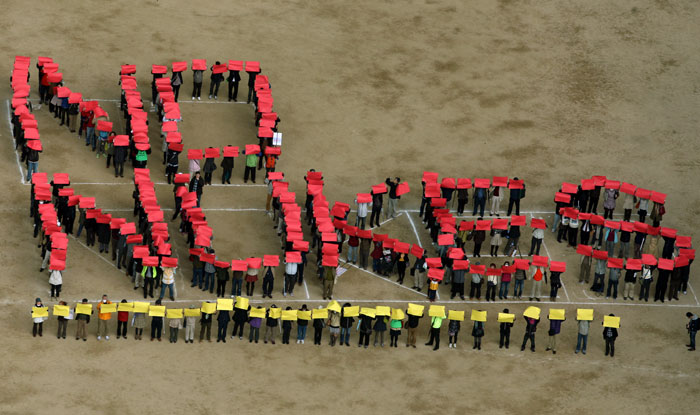 The revival
In the 2011 Fukushima disaster, 16,000 died and more than 2,500 are still listed as missing
4 years later, Japan is slowly going back to nuclear energy
Sendai nuclear plant is being restarted
The reasons
PM Shinzo Abe had promised to reduce Japan\'s dependence on fossil fuels
Return to nuclear power will reduce electricity prices in Japan
If 25 nuclear plants are approved, electricity prices will reduce by 8%
Fears
Sendai plant is located in near an active volcanic area. Local residents fear for the plant\'s safety
Since Fukushima, Japan has implemented more stringent safety measures
It's been four years since an earthquake and a tsunami knocked out the nuclear reactor at Fukushima, causing a meltdown and mass evacuation. The tragedy eventually saw the shut down of all of the nation's nuclear power plants, with the last of the facilities closing down in late 2013.
Almost 16,000 people died and more than 2,500 are still listed as missing. Another 1,60,000 people were evacuated from the surrounding areas in the following weeks - continuing high radiation levels mean most have never been able to return home.
But this week, Japan began a controversial return to nuclear power generation by restarting the Sendai plant on the southern island of Kyushu.
Kyushu Electric Power, which is in charge of the plan, said it started one of the facility's two reactors early 11 August despite strong local opposition.
A look at some of the factors at play:
Why the Sendai plant?
The Sendai plant was apparently chosen because it is the furthest reactor from Tokyo, meaning that it is perceived as slightly less dangerous than the others.
Japan's Nuclear Regulation Authority approved two reactors at the Sendai plant last September under stricter safety rules.
The 30-year-old plant is expected to reach full capacity next month. The second reactor is due to be restarted in October.
Aside from the risk from earthquakes and tsunami, the Sendai plant is located in a volcanically vulnerable region, with Sakurajima, one of Japan's most active volcanoes, just 50 km away.
The reopening of the Sendai plant is subject to strict new safety rules, and officials insist the country is unable to generate enough power without using nuclear power.
Industry minister Yoichi Miyazawa said this week: "It would be impossible to achieve all these three things simultaneously - keep nuclear plants offline, while also trying to curb carbon dioxide and maintain the same electricity cost."
Why was this decision taken?
PM Shinzo Abe had initially promised to reduce Japan's high-reliance on nuclear power as much as possible. This was followed by the PM's announcement of making nuclear power part of the "main sources of electricity," with the ultimate goal of raising the intended share of nuclear power in the country's energy mixes from 20% to 22%.
On this basis, Abe pledged at this year's G-7 Summit in Germany to reduce Japan's green house gas emissions by 26%. The PM's main objective is to reduce his country's dependence on fossil fuel imports, and thus help Japan's utilities make a profit.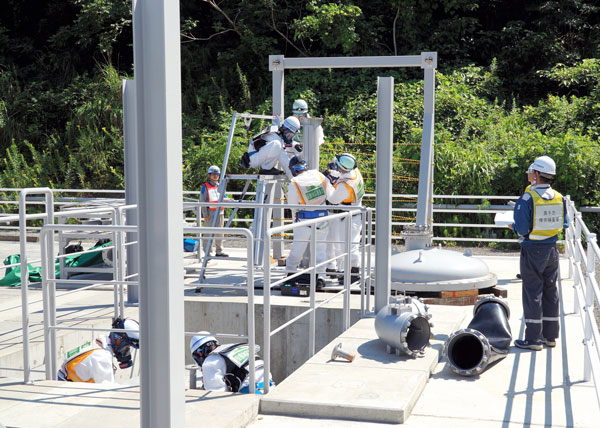 Sendai nuclear plant operator Kyushu Electric, which got into financial difficulties last year, received a cash injection of 100 billion yen ($810 million) from the Japanese state. By restarting the reactor, the company can now reduce nuclear fuel-related costs by $721 million per year.
According to UBS Japan, energy prices in Asia's second-largest economy would drop by 9% should all 25 nuclear reactors awaiting approval be allowed back into the grid. So far regulators have cleared only five to go back online.
The Abe-led government has left all decisions on nuclear reactors to the country's nuclear watchdog, the Nuclear Regulation Authority (NRA), arguing that safety goes first.
The government aims to have nuclear power meet 20% of Japan's energy needs by 2030 despite these safety fears.
Even so, many have called for greater reliance on renewable energy. But while the government intends to eventually have wind and solar energy make up 30% of Japan's energy supply, it is still less constant and reliable than nuclear.
What measures has Japan taken to cope with the loss of nuclear power?
Since the shutdown of reactors, the country's nine energy companies have had to buy expensive fossil fuels to cover the shortfall. They have been paying 3.6 trillion yen more every year.
Some of these costs have been passed on to consumers, resulting in electricity prices going up by about 30%.
Electricity conservation, or "setsuden," was a way to help the post-disaster cause.
Each region has different energy-saving targets, imposed on companies and households, depending on the severity of shortages faced by utilities in the area. In many areas, households and companies were asked to save 7% from their 2010 peak-hour consumption levels.
The government also introduced a "Super Cool Biz" campaign which encouraged workers to wear outfits appropriate for the office yet cool enough to endure the summer heat.
Polo shirts and trainers are allowed, while jeans and sandals are also acceptable under certain circumstances. The idea for summer office wear was first introduced in 2005 by Yuriko Koike, the then environment minister.
Energy prices in Japan would drop by 9% if 25 nuclear reactors are brought back into the grid
Tokyo office and retail buildings now rarely put the air conditioner temperature below 28 degree Celsius (82 degree Farheneit) during the summer.
According to the most recent official estimate, the programme prevented 1.69 million tons of carbon dioxide emissions in 2010, and reduced emissions by 7.92 million tons in the previous five years.
At home, the government also advises people to be more environmentally friendly. It suggests using blinds or curtains to keep direct sunlight out of rooms and keeping houseplants, which have a cooling effect. Such measures make it possible to use air conditioning for fewer hours.
Cutting use by an hour every day saves 8 kg of carbon dioxide emissions a summer, and reduces monthly home electricity bills by around 1,170 yen ($9.46), according to the government.
What's the public opposition been like?
Despite the push by the government and utilities for nuclear restarts, most Japanese are opposed to a return to nuclear energy. Residents near the Sendai plant are wary of the restarts, citing potential dangers from active volcanoes in the region.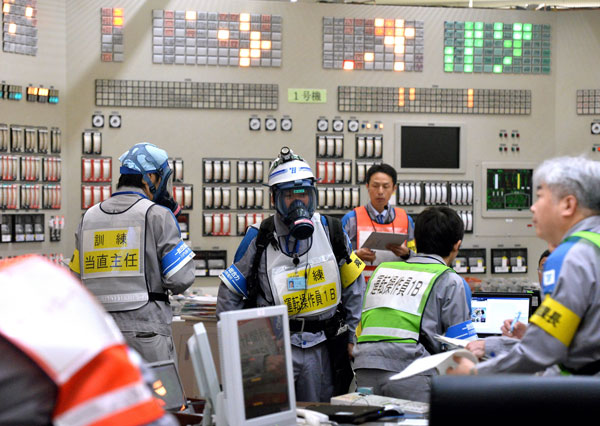 In a recent poll conducted by the Japanese newspaper Mainichi, 57% of respondents said they opposed the restart of idled nuclear reactors, while only 30% were in favour. But a court recently ruled that the new safety standards put in place by Prime Minister Abe's administration were adequate.
On Monday, dozens of protesters, including Naoto Kan, prime minister at the time of the Fukushima crisis, rallied outside the Sendai plant in a last-ditch effort to stop the restart, shouting "We don't need nuclear plants."
The Fukushima disaster "exposed the myth of safe and cheap nuclear power, which turned out to be dangerous and expensive. Why are we trying to resume nuclear power?" Kan asked the crowd.
Opponents of the restarts and nuclear experts are also concerned that evacuation plans, in case of disasters, may not work well.
Experts also are concerned about possible glitches in reactors that have not been used for more than four years.
What's Japan plutonium stockpile?
With its nuclear fuel recycling programme stalled and plutonium stockpiles triggering international concerns, Japan is under pressure to use as much of its stockpiles as possible in its reactors.
US Undersecretary of State for Arms Control and International Security Rose Gottemoeller told journalists in a teleconference that Japan should complete its pending fuel recycling program and burn plutonium as a fuel called MOX at reactors.
"If there is going to be a plutonium programme, reprocessing programme, the flip side of it is that there has to be a very vigorous MOX (Mixed Oxide fuel) program and that the MOX actually has to be burned in power plants," Gottemoeller said.
Japan has more than 40 tonnes of weapons-grade plutonium, enough to make 40 to 50 nuclear weapons - meaning up to 18 reactors can be restarted very easily.
What are the dangers?
The Fukushima meltdown in 2011 happened because the plant lost power after it was swamped by the tsunami. It lost the ability to cool the nuclear reactor, leading to an explosive build-up of heat and gas.
Critics said that nuclear plants near the sea should have higher sea walls and better back-up generators.
The Japanese government has since required energy companies to implement better safety measures.
These range from more stringent safety checks on nuclear plants' ability to withstand earthquakes and meltdowns; better back-up power systems; and improving remote control systems so that reactors can be safely shut down from a distance.
They are also required to have more reliable evacuation and contingency plans which cover a wider area than before.