Pakistani army won't act against Let, JeM despite Gen Bajwa's pledge: Indian analysts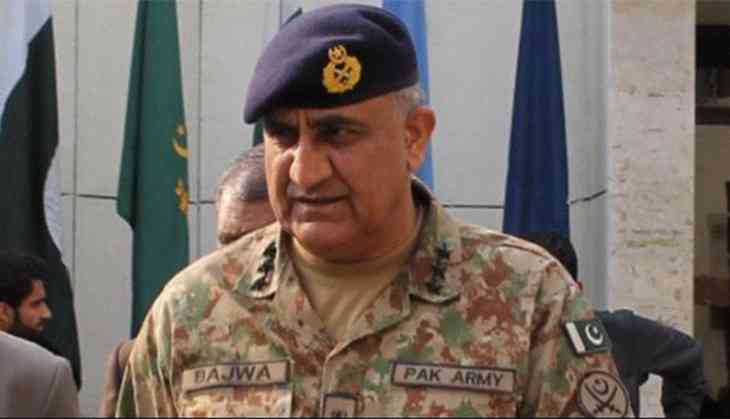 Pakistan Army chief Gen Qamar Javed Bajwa recently announced a big operation against terrorists in Punjab, a province ruled by Prime Minister Nawaz Sharif's brother Shahbaz. The province is home to terrorist outfits such as the Jaish-e-Mohammad and Lashkar-e-Tayyiba.
Indian security analysts caution against reading much into Gen Bajwa's announcement. The Pakistan Army may take token action against some sectarian outfits, the analysts predict, leaving the JeM and the LeT alone. That won't do India much good since it is the LeT and JeM which are chiefly responsible for fomenting trouble in India, especially in Jammu and Kashmir.
Also Read: 'Foreign policy cannot be left to a policeman like Ajit Doval'
"They may take some action against groups such as Lashkar-e-Jhangvi and Jamaat-ul-Ahrar, a faction of the Pakistani Taliban, but don't expect anything against LeT and JeM," one analyst claimed.
India has been pressing Pakistan to act against the LeT and the JeM, which it holds responsible for several major attacks, including those Mumbai, Uri and Pathankot. "Such compartmentalised action will be a waste unless the army acts against anti-India groups," says another analyst.
Gen Bajwa's announcement came after a ghastly bombing in Lahore early this week killed 13 people, including senior police officials. The blast was claimed by Jamaat-ul-Ahrar, and soon after Pakistan's counter-terror forces claimed to have killed six members of the outfit in an encounter in Multan.
The Lahore blast punched holes in the Pakistani security establishment's claims that the much-touted National Action Plan, formulated under Gen Raheel Sharif, has helped contain domestic terrorist outfits. This after the report of an enquiry, ordered by the Supreme Court, into last year's Quetta attack questioned the "intentions" of the interior ministry's drive against terror groups operating in the country.
The report mentioned how the interior ministry's "National Security Internal Policy is not being implemented". "The officers of the ministry appear more interested in serving the minister than the people of Pakistan," the report stated. "Another monumental failure has been in silencing extremist speech, literature and propaganda. There has been a complete failure in producing and then disseminating a counter narrative."
Also Read: Uri attack: Here's why the NIA probe won't achieve anything
Any military action in Punjab is not going to be easy, not least because the terror groups operating out of the province allegedly enjoy the patronage of the ruling establishment. Indeed, a crackdown on even sectarian outfits such as Lashkar-e-Jhangvi may create trouble in the always delicate civil-military relations. Pakistan's interior minister Chaudhry Nisar recently said there was a need to distinguish between terrorist and extremist outfits, betraying what's said to be a key aspect of Pakistan's policy – distinction between "good and bad terrorists".
Still, something may come of Gen Bajwa's pledge because he appears to be under pressure to salvage his image after the attack in Lahore, more so since his predecessor went after the Tehreek-e-Taliban Pakistan. It's another matter, of course, that the operation failed to put an end to terror attacks.
Unlike Gen Raheel Sharif, Gen Bajwa has some space to launch an major operation in Punjab because the ruling family is on shaky ground over the Panama Papers scandal. But since he has already said the operation will be carried out after taking the provincial government into confidence, it remains to be seen how effective it will be.
Also Read: Pathankot attack: It's NIA's word against the NSG's now