Pakistan rattles India's cage, gets ready to acquire 8 submarines from China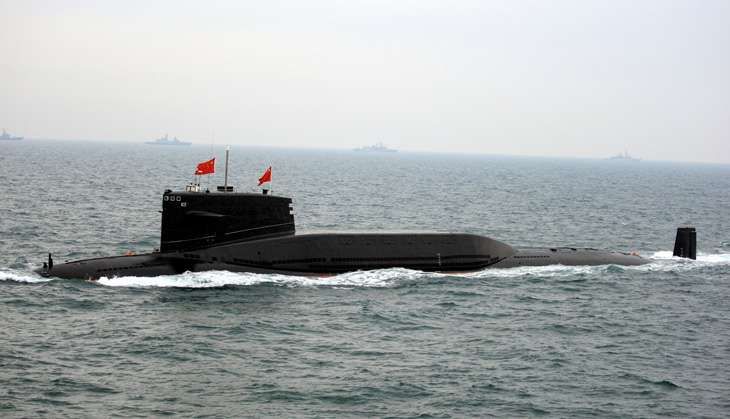 Adding ammo to the arms race in the subcontinent, literally, the Pakistani government has approved a plan to acquire eight diesel-powered submarines from China. Indian defence experts say the move is targeted to harass India, especially in the Arabian Sea.
Rear Admiral Raja K Menon pointed out that the planned acquisition was approved keeping India in mind.
And while India's naval capabilities are far superior to that of Pakistan's, submarines are "a great levelling force" and that is perhaps why the Pakistani navy is concentrating on this deal.
Menon believes "the move will affect us seriously".
Another Indian expert on Pakistan pointed out that it will increase India's naval challenges even though the Chinese subs may not be the most advanced undersea weapons.
According to reports, four of the submarines will be delivered in 2023, the other four will be ready for commissioning by 2028.
This Sino-Pakistan deal is important for it may enhance the Pakistan Navy's capabilities to launch sea-based nuclear weapons strike, forming the sea-based part of its nuclear second-strike triad.
Ever since Pakistan announced the formation of Naval Strategic Force Command in 2012, they have been hinting it the existence of this triad.
Powering up
In a first official confirmation, that the submarine plan is going ahead despite being in the works since 2011, top Pakistani naval officials are reported to have told the National Assembly's Standing Committee on Defence that the $4-5 billion deal is moving ahead.
Though, it is not clear if a contract has been signed yet. Reports say that the Chinese government may even extend a long-term, low-interest loan to Pakistan to fund this ambitious project.
It is touted to be Beijing's largest deal abroad and its largest single sale of submarines.
While it is not clear as to which submarines are being sold to Pakistan, analysts have been speculating that it would be the lighter export versions of the People Liberation Army Navy (PLAN)'s Type 039 and Type 041 Yuan-class conventional attack submarines.
The Pakistani naval forces currently operate five French submarines including the two Agosta-70s which were acquired in 1979 and 1980, and three Air-Independent Propulsion (AIP)-equipped Agosta-90Bs which were commissioned 1999 onwards.
The French had earlier refused to sell Scorpene-class submarines to Pakistan citing reasons that included that they had sold the same submarines to India.
India, meanwhile, operates 14 diesel-powered submarines and a nuclear-powered Akula-class sub.
China has been steadily shoring up its defence exports, which according to a recent SIPRI report, were mostly confined to India's neighbouring countries including Pakistan (35%), Bangladesh (20%) and Myanmar (16%).
Foreign help
Earlier, in April, a top Pakistani naval official mentioned a contract between Karachi Shipyard & Engineering Works (KSEW) to construct four of the eight submarines with the help of China Shipbuilding Trading Company (CSTC), which will build the other four.
These submarines will be fitted with Air-Independent Propulsion (AIP) systems.
Interestingly, in May 2015, Chinese Type 041 Yuan-class submarine (pennant number 335) made a week-long port call at Karachi, fuelling speculations that it was either to train or to showcase the sub to the Pakistan Navy.
India, too, has been working towards increasing its fleet of undersea boats. The French DCNS designed six Scorpene class submarines for the Indian Navy, the first of which is to be inducted later this year, which have been hit by a massive leak of documents that have operational details.
However, Menon believes that the leak won't have much impact for the Chinese subs are not capable of exploiting it.
Another expert says India needs to shake out of the slumber on its defence acquisition plans which continue to struggle with the legacy of former Defence Minister AK Antony's regime.
Edited by Jhinuk Sen
Also read:Why $3.5 billion Scorpene deal leak can harm India's naval capabilities
Also read: Scorpene leaks: Second set of documents released
Also read:Scorpene leak: military experts explain why it may not cause much harm