Pakistan is wary of President Donald Trump. Well, it should be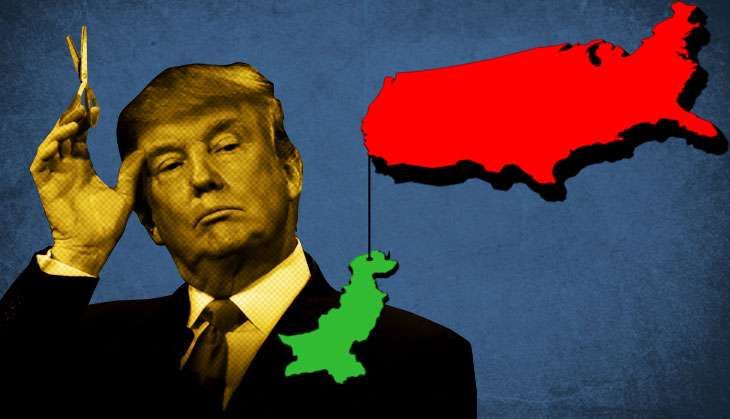 The world is slowly getting used to the unexpected election of Donald Trump as the next President of the United States. In Pakistan, as elsewhere, there is unease about what a Trump presidency could mean for it. However, in Pakistan's case such anxiety is based not merely on Trump's pre-election statements but on the perception that America would be pro-India under him.
Some of the fleeting statements made by Trump in the election campaign were representative enough of what could be in store for Pakistan over the next four years.
Trump's focus has been on Pakistan's nuclear programme, calling it "a vital problem" for the US. "They have a thing called nuclear weapons," he said, adding, "They have to get a better hold of the situation". He has called for an immediate pull-back on aid to Pakistan if it doesn't do away with its nuclear weapons. He has also hinted at seeking help from India and other nations to address the "problem" of nuclear-armed Pakistan, including keeping nearly 10,000 US forces in Afghanistan to ensure that Pakistani nukes do not get into the hands of extremists.
Also Read: Economics 'Trumps' bigotry: Donald Trump mocks Sikhs but loves India's growth story. Wait, what?
On terrorism, too, Trump has been blunt: "They are not friends of ours. (There are) plenty of other terrorists in Pakistan, we know that." In July 2012, he had tweeted, "When will Pakistan apologise to us for providing a safe sanctuary to Osama Bin Laden for 6 years?! Some "ally". In this context, Trump had threatened to release from custody Pakistan-American doctor Shakil Afridi who was instrumental in locating Osama.
Trump has also lumped people with roots in Pakistan together with those from Saudi Arabia and Somalia as posing a threat to the United States.
Addressing Pakistan's nuclear and strategic programme and terrorism is, of course, nothing new for the US. Several previous administrations, including of President Barack Obama, have been pressurising Islamabad to curtail its nuclear and strategic missile programme and to act against the Haqqani Network and anti-India terrorist outfits such as the Lashkar-e-Taiyyaba and the Jaish-e-Mohammad. The difference with Trump is the anticipation that this pressure could increase exponentially given that the dependence of the US on Pakistan vis-a-vis Afghanistan is far less than what it has been in over a decade.
Pivot to India
More than what Trump said in the run-up to the election, it is the prospect of what many in Pakistan see as the acceleration of US policy favouring India that is most worrying. The two indicators of this are taken as his anti-Muslim rhetoric and his existing business ties with India. The concern in Pakistan is that the Trump administration may come to view its ties to Pakistan through an Indian prism.
Such concerns are well-founded. The Indian market would attract the business-minded Trump. He has already promised that India and the US are going to be "best friends" - he has an admitted 'soft spot' for India - and feted Indian Prime Minister Narendra Modi during his visit to the US.
Speaking at an event sponsored by the Republican Hindu Coalition to raise money for victims of terrorism in the run-up to the election, Trump said, "If I am elected president, the Indian and Hindu community will have a true friend in the White House, that I can guarantee you." He added, "We will defeat radical Islamic terrorism when I'm president. We will stand shoulder to shoulder with India in sharing intelligence and keeping our people safe mutually."
Also Read: Experts say Trump in the White House likely to strengthen India-US ties
Nothing similar is likely to be forthcoming in respect of Pakistan. Not surprisingly, Sherry Rehman, former Pakistani ambassador to the United States, recently wrote, "Trump is a bit of a wild card... his anti-Muslim rhetoric may cast a shadow on relations in times of uncertainty." Defence analyst Lt Gen (retired) Talat Masood cautioned that the Trump administration "will be more demanding...he may put more pressure on Pakistan when it comes to the war on terror".
In terms of trade and Trump's own business inclinations, Pakistan is unlikely to figure prominently since it does not have any preferential trade agreement or a even bilateral investment treaty with the US. Though Pakistan's textile exports to the US (worth around $4.5 billion to $5 billion) do enjoy GSP access (a concessionary package that allows the import of consumer goods not produced in the US) these may not be a priority for Trump.
The China factor
Two other factors would worry Pakistan. First, Trump would potentially be more effective than President Obama since both the House of Representatives and the Senate have Republican majorities. In the recent past, Congressional/Senate hearings have evoked a lot of hostility towards Pakistan, including from senior Republicans such as Senator Bob Corker, who had effectively blocked the sale of F-16s to Pakistan.
Second, Trump's anti-China rhetoric could complicate Pakistan's 'all weather' friendship with Beijing. In an effort to counter China, the US may come even closer to India, and Pakistan could come in for some flak.
Interestingly, Sajid Tarar, the Pakistani-American founder of 'Muslims for Trump' has been approached by Pakistan to reach out to Trump and his administration. Tarar was one of the 36 advisers appointed by Trump during the campaign and could get a role in his administration. However, he has cautioned Pakistan, saying the country "needs to put its own house in order because the Trump administration will not tolerate double talk on the issue of terrorism anymore".
In this scenario, what Pakistan would be hoping for is that its nuclear capability, and the fact that it shares potentially volatile borders with India, Afghanistan and Iran prove sufficient to prevent downgrading of relations with the US.
Still, Pakistan would have to do much more that just leverage its geographical position as it has in the past. For starters, it will have to revisit its security and foreign policies which are premised on using non-state actors.
Pakistan will also have to reconcile with the fact that a fast-developing India is much too important a trading partner and a market for any US president to not have close relations with it. The same cannot be said for Pakistan.
Pakistan will have to live with this reality.
Also Read: Nawaz Sharif: between a rock and a hard place