Pakistan & 'evidence': what India must learn from inaction against Lal Masjid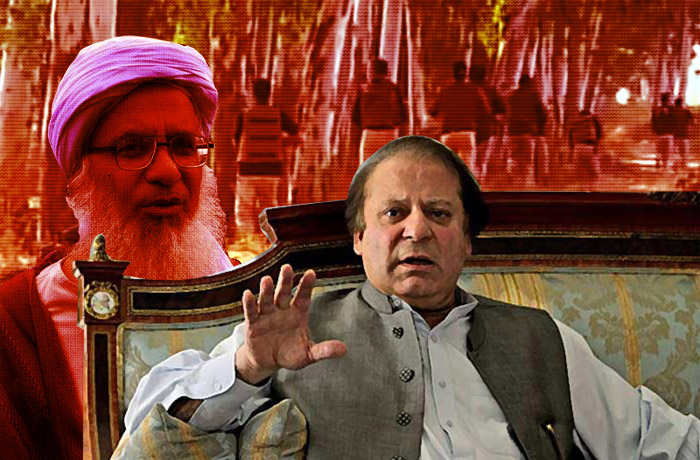 Internal case study
There are numerous FIRs and a mountain of evidence against Lal Masjid cleric Abdul Aziz
He has threatened suicide bombings, supported IS and condoned the Peshawar school attack
Despite being in violation of the National Action Plan, Pak says it has no evidence against Aziz
More in the story
Why the Pakistani State refuses to act against Aziz despite a mountain of evidence
Why India must temper its expectations from Pak in probing the Pathankot attack
We are all aware of how tardily Pakistan has dealt with the evidence that India has given on the Mumbai attacks. Of how the 26/11 mastermind Zakiur Rehman Lakhvi was released due to 'lack of evidence'', as was Lashkar-e-Tayyeba supremo Hafiz Saeed.
Some would like to believe there is a difference in the case of the Pathankot attacks, that there is more positivity from Pakistan this time around.
Commentators have pointed to PM Nawaz Sharif's security meetings, where army chief General Raheel Sharif sat with him, conveying the impression that both the civilian and the military leadership were on the same page; the formation of a Special/Joint Investigation Team (SIT/JIT) to probe the attack; a few arrests in Punjab of persons supposedly belonging to the Jaish-e-Muhammad (JeM); and JeM supremo Masood Azhar supposedly being in 'custody' etc.
While it remains to be seen how far such actions will go, and whether they will result in anything substantive, it would be worthwhile to note what Pakistan has done with the evidence produced before it for events in Pakistan itself.
The case against Lal Masjid and Abdul Aziz
The case of Islamabad's government-owned and funded Lal Masjid, and its cleric Abdul Aziz, is instructive. Aziz has openly threatened to unleash suicide bombers across Pakistan should he be arrested, and has spoken with great admiration about the murderous Islamic State. He has justified the 16 December 2014 Army Public School attack, in which over 130 school children were shot in cold blood, by saying it was a 'reaction' to the army's actions.
Lal Masjid cleric Aziz threatens suicide bombings, supports ISIS & justifies Peshawar school attack
Despite this, interior minister Chaudhry Nisar Ali Khan informed the Pakistan Senate on 30 December 2015 that there was no evidence against Aziz, and if there was any, it should be presented to the government.
As reputed Pak scholar Ayesha Siddiqa noted, there is a history of the State turning a blind eye towards Aziz and his family, despite reports about their involvement in activities punishable under different provisions of the Pakistan Penal Code.
Strangely, the Lal Masjid brigade was not even punished for the loss of life of around seven military officials. The only decisive action taken was the 2007 military operation, when President Pervez Musharraf was in charge.
Even after the 2007 events, evidence has piled up against Aziz. First, an Islamabad court has declared Aziz as a 'wanted' convict under FIR number F569/14, Penal Code 506, Article 2. The case pertains to issuing death threats. However, there has been no progress till date.
Second, according to media reports, intelligence agencies, in a report titled 'Activities of Maulana Abdul Aziz', forwarded to the interior ministry, said the Lal Masjid had links with various terrorist organisations, and that Aziz had a hand in organising the Ghazi Force, a militant group facilitated by the followers of Lal Masjid.
Third, Aziz violates several points of the National Action Plan, that was formulated in the wake of the Peshawar school attack. For example, he violates point five, which relates to strict action to be taken against intolerance, sectarianism and extremism, and point 11, that provides for a ban on the glorification of acts of terrorism. Aziz, however, seems immune to violations of the government's own NAP.
Fourth, though investigations are a government responsibility, an organisation called Never Forget has sent a 78-page document to all the Members of the National Assembly (MNAs) against Aziz.
The document includes the FIRs against Aziz, his links with militants and land grabbers, and proof of Aziz and Jamia Hafiza having shown support to the Islamic State. Based on this document, Jibran Nasir, a lawyer, activist and author of the document, told the media he hoped that at least now, Chaudhry Nisar would take some action against Aziz.
Why the State won't act
It's obvious that Chaudhry Nisar was clearly flirting with the truth when he said that Aziz could not be arrested since there was no case against him. Despite the mountain of evidence against him, as well as being in violation of the flagship NAP, the Pak government has not thought it fit to act against Aziz.
Clearly, therefore, the Pakistani State finds it useful not to proceed against Aziz. His continuing defiance, however, tears to shreds the army chief's narrative that Pakistan is taking even-handed action against terrorists.
Despite a mountain of evidence and numerous FIRs against Aziz, the Pak govt doesn't act against him
As India looks to Pakistan for positive action on the Pathankot attack, it should take a hard look at what the Pakistani State has done or not done with regard to Lal Masjid, despite all the evidence against it.
We should tailor our expectations on a 'result-oriented' investigation. Irrespective of all the evidence that can be mustered to nail the Pakistani perpetrators, the Pakistani State will not act if it does not suit the interests of the 'deep state'.