Pak PM Nawaz Sharif at UNGA: all about speaking for Kashmir and playing victim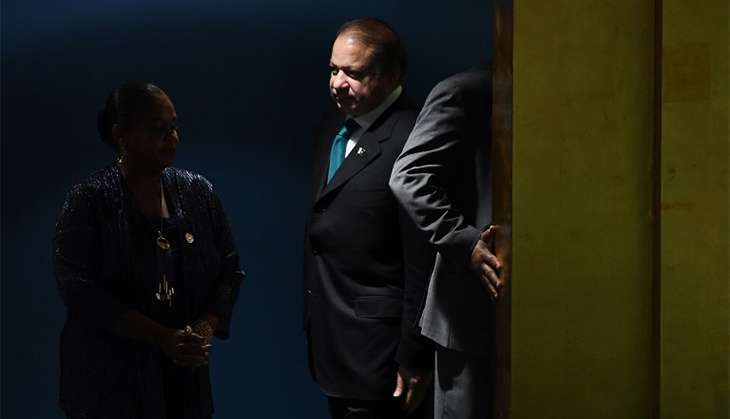 Pakistani Prime Minister Nawaz Sharif, addressing the United Nations General Assembly in New York, claimed that Pakistan supports the freedom struggle of the people of Jammu and Kashmir. He added that the resolution of the Kashmir issue is a must for peace and normalisation of ties between India and Pakistan.
Sharif hailed slain Hizbul Mujahideen terrorist Burhan Wani as the leader and symbol of the 'intifada', a term borrowed from the Palestinian struggle, and called his encounter a 'murder'. He told the UNGA that "Indian brutalities are well documented. I would like to inform the General Assembly that Pakistan will share with the Secretary General a dossier containing detailed information and evidence of the gross and systematic violations of human rights committed by Indian forces in occupied Jammu and Kashmir."
He also demanded a UN fact-finding mission.
India's reaction
India has reacted sharply to Sharif's address. "Pak PM Sharif at #UNGA glorifies Hizbul terrorist Burhan Wani in UN's highest forum. Shows continued Pak attachment to terrorism," MEA spokesperson Vikas Swarup tweeted. Swarup also reminded Sharif of the attack in Uri and 19 infiltration attempts this year from across the border.
Sharif's address also comes at a time when India has been aggressively telling the world about Pakistan's own dismal human rights record in Balochistan, where the Pakistani Army has brutally repressed the popular demand for freedom.
External Affairs Minister Sushma Swaraj will address the UNGA on 26 September, and is expected to bring up Balochistan, besides Pakistan's continuing support to terror groups targeting India.
Unacceptable conditions
Trying to put the ball in India's court, Sharif, in his 20-minute address, claimed that Pakistan had gone the extra mile on the issue of dialogue between both the countries, to address all pending issues. But, he said, India had imposed unacceptable conditions, and that talks were no favour to Pakistan, but were in the interest of both countries.
While India had accepted talks, it had demanded "cessation of cross-border terrorism by Pakistan aimed at Jammu and Kashmir, ending incitement to violence and terrorism from Pakistan in Jammu and Kashmir, detaining and prosecuting internationally-recognised Pakistani terrorist leaders who have been publicly active recently in exhorting and supporting such violence in that state, closing down of Pakistani terrorist camps where terrorists continue to be trained, and denying safe haven, shelters and support to terrorists in Pakistan who have escaped Indian law".
Afghanistan corroborates what India has been saying
Not just India, even the US and Afghanistan, the latter of which, like India, continues to be afflicted by terrorists operating out of Pakistan, have repeatedly asked Pakistan to dismantle terror networks operating out of its territory and stop giving terrorists a safe haven.
Afghan Vice-President Sarwar Danesh, addressing the UNGA, in a frontal attack on Pakistan, had called on the international community to pay particular attention to the dismantling of safe havens located outside the country, and asked where the current and past leaders of Al Qaeda had been residing or killed, and who was helping and financing the leaders of the Taliban and the Haqqani network. He told the UNGA that the 'quadrilateral grouping' on Afghanistan could only work if Pakistan acted in good faith.
Afghan leadership has recently blamed Pakistan for lying on the issue of the dialogue with Taliban. Sharif, in his address, claimed that Pakistan was facilitating reconciliation in Afghanistan, and that though there had been setbacks, that could not be a reason to opt for a military option.
What the Foreign Secy told the Pak envoy
Earlier in the day, India's Foreign Secretary, S Jaishankar, summoned Pakistani High Commisssioner Abdul Basit, and reminded him that Pakistan had made a solemn commitment in 2004 that it would not allow its soil or territory under its control (a reference to PoK) to be used against terrorism against India, and that "this year, beginning from the Pathankot airbase attack, there have been continuous attempts by armed terrorists to cross the LoC and the international boundary in order to carry out attacks in India."
Jaishankar told Basit that 17 such attempts had been interdicted, where 31 terrorists had been neutralised.
The Pakistani High Commissioner was also provided with evidence of the fact that four attackers who were killed in Uri came from across the border.
The ghastly attack in Uri happened despite an intelligence alert and the fact that the base is just six kilometres away from the LoC, suggesting a big lapse on the part of the Indian Army.
India and Pakistan have not been able to talk peace since the attack on the Pathankot airbase. There have been multiple attacks since, as the foreign secretary reminded the Pakistani envoy.
Pak isolated, plays victim
Indian Prime Minister Narendra Modi, while weighing the country's options for a response to the Uri attack, had reportedly given his nod to diplomatically isolating Pakistan on the issue of terror.
That Pakistan has been unnerved by aggressive Indian diplomacy was visible in the way Sharif mentioned how Pakistan continued to be a victim of terrorism. Later, he mentioned how the international community continued to ignore the rising tensions in South Asia to its own peril.
"My country has been the principal victim of terrorism, including that supported, sponsored, financed from abroad," Sharif told the UNGA, adding: "We will not allow externally sponsored terrorism and threats of destabilisation to cause turbulence in Pakistan."
Sharif, interestingly, also called for addressing all kinds of terrorism including 'state terrorism'. But in the same breath, he said: "These efforts should be taken collectively, and not unilaterally, by the passage of any laws with extra-territorial application targeted against certain countries."
Sharif, also claimed that Operation Zarb-e-Azb, the Pakistani military operation in the Federally-Administered Tribal Areas in the northwestern part of the country, "is the largest, most robust and most successful anti-terrorism campaign anywhere in the world, deploying 200,000 of our security forces".
Pakistani claims on Zarb-e-Azb have not been independently verified, and there have been allegations that the operation has pushed the terrorists to Afghanistan, where they continue to wreck havoc.
Self-appointed spokesperson for Kashmiris
Since the current spate of unrest began in Jammu and Kashmir, there have been multiple attacks on security forces by terrorists who had infiltrated from across the border. The attack at the army base in Uri was conducted by Jaish-e-Mohammad terrorists, who, interestingly, used the same route as was used by the Pakistan Army-sponsored raiders in 1947. This is the latest in a string of such attacks on India security forces.
Earlier, a Lashkar terrorist Bahadur Ali, captured by security personnel and later handed over to the NIA, had also confirmed that the Pakistan Army was involved in training and sending non-state actors across the border to foment trouble in Jammu and Kashmir.
Security analysts in India have pointed out that Pakistan is exploiting the volatility in Kashmir, and that the attacks by infiltrators would only embolden the separatists and militants in Jammu and Kashmir.
Sharif may have tried to do just that with his address at the UNGA, where he, acting as a self-appointed spokesperson for Kashmiris, said: "On behalf of the Kashmiri people; on behalf of the mothers, wives, sisters, and fathers of the innocent Kashmiri children, women and men who have been killed, blinded and injured; on behalf of the Pakistani nation, I demand an independent inquiry into the extra-judicial killings, and a UN fact-finding mission to investigate brutalities perpetrated by the Indian occupying forces, so that those guilty of these atrocities are punished."
The issue of Pak's nukes, and where they'll end up
With Pakistan being repeatedly cornered on the issue of its nuclear weapons landing in the hands of the Jihadists or reckless army generals, Sharif tried to reassure the UNGA.
"We have introduced state of the art measures to strengthen the safety and security of our nuclear materials and facilities. We have adopted a comprehensive export control regime that is fully consistent with international standards," he said, adding that Pakistan was fully eligible for the membership of the Nuclear Suppliers Group, something India has been intensely lobbying for and may succeed in by the end of this year.
He was also quick to remind the UNGA that Pakistan "cannot ignore our neighbour's unprecedented arms build up, and will take whatever measures are necessary to maintain credible deterrence".
Pakistan's proliferation track record, however, has been dismal, including the well-documented case of AQ Khan transferring nuclear weapons technology to North Korea.
Edited by Shreyas Sharma