Nowruz 2017 in pictures: Iranian New Year Celebrations Across World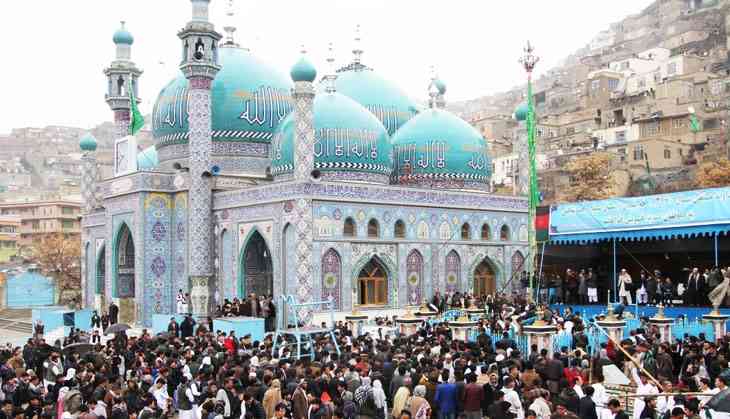 Afghan people gather around the Shrine of Saint Sakhi Saib as they celebrate the Persian New Year Nowruz in Kabul, Afghanistan . (Haroon Sabawoon/Anadolu Agency/Getty Images)
Nowruz marks the beginning of spring and the Iranian New Year is the most important event in the Iranian calendar.
The word Nowruz comes from two Persian words: 'now' for new and 'ruz' for day. The celebrations herald the return of spring and the start of a year.
In Iran, schools and universities remain closed for 14 days on the occasion.
Nowruz is widely celebrated in different forms across the world, especially in Iraq, Afghanistan, Tajikistan and Turkmenistan with large family gatherings, gifts for children, buying new clothes, dancing, visiting friends and neighbours and feasting on special foods. This year is no different.
Here are some pictures of Nowruz celebrations from different countries.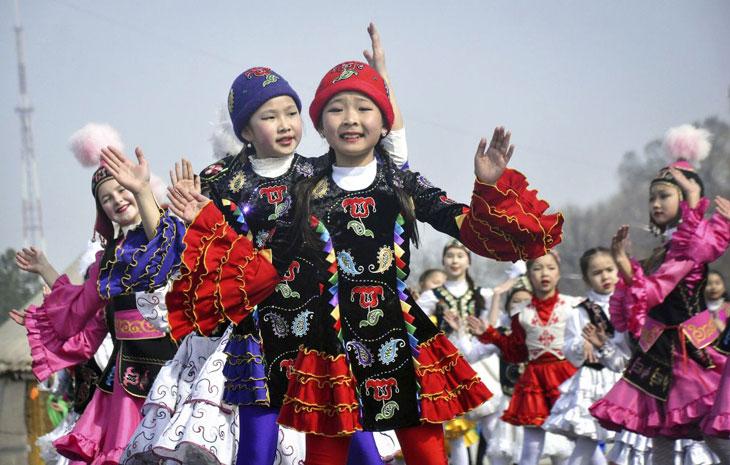 Kirghizstani children take part in a celebration of the Persian New Year Nowruz in Bishkek, Kyrgyzstan. (Nezir Aliyev/Anadolu Agency/Getty Images)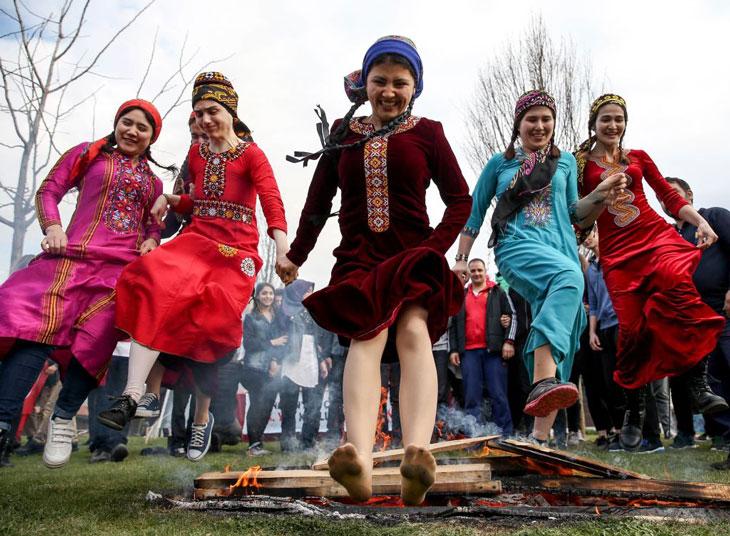 Women jump over a bonfire during the Nowruz celebrations at Topkapi Culture Park in Istanbul, Turkey. (Berk Ozkan/Anadolu Agency/Getty Images)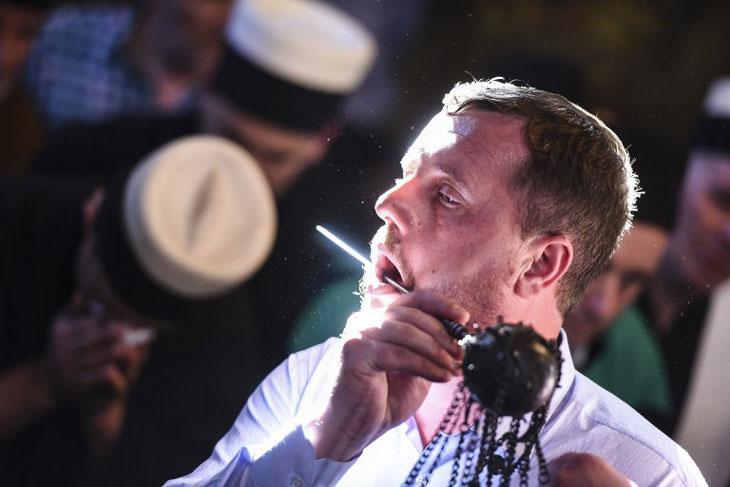 A Kosovo dervish, adept of Sufism, a mystical form of Islam, pierces his cheek with a needle during a ceremony in a prayer room in Prizren on 22 March, 2017 during Newroz celebrations. The Kosovo dervish community carries on centuries-old mystical practices, such as self-piercing with needles and knives as a way to earn salvation and find the path to God. (AFP PHOTO / Armend NIMANI)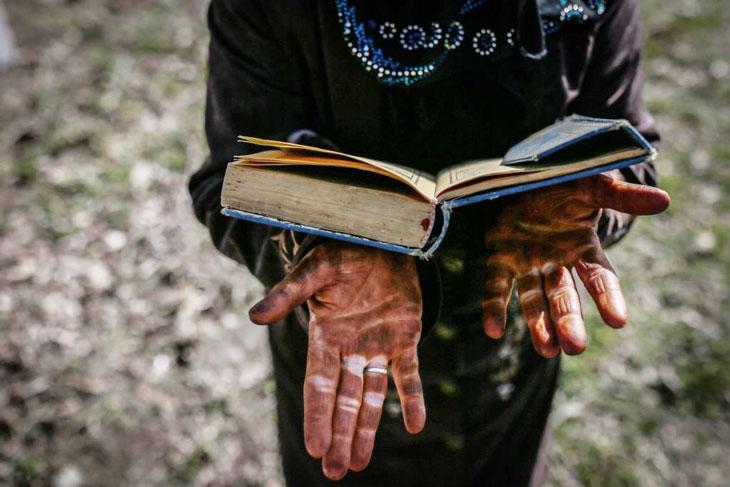 A woman reads the Holy Qur'an at a cemetery during the day of the dead stage of Nowruz in Igdir, Turkey. (Onur Coban/Anadolu Agency/Getty Images)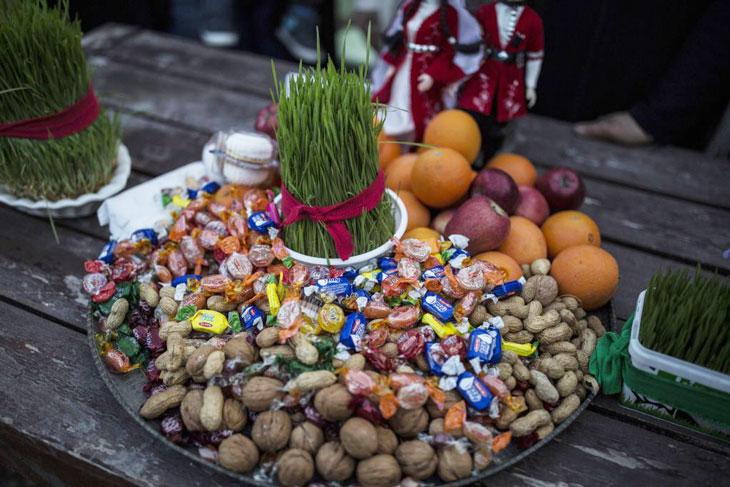 A view of 7 types of various gifts, including fruits or dried fruits brought together in a special tray, being served during the Yeddi Levine stage of Nowruz in Igdir, Turkey. (Onur Coban/Anadolu Agency/Getty Images)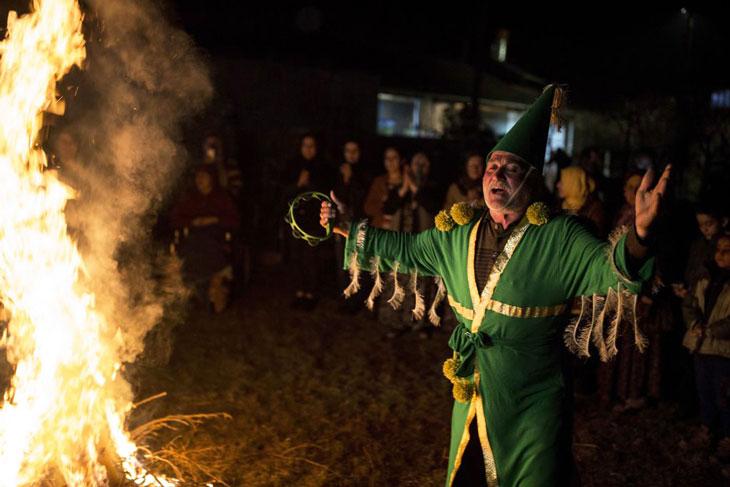 A man dressed up as the Green Kosa, who is believed to prevent famine and unhappiness and bring plentifulness and happiness for the whole year in case he manages to kick the White Kosa out of the house, performs near the fire during the Nowruz in Igdir, Turkey (Onur Coban/Anadolu Agency/Getty Images)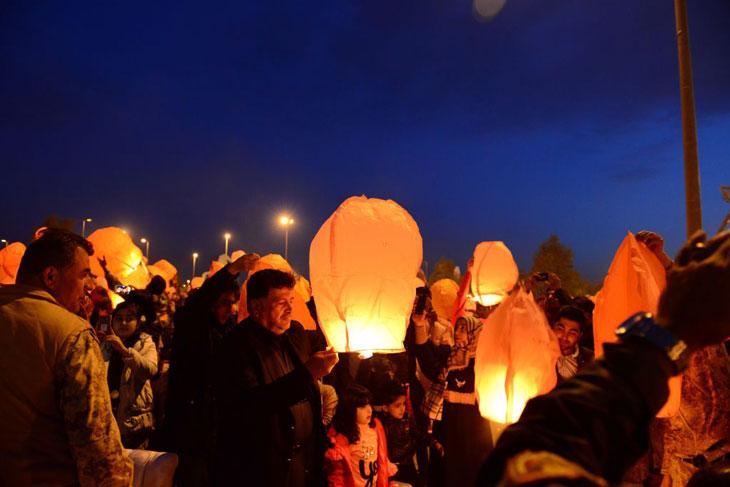 People light sky lanterns to commemorate the civilians and peshmergas who lost their lives during clashes with Daesh terrorists during the Newroz celebrations, the traditional Iranian festival of spring which starts at the exact moment of the vernal equinox, in Erbil, Iraqi Kurdish Regional Government (IKRG) (Hamit Huseyin/Anadolu Agency/Getty Images)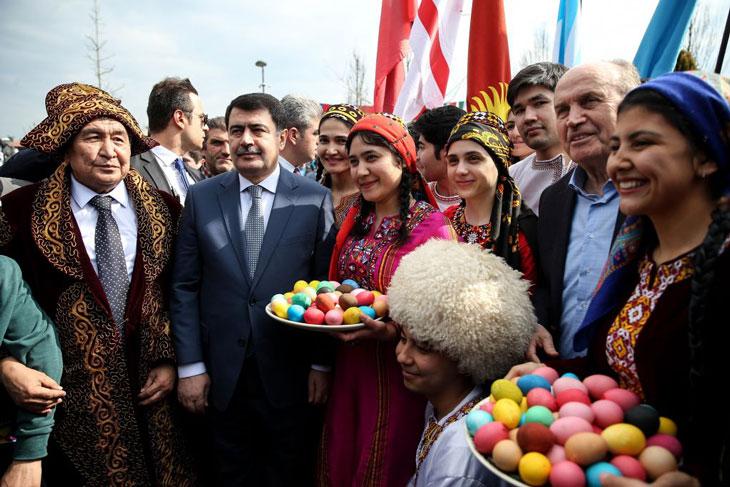 Governor of Istanbul Vasip Sahin (2nd L) and Mayor of Istanbul Kadir Topbas (2nd R) pose for a photo with participants during the Newroz celebrations at Topkapi Culture Park in Istanbul, Turkey (Berk Ozkan/Anadolu Agency/Getty Images)
People in traditional costumes participate Nowruz celebrations in Astana, Kazakhstan. (Aliia Raimbekova/Anadolu Agency/Getty Images)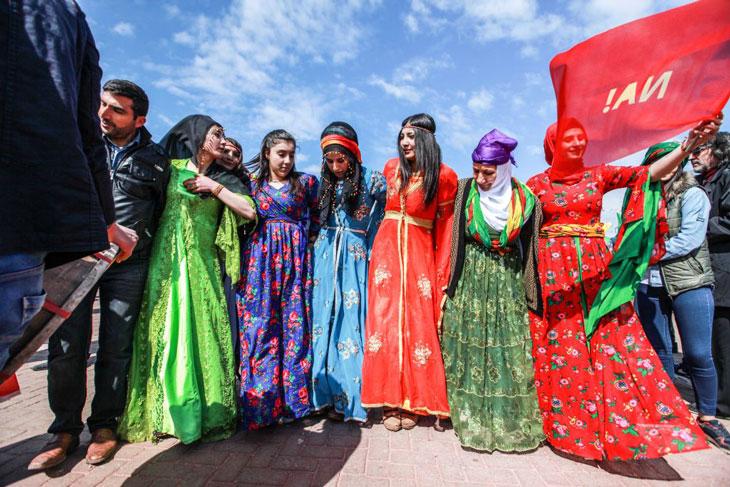 Women wearing traditional dresses dance during a gathering to celebrate Newroz, on March 21, 2017 in Diyarbakir, Turkey. Thousands of Kurds gather for the Newroz spring festival in Diyarbakir in southeast Turkey. ( Emrah Oprukcu/NurPhoto via Getty Images)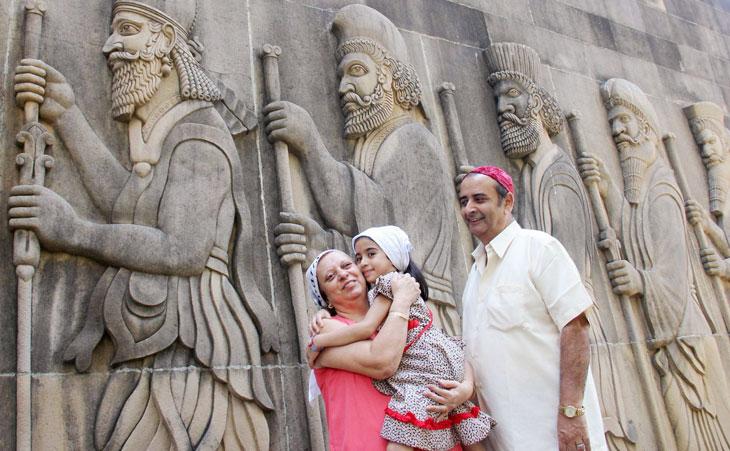 A Parsi family visiting a fire temple at Tardeo in Mumbai on the occasion of Navroz festival. (PTI)