Not the first time: I survived a Haj stampede in Mina 21 years ago
Majyd Aziz
| Updated on: 13 February 2017, 4:56 IST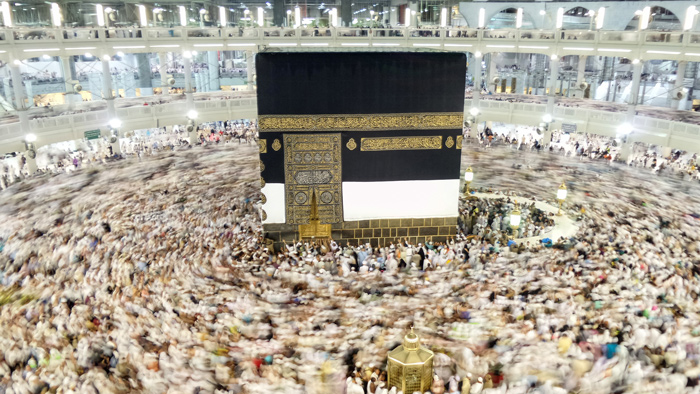 The stampede
Hundreds of people have died and hundreds more were injured in a stampede in Mina
It occurred during the \'stoning of the devil\' ritual, a part of the Haj pilgrimage
The precedent
This is not the first time a stampede has occurred during Haj at Mina
I had a harrowing experience when I got stuck in a stampede in 1994
There\'s no use blaming the Saudi Arabian authorities
These things will continue to happen till people learn their lessons
Haj 2015 has confronted two tragedies. On 11 September, a huge crane belonging to the Bin Laden Group involved in the expansion of the Masjid Al Haram fell due to a severe windstorm.
Some 117 pilgrims inside the grand mosque died, while scores were injured.
Then, on 24 September, the day after Haj, over 720 pilgrims died and over 800 were injured, many critically, during a stampede in Mina, where pilgrims perform the ritual of stoning Shaitaan (the devil).
This day, being the first day of Eid holidays in Pakistan, I was hooked to the television, watching channels keeping me abreast of the latest figures and showing the visuals.
This tragedy brought back memories of 1994, when I accompanied my mother, spouse and eldest daughter for my second Haj.
My ordeal in Mina
Our group was fortunate to have our hotel just a block away from the Jamarat, where the three Shaitaan were located. On the first day, we had managed to reach Mina quite early from Muzdalifah after performing the religious requirements at Arafat. There was no rush at Jamarat and we performed Rami (stoning of Shaitaan) at ease.
I was not comfortable with the bathroom facilities at our hotel, and thus, decided that after the Fajr prayers, I would hire a taxi and leave for Mecca, sleep for a couple of hours, shower and hire a taxi for my return to Mina before the Zuhr prayers.
On the third day, when I returned to Mina, there was a tremendous rush leaving for Mecca after performing the Rami. The cab driver informed me that it was not possible to reach my hotel by taxi, but all I had to do was traverse the bridge at Jamarat and walk to my hotel.
I was casually walking on the bridge when I saw a huge crowd running towards it.
I quickly crossed over to the perimeter of the bridge and what I saw was frightening. It was a really charged crowd, shouting, shoving, and going wild.
The crowd was rushing towards me and the only option was to jump 25 feet from the bridge I was on
I froze, and for a few moments, did not know what to do. After a few deep breaths, I weighed up my options.
The first thought that entered my mind was to run towards the crowd and find a gap. That was easier said than done. The other alternative was to run along with them, but that was also a difficult choice.
The third option was to attempt to go further down the bridge and gather strength to jump and land on an ice-cream truck maybe 20 or 25 feet below. Dangerous because I was no stunt man, and the fall could injure me; or maybe I would lose my balance and fall from the truck onto the road.
I looked down from the bridge and saw 35-40 pilgrims lying on the road. Firefighters, police and other pilgrims were all around them. I had no idea they were dead; instead, I thought they had fainted due to the unbearable heat.
There wasn't a moment to lose. I had to make an instant decision - jump from the bridge, no choice.
Miraculously, I saw enough space for me to edge sideways with my back to the perimeter wall. I moved on.
The roar of the crowd and the speed of their rush were horrific. I was continuously reciting the Darood, an invocation that Muslims make by saying specific phrases to compliment the Holy Prophet Muhammad (PBUH).
I looked down from the bridge and saw 35-40 pilgrims lying on the road. I had no idea they were dead
Images of my mother, spouse and daughter worrying about me were on my mind. With full faith in Almighty Allah, I picked up speed and, keeping the sideways posture, I commenced my walk. The stampede just would not end.
Suddenly, I saw a gap between the others and me. I ran as fast as I could. In a few minutes, the unruly crowd had passed me by. I did not stop and kept on running till I reached the stairs and came down on the road.
I glanced around and saw the bodies lying on the ground. I saw my hotel and dashed towards it. I entered the building and did not stop till I reached the room where my family was waiting for me. They were relieved to see me and I narrated what had happened.
Don't blame authorities
Stampedes occur every now and then during Haj at Mina. I would not blame the Saudi government because the authorities take steps to avoid any mishaps and tragedies.
Today, the facilities are admirable and strategies are in place to deal with emergencies.
The real issue is over two million pilgrims of different nationalities, sects, and attitudes are not properly oriented in behaviour, in customs, in etiquette, and in dealing with emergencies. It seems ironic that civility and consideration is missing in most pilgrims.
Learn the lessons
The first reports on the Mina stampede 2015 reveal that some aged and infirm pilgrims fainted due to the excessive 44 degrees Celsius heat and people trampled over them. This triggered a rush and developed into a stampede.
Rapid rescue efforts by over 4,000 emergency workers and civil defence personnel and 220 ambulances controlled the situation. Meanwhile, other pilgrims went ahead to perform Rami and other prescribed prayers.
Come Haj 2016, another two million will arrive in Saudi Arabia to perform the fundamental obligations of being true Muslims. For sure, the facilities would improve and be more safe and tragedy-free. Hopefully, the pilgrims would have learnt lessons from the tragedies of 2015 too. I know I did.