No room for dissent in Pakistan; liberals face risk of being persecuted
March 28, 2014
Outspoken columnist and development activist Raza Ahmad Rumi was travelling in Lahore in his car with his bodyguard and driver. Suddenly, some men opened fire at the vehicle near Raja Market. Eleven shots were fired. Rumi's bodyguard jumped to save him, but his driver was killed.
January 13, 2017
Raza Ahmad Rumi has been living in the US for more than two years. He yearns to go back to Pakistan to spend time with extended family and friends, but the situation in Pakistan for human rights defenders is very worrying.
November 2, 2012
Prominent rights activist Marvi Sirmed's vehicle was shot at as she was returning home from work in Islamabad. She had received threats from extremist groups several times in the past. Fortunately for Sirmed, she escaped unharmed.
January 13, 2017
It is even more difficult for Sirmed and other activists to raise their voice against issues. "It has always been difficult. But the space is shrinking from underneath our feet rather rapidly. Dissenters have to face massive campaigns on social media that are mainly designed to delegitimise their stance by calling them either traitors of the nation or anti-religion," she says.
Pakistan's troubles seem to have increased with the start of the New Year. Less than a week into 2017, as many as nine Pakistani bloggers, who wrote on sensitive issues such as rights violations in Balochistan and the need to fight terrorists, have been reported missing.
Bloggers who liked to flag issues that troubled them, that hurt the fabric of Pakistan.
Ahmad Waqass Goraya and Asim Saeed are said to have disappeared from Lahore while both were visiting Pakistan. Goraya lived in the Netherlands and Saeed was employed in Singapore.
Catch spoke to Raza Ahmad Rumi and Marvi Sirmed, who narrowly escaped death a couple of years ago, to understand why and how the bloggers went missing.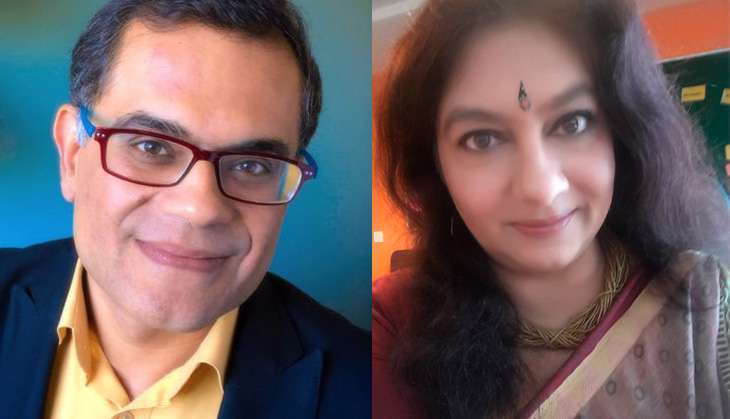 Raza Ahmad Rumi and Marvi Sirmed
Situation is Worrying: Raza Rumi
"I keep wondering what the families of these bloggers who have been abducted must be going through."
"The civilian government needs to be held accountable. Pakistan is a democracy, there are courts and Parliament. The civilian government has not really done enough to enforce the value of freedom of expression."
He feels the Cyber Crime Law Bill, passed in Parliament to crack down on cyber crime a few months ago, is now being used for political purposes.
"That's what is happening - anyone who has dissenting views faces the risk of being ostracised and persecuted."
"The worrying part is that one of the pages (blogs) that they have targetted is for blasphemy. Anything that goes against religion is a double whammy - national security and also blasphemy."
Rumi has been out of Pakistan for more than two years. "I miss Pakistan. Even though I consider myself as a global citizen, Pakistan is where I should be. I want to go home, be with my friends and colleagues."
He recalls the time when he learnt a hit list issued by the Pakistani Taliban had his name on it.
"I was hoping they won't go after me. Why would they come for me, I thought? I am not saying something new, something that hasn't been said before."
"I have been cautious after the incident. I am not scared so much for myself but I don't want to endanger anybody's life. I hope the court case concludes this year and I am able to travel to Pakistan."
He says he still writes, continues to be a consulting editor with The Friday Times, but "the mass reach of my profile has gone down. I have done that deliberately. I am not so much concerned about myself, but for the loved ones. If I were to resume my work on TV I might endanger the lives of others."
"It is not easy to be in another country, sometimes you feel out of place."
The world will soon get to read his life story in his memoir, which he hopes will be out this year.
A bindi wali Hindu
Marvi Sirmed is often mistaken for an Indian in Pakistan thanks to the crisp cotton saris and the large bindi she likes to wear.
She has taken on the high and mighty because she believes in a Pakistan where Hindus and Christians enjoy the same rights as Muslims, and has been famously called a bindi-wali Hindu by Zaid Hamid, a right wing commentator.
In an email interview she tells Catch why all is not well in Pakistan and its liberals.
Edited excerpts:
LH: Why do you think these bloggers were targetted? What is it about their work that may have angered people?
MS: Can't say anything with certainty. I hadn't been following their accounts. Didn't even know their names except Salman Haider's, who has been very actively engaged in activism against sectarian violence, Balochistan's missing persons, for civilian supremacy in a democratic system, religious extremism and terrorism.
Samar Abbas, I have never met or interacted with, but knew of him because of his activism mainly against sectarian violence. Waqas, Ahmed and Aasim I knew only through social media (Twitter and Facebook). They have been critical of religious terrorism and extremism, as well as civil-military relations.
But I can't really say with certainty if they ran any anonymous pages.
There is nothing at surface to suggest they ran any blasphemous page. Some Twitter accounts and TV anchors claiming any link between these bloggers and the blasphemous pages are putting the bloggers' lives in a lot of danger without any evidence or reference. Pakistan's authorities must act against these slanderous accounts and people committing dangerous libel.
LH: The authorities are saying that they did not know about their location. Who do rights activists think have taken them away?
MS: We are not sure at all. I can only say who is defending these abductions, trying to trivialise these missing people, and claiming that it was done by military establishment.
These people have openly declared war against Pak & Pak army. why complain then when FIA or ISI tracks you down?? This rat is in Kuwait...🇵🇰 pic.twitter.com/MiYQagGN3V

— Zaid Hamid (@ZaidZamanHamid) January 11, 2017
These people are considered close to some state institutions, by their own admission. So I really hope that the institutions being accused by these people for taking this 'action' should respond urgently and clarify their position.
LH: What is being done to trace them?
MS: We hear from the media and from the statements of the Interior Minister that the police is on the case and making some progress (the last we heard was of some vehicle that they have caught on CCTV camera which is thought to have picked Salman Haider).
There's nothing more that we have heard so far, except the National Commission on Human Rights expressing its resolve to move (we haven't seen any move as yet from NCHR so far though). The Interior Minister also said three days ago that 'secret agencies' are looking into the matter.
But out of five missing bloggers, no FIR could yet be lodged for the missing of two of them. We hear today these FIRs would be registered. Keeping fingers crossed.
LH: Media reports have talked about four or five missing bloggers, but you and some others have said more people have disappeared. What is the actual number?
MS: Actual number is changing every day. We have been able to get to the families of five so far. Four others were picked up from Multan on another issue. They are said to be the supporters of Pakistan Tehrik-i-Insaf and were allegedly involved in circulating a picture of a politician with the misleading caption calling him Chief Justice.
We have not been able to establish any contact with their families as yet. There are few more, claimed by different TV channels but we are still trying to confirm their names and details.
LH: You personally have been targetted several times. Is it becoming more difficult for activists to take up sensitive issues in Pakistan?
MS: It has always been difficult. But the space is shrinking from underneath our feet rather rapidly. Dissenters have to face massive campaigns on social media that are mainly designed to delegitimise their stance by calling them either traitors of the nation or anti-religion. Now even the mainstream electronic media has also joined that bandwagon for discrediting the dissenting voices.