More cooperation the buzzword as India brings BRICS and BIMSTEC together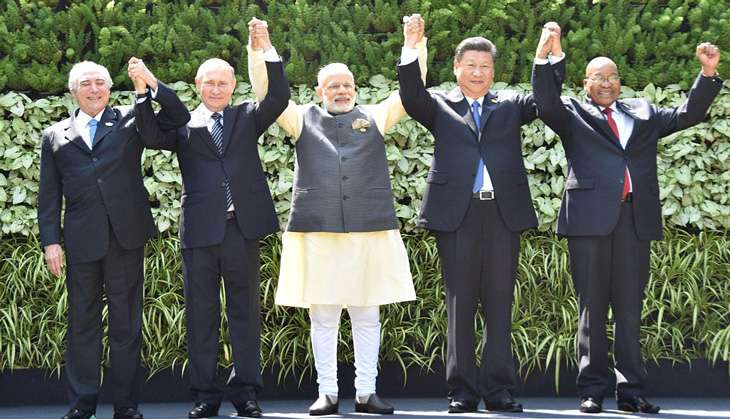 Terrorism is one of the top priorities for BRICS countries - that was the message on the second day of the BRICS Summit in Goa on Sunday.
In addition, all five countries - Brazil, Russia, India, China and South Africa - are battling hard to save their growth stories amid the economic downturn, and thus, the countries sought more economic cooperation.
Indian Prime Minister Narendra Modi gave two addresses on Sunday - one at the BRICS Business Council meet and then in his welcome address to visiting leaders at the BRICS BIMSTEC Outreach plenary. And, as expected, terror formed the main theme of his addresses.
"The time to condemn state-sponsored terrorism is long gone. It is time to act, and act decisively," he said, once again bringing up Pakistan's support to terror groups.
This was reflected in the Goa Declaration, which has important paragraphs on terrorism, and recalls the responsibility of all States to prevent terrorist actions from their territories. It also calls on all nations to dismantle terror bases.
Read the full text of the Goa Declaration here
Russian President Vladimir Putin, too, facing a Western onslaught, brought up international terror, especially the Russian intervention in Syria, with it figuring on the Goa Declaration. He also spoke about it in his bilateral meetings with Chinese President Xi Jinping and Prime Minister Modi.
The Ministry of External Affairs expressed India's satisfaction with the Goa Declaration's formulation on terror, stating that it was able to bring everyone on board with India's ideas. However, it also sought to clarify that BRICS cooperation should not be reduced only to terror references, but seen in the totality of cooperation.
The importance of BIMSTEC
This was the first time that BIMSTEC countries, a multilateral initiative featuring countries surrounding the Bay of Bengal, were interacting with the top leaders who form the BRICS grouping.
The meet comes days after the SAARC summit in Islamabad had to be scrapped, after India, and then other member countries like Afghanistan and Bangladesh, brought up Pakistan's sponsorship to terror groups.
The MEA scrambled to clear the air - that the BIMSTEC Outreach summit with BRICS is not a net result of India's decision not to attend the SAARC summit, and that the decision to host the summits simultaneously was taken in April.
However, experts have pointed out that a renewed impetus on BIMSTEC could lead to more cooperation, instead of India banking on SAARC, which is prone to derailment owing to India-Pakistan hostilities.
Modi's address to the BIMSTEC Outreach plenary outlined how this opportunity could work for both the groupings. He said BRICS represents large emerging economies, countries in the G20 and two permanent members of United Nations Security Council, and that linkages with BIMSTEC will enlarge the sphere of growth and prosperity.
India, for example, as part of its Act East Policy, has fast-tracked key infrastructure and connectivity projects to shore up access to South-East Asian countries. This means reinvigorating the BIMSTEC grouping, which could play a key role.
Challenges ahead
However, an important sticking point could be the fact that China is excluded from this grouping. China is trying to enlarge its influence in the region, promising a $20 billion credit line to Bangladesh. In Nepal, too, till KP Sharma Oli was in power, China had been following an aggressive outreach programme, and had nearly managed to elbow India out of the picture for a while. Thus, it remains to be seen how India's cooperation within BIMSTEC plays out in the future.
For now, though, the signs are promising, with key connectivity projects scheduled to be completed in the next couple of years, according to the MEA.
Experts point out that BIMSTEC has the potential to become an important regional grouping, since the member states do not seem to have any major issues of bilateral discord. However, the focus needs to remain on technical and economic cooperation.
Edited by Shreyas Sharma
More in Catch
India Russia Summit: Modi and Putin on the same page on terror, sign big deals
Terror and Masood Azhar dominate Modi-Xi meeting at BRICS Summit
BRICS the ideal platform to repair Indo-Russia relationship, counter China