#ModiVisit: UK is a key player and it's extending a hand. Grab it
Seema Guha
| Updated on: 13 February 2017, 8:36 IST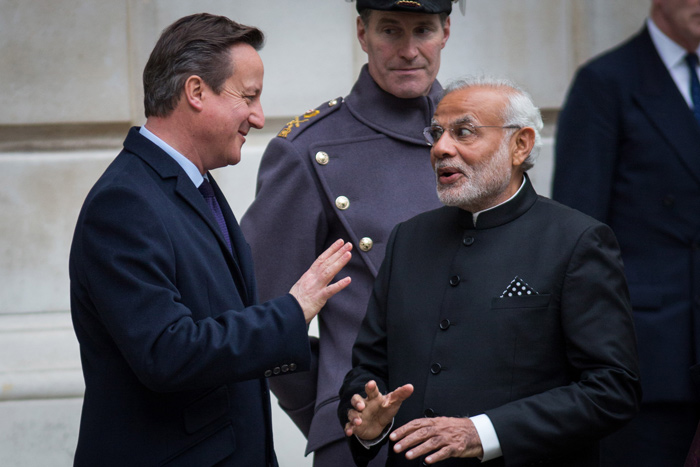 At the high table
Modi is the first Indian PM to visit UK in over nine years
He\'ll lunch with the Queen, address parliament, hold rally at Wembley
His trip follows Xi Jinping\'s visit which saw deals worth $40 billion
On the agenda
India just eased FDI regime, wants to get more foreign investment
Deal for 10 Hawk Jet Trainers, joint defence production on the cards
Modi may seek British help for Ganga rejuvenation, smart cities
Narendra Modi left for a three-day visit to Britain Thursday morning, his shine dimmed somewhat by the drubbing in Bihar.
Defeat in a state election is part of a leader's political life, but for Modi, it is assumed, the problem has been compounded by the language he used during the latter part of the campaign, the Dadri lynching, the return of awards by writers and scientists, and the feeling of growing intolerance in the public space.
Also read - Unlike US and Australia, UK won't be a bed of roses for Modi
Some of this is likely to be echoed by India-origin groups in the UK. Indeed, on 8 November, a massive swastika was beamed onto the British parliament, showing Modi brandishing a sword and the words "Modi not welcome in Britain''.
No shadow of Bihar
Former foreign secretary Kanwal Sibal, however, does not believe the Bihar defeat will cast a shadow on Modi's visit.
"Domestic politics has little bearing on foreign policy. Look at President Obama. Though the Democrats lost majorities in both the Senate and the Congress, his foreign policy or the way he is regarded in foreign capitals has not changed," he said. "No the Bihar election will not affect Modi's trip.''
There is also the fact that Modi's supporters among Indians settled in the UK far outweigh his critics. The event at Wembley, where he will speak to the diaspora, is sold out. He is expected to get a rockstar reception at Wembley, like he did at the Madison Square Garden in the US.
The Modi government has tried to change the narrative after the Bihar loss by announcing significant reforms to the FDI regime. Coming just ahead of a visit primarily aimed at boosting the economy and creating jobs, the announcement will encourage foreign investors to put their money in India.
Domestic politics has no bearing on foreign policy. Bihar loss won't affect Modi's trip: Kanwal Sibal
Indeed, the prime minister himself suggested as much before flying out when he tweeted: "Leaving for UK. I am hopeful this visit will strengthen economic ties between India and UK & bring more investment to India."
British Prime Minister David Cameron has visited India thrice so far but Modi's is the first bilateral trip by an Indian prime minister to London in over nine years. "The visit will fill that void,'' said Sibal.
Following the money
In his address to the India-UK CEOs Forum, Modi will try to get the British industry to co-produce in India.
"Clearly if the prime minister were to interact with the business and financial circles of the UK, sort of put across our economic policies, with a degree of clarity and authority and credibility, this does affect the investment perception of India which, at the end of the day, really means jobs in India,'' Foreign Secretary S Jaishankar said at a news briefing on the PM's visit.
Clean energy is an important item on India's agenda and Britain is a major player in this sector. New Delhi is likely to bring Ganga Rejuvenation plans, clean water, smart cities to the discussion table. "Britain's science and technology research is next only to the US, and we can gain by collaborating with the UK on this,'' said former foreign secretary Lalit Mansingh.
He also pointed out that since London is the world's financial hub, tapping it for investments would be an important consideration for India. "Also, the UK can provide Indian investors access to European markers,'' he added.
Greater collaboration between the financial capitals of London and Mumbai and development of a stronger bond market in India to make it easier for its companies to issue bonds overseas is also on the cards.
Also read - How Modi's Bihar defeat will alter the world's view of him
Comrades in arms
There is talk of India buying 10 more British Hawk Advanced Jet Trainers, but New Delhi would be more interested in joint defence production. "British
defence technology is top class. We can benefit by going for joint production of various defence systems. India will be exploring these possibilities during the visit," said retired Brigadier Rumel Dahiya of the Institute for Defence Studies and Analyses.
"With defence production companies consolidating across Europe, we can get access to new technology from European defence consortiums. This government is keen on accelerating local production in defence, and I expect much of the preliminary talks about this happening during Modi's visit," Dahiya added.
India is taking baby steps in defence exports and would like to beef up the defence manufacturing sector to create jobs.
Another key area for deepening ties is counter-terrorism cooperation. "They have listening posts in every part of the world that is important to us,'' said former high commissioner to the UK Nalin Suri.
Jaishankar echoed this view and also stressed the need for greater sharing of intelligence.
Taming the dragon
Modi's trip comes on the heels of Chinese President Xi Jinping's visit last month, which saw deals worth $40 billion being talked of.
The British government laid out the red carpet for Xi, but Cameron faced criticism for embracing China while ignoring its terrible human rights record.
London is taking care to extend the same courtesy to Modi. Like Xi, the prime minister will lunch with the Queen in Buckingham Palace and address the parliament. Cameron will be at Modi's side during most of his engagements.
Britain is a key player in the world. People here don't seem to realise its potential: Nalin Suri
"Of course, he will be. They have to balance out communist China with democratic India,'' said Suri. "The world sees us as a balancer; we are a democracy, warts and all, but somehow we don't seem to see ourselves as that.''
Suri is of the view that India needs to cultivate deeper ties with the UK. "Britain is an important player in the world. It is important in the EU, important in multilateral agencies. Some people here do not seem to realise UK's potential.''
"Britain is important and David Cameron is interested in strengthening relations. Question is how do we play it and what do we make of the visit," Suri said. "We will have to wait and watch."
READ MORE - #DadriLynching: India needs you to speak up, Mr PM
Isn't this wrong, unethical & shameful, Mr. Modi?