#ModiSharif: Enjoy the bonhomie. But don't expect anything more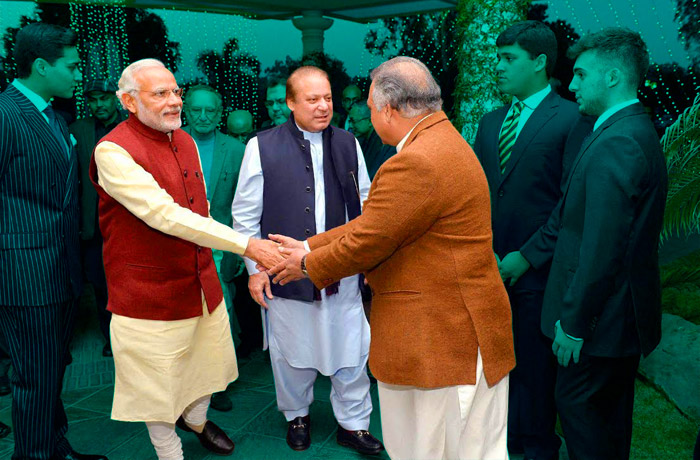 Stopover
Prime Minister Narendra Modi\'s Lahore stopover had won him lots of accolades
The Indian PM was there on Pak PM Nawaz Sharif\'s birthday
Indo-Pak ties
If Indo-Pak ties improve Modi can take credit
Even if nothing changes he can say \'I tried\'
Collaterally too there can be gains
More in the story
Why the visit is good tactics but not sound strategy
Will Modi\'s personal charisma be enough to change anything?
The sudden stopover in Lahore en route from Kabul to Delhi was typical of Prime Minister Narendra Modi's penchant for showmanship. He has rightly been called India's first 'Bollywood Prime Minister' - everything is carefully scripted, meant to be publicly noticed and applauded.
Aware of Modi's need for appreciation, Home Minister Rajnath Singh has described him as a "harbinger of innovative diplomacy" and claimed that "no one in the world had ever seen diplomacy like this." If he was not being plainly sycophantic, this means that the Home Minister whose core mandate is to deal with terrorism was not in the picture at all.
Ever since he assumed office, Modi has taken India on an emotional roller-coaster ride by breathing hot and cold about Pakistan. In either case, he provides no explanation for his actions but seeks appreciation. He wants the people to go into a frenzy both when he thumps his apocryphal 56-inch chest taking a muscular stand on Pakistan as well as when he projects himself as a peacenik walking hand in hand with Pakistan Prime Minister Nawaz Sharif as his long-lost buddy.
Also read: #ModiSharif: Mines, bonds & the Sajjan Jindal card in Indo-Pak relations
Like Bollywood which seeks to entertain for a few hours, it is quite likely that the Lahore bonhomie of Prime Minister Modi has only tactical aims. Strategically, it may change little.
Sure shots
His move will undoubtedly deny Pakistan the brownie points internationally by claiming that India was obdurate while it was ready to talk. It will also prevent Modi's friend "Barak" from breathing down his neck as the United States was pressing India to restart dialogue with Pakistan.
The Lahore stopover also has the advantage of projecting Modi as someone with the ability to change the optics of the India-Pakistan relations. If the atmospherics result in a constructive dialogue, he will get credit and his stature would be enhanced.
Since Modi is very keen on attending the 19th SAARC summit in Islamabad in July 2016, he would not want anything to mar his visit. His Lahore foray can help prepare the ground for the visit. The Modi machine must already be preparing for a grand show in Islamabad to outmatch Atal Bihari Vajapyee's visit for a similar summit in January 2004.
Since there are no non-resident Indian crowds in Pakistan to attend his trademark rock-star shows, he has to think innovatively to outdo the Vajpayee visit which resulted in a commitment - honoured more in the breach subsequently - that Pakistan would not allow area under its control to be used for terrorism against India.
Also possible
By improving the optics with Pakistan further collateral advantage may be had in the Uttar Pradesh Assembly election due in 2017. If it is true - and this is by no means an established truth - that Muslims in North India tend to be well-disposed towards parties that improve ties with Pakistan, then some sections of the community may swing towards the Bharatiya Janata Party (BJP).
Also read: Measure of the Man: why Modi loves hoopla
There are a large number of divided families in UP who place primacy on normal ties with Pakistan so that cross-border visits become easier. Whether the BJP will indeed become more acceptable to the voters in the state, who have been the target of its communalism up to now, remains to be seen.
Legacy Modi
Finally, it is quite possible that Modi may also have begun to think in legacy terms. The first indication of this was his speech to the Navy Commanders' conference on INS Vikramaditya where he declared that he was "engaging Pakistan to try and turn the course of history".
Indian Prime Ministers while in office tend to assume that their initiative and the sheer power of their personality are sufficient to change the trajectory of India-Pakistan relations. Modi believes that he can pick up the threads of India-Pakistan relations from where Vajpayee had left off.
If he succeeds where the former Prime Minister failed his image would get a massive boost; he would prove his critics wrong and, who knows, he may then even be looking at the prospect of a Nobel Peace Prize.
Modi's new found warmth towards Pakistan has found support in the media and the opinion-making classes. There is little doubt that should he be looking for it, Modi can generate a broad consensus in the country for peace with Pakistan.
Having grown up politically breathing fire against Pakistan, he knows that at the end of the day, the ordinary folk in India do not like threats of war; that they recognise that without a dialogue with Pakistan there cannot be a compromise on any outstanding issue. Also, they know that a dialogue does not mean that India has let go of its interests.
State & Army
There is also belief in some sections of the policy-making establishment in India that while Nawaz Sharif is well intentioned, it is the Pakistan Army which is villainous when it comes to forging peace with India. Thus the arguments that the Pakistan Army did not want Sharif to come for Modi's swearing-in ceremony and that the appointment of a former military officer Lt. Gen (R) Naseer Khan Janjua as Pakistan's National Security Advisor suggests that this time around the Pak Army was on board for initiating peace with India.
Also read: Modi-Sharif meet: Lahore visit was neither a coup nor a surprise
Without appreciating the role of the army in Pakistan's neighbourhood policy, they dream of either minimising the military's influence in India-Pakistan dialogue or hoped it will not act as a spoiler.
The insurance
If, however, things were to go terribly wrong with his assumptions about Pakistan, Modi still has the option of falling back on a hardline position.
He could then claim that he made several efforts with Pakistan - in Kathmandu, in Ufa, in Paris and even in Lahore - but the Pakistanis are an incorrigible lot.
From his perspective then, he is engaging in safe gestures with no immediate downside.
Necessary scepticism
To claim that Modi's diplomacy is path breaking is to ignore how far Vajpayee and Manmohan Singh had gone with Pakistan, despite the terrorist attack on Indian Parliament and the Kargil War. Even then, we witnessed the Mumbai terror attacks.
India then went so far as to separate acts of terrorism from a dialogue with Pakistan, but to no avail. Pakistan, in fact, changed the discourse on terrorism and claimed that India was behind terrorist acts in Pakistan.
Also read: Twitter takes on TOI's epic-length headline. Hilarity ensues
After one discounts the hoopla around the 'engineered spontaneity' of the Lahore visit, one might wonder whether there is indeed a downside to it. The question is: How would Modi's actions be viewed in Pakistan and would there be any change in Pakistan's attitude in the long run?
The new optics suggest that India had been wrong all along and it has now come to the right path, realizing that it needs to take corrective measures, behave better and walk hand-in-hand with Pakistan. The Modi establishment, up to now, had been telling the Indian people that the ground reality was exactly the opposite.
Are the Pakistanis going to be taken in by the engineered birthday bonhomie? They would wonder what Modi's motivations are. They will monitor whether the nature of India's retaliation on the Line of Control has changed from the threatened disproportionate response or the tit-for-tat responses of India's intelligence agencies (India is accused by Pakistan of fomenting trouble in Balochistan).
If they find that India has indeed stepped back, it is unlikely that they would think that Modi is approaching them from a position of strength. They may also conclude that he comes to them at a time when his popularity is sagging and his stature has been eroded after the Delhi and Bihar poll debacles.
The trappings
In the medium and the long term, neither Pakistan's nor India's interests are going to change fundamentally. Pakistan would always want to put Kashmir on the front burner and settle Siachen. Both are tricky issues for any Indian Prime Minister, given the entrenched Indian position on Kashmir and on giving up or weakening the Indian Army's position on Siachen, which is totally under Indian control. Retreating on either will be particularly difficult for a BJP Prime Minister.
Similarly, Pakistan is unlikely to give India any satisfaction on the 26/11 trials, curbing the activities of Hafiz Saeed or acting against terrorist organisations in Punjab like Lashkar-e-Tayyeba. The Pakistan Army and the terrorist groups in Pakistan's Punjab recruit from the same areas and communities.
Targeting them could create internal strife and the Pakistani political leadership itself might become a target. Therefore, it is very difficult for the political leadership to act on the basics of terrorism against India.
No big deal
On the face of it, therefore Modi's dramatic strategy is unlikely to deliver. A more sustained engagement with Pakistan without hyperbolic gestures may help the two countries understand each other's concerns and interests better.
Relationships that have been bombed virtually beyond repair need to be rebuilt slowly, steadily and with sustained effort without raising hopes of a final resolution because of the personal charisma of a leader.
Also read: When the going gets tough, the tough get going: Salman Khurshid