Live: Trump- Putin begin day of meetings in Helsinki, Finland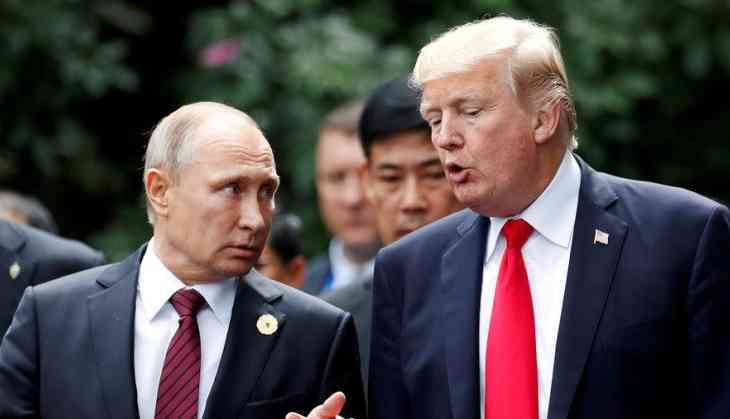 After a slight delay, the US President Donald Trump and his Russian counterpart
Vladimir Putin started their day of meetings in Helsinki, Finland while tension increases between the two nations.
As the first formal meeting began, Trump was quoted, "The world wants to see us get along," He also added that he thinks he'll end up having an extraordinary relationship.
He even said that he was going for the meeting with very low expectations. But, of course, he said, "The bilateral summit nonetheless will be closely watched, amid concern from world leaders and U.S. lawmakers alike that the president may be too friendly toward a known adversary of the United States."
Our relationship with Russia has NEVER been worse thanks to many years of U.S. foolishness and stupidity and now, the Rigged Witch Hunt!

— Donald J. Trump (@realDonaldTrump) July 16, 2018
President Obama thought that Crooked Hillary was going to win the election, so when he was informed by the FBI about Russian Meddling, he said it couldn't happen, was no big deal, & did NOTHING about it. When I won it became a big deal and the Rigged Witch Hunt headed by Strzok!

— Donald J. Trump (@realDonaldTrump) July 16, 2018
Received many calls from leaders of NATO countries thanking me for helping to bring them together and to get them focused on financial obligations, both present & future. We had a truly great Summit that was inaccurately covered by much of the media. NATO is now strong & rich!

— Donald J. Trump (@realDonaldTrump) July 16, 2018
Trump tweeted, "US-Russia relations soured by US "foolishness" including the ongoing probe into Russian interference in the 2016 election."
When asked if he would charge the Russian President Putin over Russia's alleged involvement in the 2016 election that helped him get into power, he said, "We'll do just fine."
After new revelations related to election meddling, the Democrats had asked for the cancelation of the summit but Trump inisited "a good thing to meet", to build a personal rapport with the leaders like he did with China and North Korea recently.
Also Read:Thai mob slaughtered nearly 300 crocodiles in revenge