Indian workers in Saudi Arabia are thankful to a national daily for getting them their dues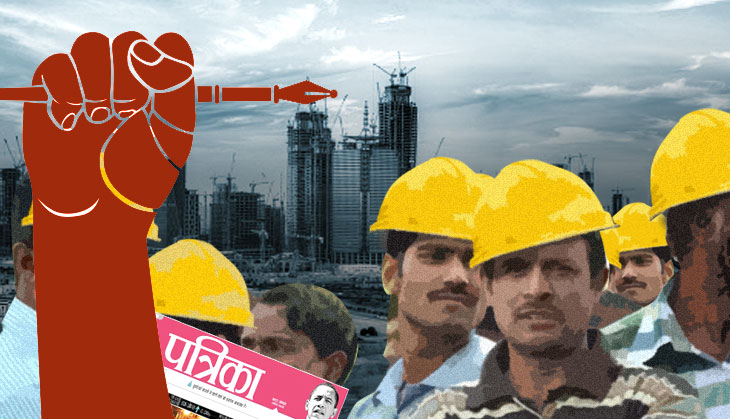 Seventy thousand workers were to asked to quit their jobs in a massive retrenchment drive by the giant company, Saudi Binladin Group that operates in Saudi Arabia. They haven't been paid for the last eight months and yet they cannot stay back in the country to demand their dues as they have been handed over their exit visas. The company owes them Rs 4,394 crores (660 million dollars) but it has refused to pay on the pretext that it cannot do so.
Angered by such an attitude the workers gheraoed around the fifty branches that the company had in Mecca to press their demands and even set fire to seven vehicles. The people of Saudi Arabia have been told to 'either resign or await your salaries'.
The company's name Saudi Binladin Group is a reminder of the infamous terrorist Osama; it is owned by his father. Binladin is hugely in construction, the largest in the Middle East. Though its projects continued to multiply and grow big and bigger since 1931 when it was founded it seems to be facing hard times lately. During a dust storm in 2015, its crane toppled into the Golden Mosque. This crane mishap is proving to be the turning point in the company's fortunes.
Binladin in trouble
Besides, plummeting oil prices and global recessionary trend in the construction industry, have had their impact. The government of Saudi Arabia has withdrawn the projects of high speed trains and one of a large football field ground it had awarded to the company. In Jeddah, Binladin was executing what would have been a building as high as 3280 feet, the tallest, but it has since stopped. The debt of the company is mounting and it has grown to 20 thousand crore rupees.
Most of the recruited workers are from India and Pakistan. Almost half of those who had to leave their jobs were Indians. And of these 25,000 came from Rajasthan. That region of Rajasthan, from where people look for opportunity and seize it, is Shekhawati, Sikar-Jhunjhunu belt. In post-independent India, among those traders and money-lenders, who pioneered setting up industrial units, most were from Shekhawati. When the Middle East boomed with petro-dollars, many from Shekhwati left their homes and help build the desert countries, into blooming modern nations. Though petro-dollars do not have their former shine they continue to attract manpower and most certainly those from Shekhawati.
Where are the wages?
Currently there are 10,000 workers in Saudi Arabia. Those who are still there are waiting in hopes of receiving their wages. But it is increasingly getting difficult to manage without being able to pay the bills. Children's school fees have not been deposited so they have had to be withdrawn. In some cases, relatives are sending them tickets to come back home. In the last three months, more than 20,000 have returned. In Bisayatinon, a neighbourhood in Sikar, two thousand have returned in the last three months and more continue to come. Everyday, two to four taxis go to receive them.
In this neighbourhood. in Saudi Arabia, every family has at least one emigrant member. It is not difficult to locate someone who has returned. At one call, dozens of people gather and narrate their experiences. Most of those who have returned had been working in the troubled Binladin Group. They said that hey were not even given lunch while at work. For three months, Chiraguddin had gone to try his luck there. He was given a job but not given an identity card. Without the card, police had put him behind bars. After two months of beinh behind bars, he is back in the neighbourhood. The conditions in Middle East are changing gradually and Saudi Arabia is no exception. Put together the workers from have indeed lost a lot and it has to be recovered.
Rajasthan Patrika the saviours
Rajasthan Patrika brought up this issue; its echo was soon heard in Parliament. Om Birla took up the issue and asked the government to engage with Saudi Arabia and get the company to settle the dues of the workers. He also said that the Indian diplomatic mission in Saudi Arabia should look into the matter. In the meanwhile, the labour minister of Saudi Arabia stated that the company must pay the workers, or face labour inspectors.
The fallout of all this has brought some good news - the government of Saudi Arabia has lifted the ban on distressed Binladin Group. The company is allowed to bid for government projects again. The workers have become hopeful once again. Hashim Ahmed, working in the construction company, in Mecca, is thankful to Rajasthan Patrika. The efforts of the paper paid off as the Parliament raised the issue and brought about complete change.
Though the company has announced that it will clear the old wages, It is yet to be seen as to when this will be done. The company is under heavy debt. It has retrenched 12,000 Saudis too. Binladin executives are reported to have been assuring the banks that the loans which have been ballooning will be repaid soon. The coffers of the company will not be filled just by the lifting of the ban. Nevertheless, the situation has certainly changed for the better and let us hope that workers are reinstated along with arrears.
Edited by Sahil Bhalla