#IndiaAfricaSummit: Don't just stand, go in and deliver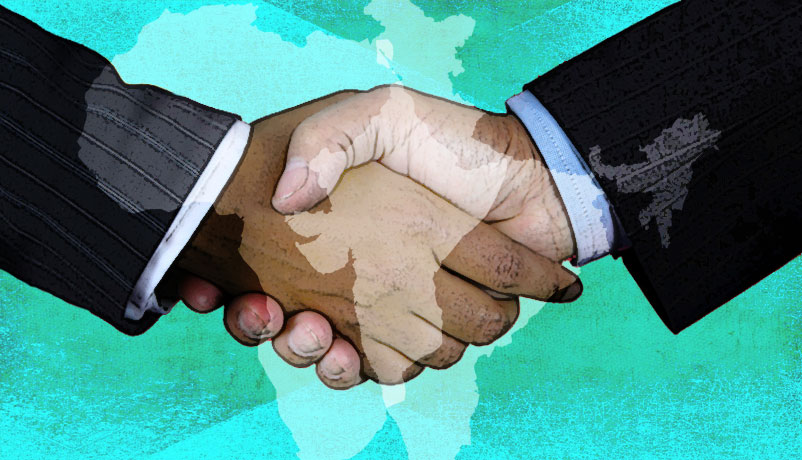 The message
Every African country is attending the India-Africa summit
What Africa needs from India: job creation, capacity-building
What India needs from Africa: economic, strategic, political gain
The challenge
India shouldn\'t try playing catch up with China, pursue its own interests
Deliver and dispel the perception that \'India promises but China delivers
Increase ground presence; India only has 29 missions in 54 countries
The satisfaction at the numbers is justifiable. Every single African country is attending the summit, 42 represented by heads of state or government and the rest by senior ministers.
The numbers speak volumes about the high standing African nations accord ties with India. They also say much about our government's commendable efforts to reach out to every country and persuade the African Union to ignore the Banjul formula of selective, regional representation for the summit.
The summit presents both India and Africa an opportunity to not just build incrementally on the current level of cooperation but to lift it up exponentially.
On the Indian side, the priorities were mentioned in some detail in the press interaction that Prime Minister Narendra Modi had with African journalists, and by the foreign ministry.
But what do the African leaders want to take away from the summit? This is a question that hasn't been discussed much.
To answer this, we must take a hard, objective look at Africa, shorn of hype, nostalgia and shared history.
Continent-sized paradox
Africa abounds in paradoxes. The "dark continent" of yore is today's "sunrise" continent. The surge of democracy has gone from three to 40 nations in the last two decades or so.
Between 2000 and 2010, six of the fastest growing economies in the world were in Africa: Angola, Nigeria, Ethiopia, Mozambique, Chad and Rwanda. Indeed, even after the financial tsunami of 2008, most of Africa has managed an average growth of 5%.
Its "demographic dividend" is huge, with a quarter of the world's population under 25 living in sub-Saharan Africa by 2025. Its fabled mineral wealth needs no emphasis.
That is the sunny side.
Now, for the reality check.
Africa is crippled by inadequate infrastructure. The entire sub-Saharan Africa produces just as much electricity as Spain; half of it is produced by just one country, South Africa.
Also, the high growth of the 2000s wasn't driven by better economic policies but a rise in demand for raw materials, mainly from China. The slowdown of the recent years is again due to sluggish Chinese, and global, demand for commodities.
By 2025, sub-Saharan Africa will be home to a quarter of the world's under 25 population
The "demographic dividend" is potentially a disaster in the waiting, as millions of youth without jobs pose ominous threats of forced emigration, crime and violence.
Africa's mineral wealth has often been, as a Nigerian minister put it to me, a "curse", fuelling massive corruption, conflict and inequality. For example, credible accounts estimate that 80% of Nigeria's oil wealth goes to one per cent of its people. At the same time, the Nigerian population living on less than a dollar a day has gone up from 27% in 1970 to a staggering 75% in 2010.
Forge a partnership
Right now, as Greg Mills and Jeffrey Herbst have pointed out, Africa is into it's third liberation struggle. The first was from colonialism and racism, the second from the liberators, many of who turned into dictators, themselves. This one is meant to change the focus of politics.
India's message at the summit should be that it's Africa's partner in this liberation struggle. An ally that can contribute more than any other nation to its most important task: job creation. Every African leader, democrat or despot, wants this above all else.
Between 2000 and 2010, six of the world's fastest growing economies were in Africa
As the Ghanian president John Kufuor wrote in the preface to Mills and Herbst's book, "Educated but unskilled young people without employment would continue to destabilise our fragile polities, entrepreneurship will be focused on subsistence activities and not wealth creation and commodity dividend will continue to be prey to corruption, rent-seeking and resource nationalism."
Job creation requires building capacity and promoting entrepreneurship; other countries can also do this, but at costs that Africa finds unaffordable.
Roadmap for future
So, here is a ready reckoner on how India can leverage this summit to engage with Africa, to the benefit of both:
Don't fall into the trap of playing "catch up" with China. Focus on what we do best, which is capacity-building - in education, training and skills. This is what Africa needs and wants from India.
This does not mean New Delhi shouldn't pursue its economic, commercial, political and security objectives with vigour.
This is crucial: when we interact with Africa, we deal with 54 countries of immense diversity. An "Africa policy" is as much an oxymoron as an "Asia policy". By all means, pay lip service to this hoary myth but deal with each country individually.
To do this, we need constant monitoring of the situation. Nothing can ensure this except, to use a military analogy, "boots on the ground" - a well-staffed resident Indian mission. There is no substitute to the day-to-day personal contact, reporting, monitoring and the pursuit of our national interest by a permanent Indian mission. Twenty nine missions in 54 countries simply means we are non-serious and short-sighted.
We give billions of dollars in credit to Africa, but the proper utilisation of the money, and ensuring it brings us goodwill and material returns, will depend to a large extent on monitoring and trouble-shooting by an alert mission.
For all the respect for India's democracy and its honourable historical role, the saying going around in Africa, and now echoing in the developing world, is that "India promises but China delivers". This is an image, linked to reality, that we must change.
The Indian private sector has a central role to play in all this. It posses the required skills and technology, but is largely averse to risk-taking in Africa, preferring to skim business off our credit lines.
The views expressed here are personal and do not necessarily reflect those of the organisation.