India to continue to stand 'shoulder to shoulder' with Afghanistan: Sushma Swaraj
Catch Team
| Updated on: 12 September 2017, 0:23 IST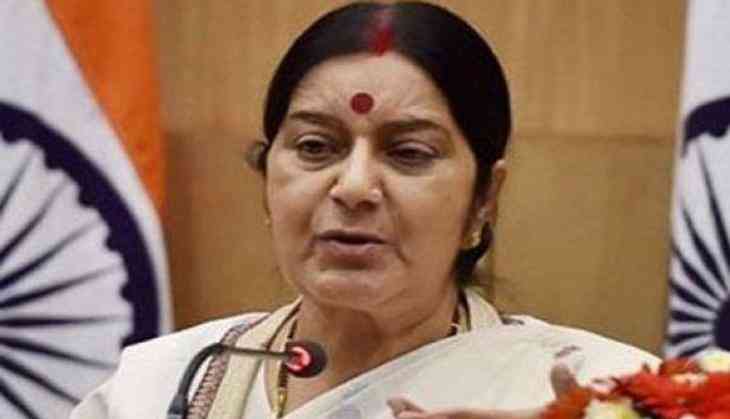 India will continue its assistance to Afghan security forces, strengthen security cooperation, expedite work at the important Chabahar port in Iran, and take up new development projects in 31 provinces of Afghanistan, External Affairs Minister Sushma Swaraj said on Monday.
Swaraj, in an apparent reference to Pakistan, says India and Afghanistan, "remain united in overcoming the challenges posed by cross border terrorism and safe havens and sanctuaries to both our countries."
She was addressing the media after the conclusion of the second India-Afghanistan Strategic Partnership Council. Acting Afghan Foreign Minister Shuja Rabbani and his deputy Hikmat Khalil Karzai are in New Delhi for the important dialogue, their first visit after US President Donald Trump announced the new Afghan policy.
The fight against terror
Rabbani, in his statement, in fact specifically named groups operating from the Pakistani soil.
"Both countries suffer from terrorism and violent extremism that threaten is and the region's stability. The terrorist groups like Lashkar-e-Taiba and Jaish-e-Mohammad which have been launching attacks against India and indiscriminately killing civilians of this country are engaged in similar activities along with Taliban, Al Qaeda and Daesh in Afghanistan. Together they are killing our people on Afghanistan and destroying infrastructure," he said.
Earlier, the BRICS declaration from Xiamen specifically mentioned these groups and that they are operating from Pakistan.
The development factor
Announcing the new policy, Trump had called for more engagement from India and asked India to do more of development work. Experts say it was a recognition of India's development work in the country, which include among other things, the Salma Dam in Herat and the new Parliament building in Kabul.
India seeks to expand this development commitment. According to the joint statement released after the meeting both sides have agreed to a 'New Development Partnership' and India will take up 116 High Impact Community Development Projects in 31 provinces of Afghanistan. These projects will cover areas of education, health, agriculture, irrigation, drinking water, renewable energy, flood control, micro-hydropower, sports infrastructure, administrative infrastructure.
Under the grant-in aid assistance India will implement Shahtoot dam and drinking water project for Kabul that would also facilitate irrigation, Low cost housing for returning Afghan refugees in Nangarhar Province to promote resettlement, road connectivity to the picturesque Band-e-Amir in Bamyan Province where the Buddhas once stood among others.
Pakistan does not want Indian influence to increase in Afghanistan, but more development work would do exactly that. India has been reluctant to get drawn into the military side of the conflict has focussed largely on capacity building. In terms of assisting the defense forces, India has trained ANDSF beside supplying four military helicopters.
More Indian investment and outreach in Afghanistan is one reason why the Pakistani Army is unnerved by the new Trump policy. Pakistani NSA Nasser Janjua hinted as much when he said the new policy would create regional imbalance, a clear reference to India. However, Pakistan is coming under renewed pressure on terrorism, and BRICS declaration was a suggestion that even the Chinese may be rethinking their stance.
Meanwhile, India and Afghanistan signed four pacts on motor vehicles, medicine and health care and sharing orbit coordinates for the South Asia satellite.