India needs to break China's grip on Africa. Now is its chance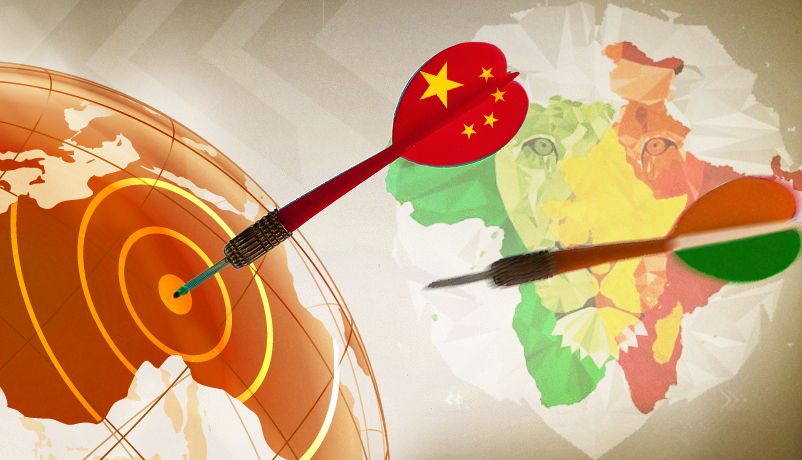 Officially, the 3rd India Africa Summit is meant to strengthen political, economic and strategic ties with the continent. It's no secret, however, that New Delhi wants to check China's ever increasing influence.
It has a good reason to: Africa offers untapped reserves of minerals, a vast market and growing economy for business and investment and 900 million consumers for goods.
The continent produces 2.2 million barrels of oil a day, making it critical for the energy-guzzling economies of both China and India. Only Beijing has stolen a march over New Delhi.
It's deeply entrenched in the continent, having made its first forays back in the 1960s and '70s. And it uses the leverage earned over the decades to bag profitable economic and strategic deals.
Here are a few examples of how China is expanding its influence in Africa:
It provides low-interest loans -- double what all the Western nations give - to mineral-rich countries like Angola and the Democratic Republic of Congo. Indeed, China has so far given loans to all African nations except Swaziland, which supports Taiwan. In return, it gets good deals on the import and extraction of oil and mineral as well as for building infrastructure.

As a policy paper by the Institute of Development Studies suggests, China ensures that the infrastructure it builds in Africa furthers its business interests. For instance, it funded Tan-Zam Railway, Africa's longest rail line that connects the landlocked copper mines of Zambia to the Tanzanian port of Dar-es-Salam 2,000 km away, to get easier access to the ore reserves.

Everyone from Britain to Canada and Germany, and even the World Bank, had declined to fund the project. But, aided by Chinese investment and engineering, it was wrapped up two years ahead of schedule. And this was in the 1970s, when China was not even close to the economic and technological powerhouse it is now.

Currently, Beijing is funding a huge port and a special economic zone, estimated to cost $ 10 billion, at Bagamoyo, Tanzania.

It regularly waives off the debts of African countries and lowers interest rates. According to the Forum on China Africa Cooperation, as of 2009, it had cancelled at least 150 debts of 32 countries.

China has also helped transform Tanzania's unskilled labour into technicians, boosted Benin's cotton production, launched a cement company in Nigeria, laid railway lines in Ethiopia, and provided medicines to reduce malaria deaths in several countries.
China has given loans to every African country except Swaziland, which supports Taiwan
Just business
All of this has meant engaging regularly with dictators and even rebel militias considered unfavourable by the rest of the world. This has earned China quite a bit of scorn, with the country being labelled a "rogue donor" and its aid "toxic".
Indeed, its enormous influence has even been an election issue in at least one African nation. During the Zambian presidential election in 2006, the opposition candidate, and later president, Michael Sata warned his countrymen: "We have to be very careful because if we leave the Chinese unchecked, we will regret it. China is sucking from us. We are becoming poorer because they are getting our wealth."
China, of course, doesn't care much for the criticism, driven as it is solely by its economic and strategic interest. Although, it is careful to disguise it as "development".
"Common development is the shared aspiration of the Chinese and African peoples. We are committed to pursuing mutually beneficial cooperation to bring the benefits of development to our peoples," the then Chinese president Hu Jintao told a delegation of leaders from 48 African nations, according the China Daily.
We are becoming poorer because China is getting our wealth: late Zambian president Michael Sata
Catching up
Compared to China, India's footprint in Africa is quite small. It is Africa's fourth largest trading partner, way behind Beijing which leads the pack. India's trade with the continent totals $72 billion; China's is $200 billion.
"The Chinese presence in Africa is increasing day by day, and I don't think we can compare India's involvement in Africa with that of China," Ruchita Beri, an Africa specialist at the Institute for Defense Studies and Analyses, told The New York Times.
The ongoing summit, though, opens a door for India to boost its engagement with the continent. It has also come at an opportune time: some Africa nations are beginning to curb Chinese influence. Grievances have been mounting against Chinese companies, from flouting safety and environment standards to engaging in unfair labour practices.
In 2013, for instance, Chad, where China had funded building of roads and public buildings, shut down China National Petroleum after the company dumped excess crude oil. That same year, Gabon withdrew an oil field permit to a Beijing-based company due to ecological concerns.
India can't afford to miss this window of opportunity.