How will other countries read BJP's victory in these elections?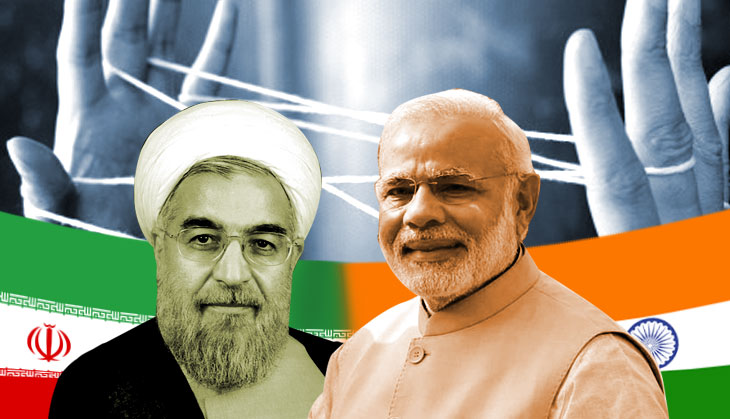 Prime Minister Narendra Modi will travel to Iran on 22 May, only three days after the morale-boosting victory in Assam and increasing vote shares in Kerala and West Bengal. In June, he will visit the United States and some other countries. His foreign hosts would, in the wake of these election results, meet a confident political leader who has overcome the political reverses of 2015.
This would maintain his already high international stature. They would also be aware that the recent state elections have shown an increasing footprint of the Bharatiya Janata Party (BJP) even if they take the Prime Minister's words - "The polls have made it clear that the BJP's ideology is being accepted, appreciated and supported by more and more people in the country" - as partly attributable to post-election rhetoric.
Read: Candidate Modi made big promises to farmers. Has PM Modi kept any?
Foreign observers of India, especially diplomats and international business houses, would have closely followed these state elections. Particularly in Bangladeshi circles, the Assam and West Bengal elections would have evoked great interest. Likewise the Tamil Nadu elections in Sri Lanka and the Assam elections in Myanmar's official circles.
Foreign observers would have correctly seen the state elections as indicative of Modi's continuing popularity as he completes two years of his present five year term. Last year he had faced an onslaught from his ideological and political foes as well as decisive defeats in the Delhi and Bihar elections. If that loosing trend had continued they would have serious doubts about the future. Hence, these elections were important even if they were being held in the states that were not where the BJP has been traditionally a major political factor.
Takeaways for foreign observers
The first is that the BJP has clearly reasserted itself, and in fact expanded its position as the dominant political force in India. Apart from its control of the Central government, it is in power in the west and has spread itself to an important state in the east, it has formed a coalition government in the northern most state and is spreading its influence to the south as well. The credit for all this goes to the appeal and work of Modi.
Foreign observers would have particularly noted that Modi and his party strategists have learnt from the mistakes of the Delhi and the Bihar elections. In Assam the only state where the BJP had a likelihood of forming the next government, the local leadership was given prominence and a local person was projected as the future chief minister. Political suppleness was shown in coalition building and the election campaign was never shrill, even on controversial issues such as Bangladeshi immigration. Dhaka would have particularly noted this trend.
The minutiae of state level politics are generally of little interest to foreign observers. The exceptions are countries bordering some states. What interests them are discernible national trends and lessons that can be drawn from them.
One broad lesson is that the Congress party is in deep distress. Nothing seems to be working for it. Except for being a minor player in the Bihar coalition, the Congress has nothing to show for itself after the disaster of 2014. If over the last two years foreign observers would have felt that Rahul Gandhi may show dynamism at last, that hope would have receded further with these elections. This would add to Modi being seen as a durable leader.
Also read: BJP's lone victory underplays the party's impact on Kerala
The real interest would be to assess, even at this stage, if these elections hold any indications for the main test that would come in 2019. That of course is far away, but those who have serious long term economic and strategic interests in the country, will periodically make such assessments. For that foreign observers would wait for the signs that emerge from next year's Uttar Pradesh elections.
Modi's spectacular victory in the 2014 elections which resulted in a single party achieving a majority on its own in the Lok Sabha for the first time after the 1984 elections, was largely on account of its sweep in the Hindi-speaking states. The party got 190 of its 282 seats in these states. Of these states the most important electorally is UP, which elects 80 members to the Lok Sabha. Modi got 71 seats in UP in 2014.
UP traditionally votes along caste lines and the state's political parties lead caste formations which intrude into the minorities too. Thus Mayawati's Bahujan Samaj party represents the Scheduled Castes while Mulayam Singh Yadav's Samajwadi party represents largely the Other Backward Castes and the Minorities. The national parties the BJP and the Congress too are popular among some castes which provide their support base. Modi was able to make inroads into the caste bastions of all rival political parties and thus secure more than 40% of the vote share for the BJP. This was a decisive number in quadrangular contests.
Will Modi be able to repeat this magic in the 2017 UP assembly polls? Even if the opposition is not able to coalesce as in Bihar, will Modi's development mantra hold? And if marginal polarisation is attempted will it result in a repeat of 2014?
These are the questions that foreign observers will ask themselves even as they assess Modi's Assam victory as significant and noteworthy.
Edited by Anna Verghese
More in Catch:
Verdict 2016: BJP rising, Congress floundering, Left middling
Women in Hollywood are doing worse today than in 1998. Here's proof
West Bengal: How RSS and mysterious sadhus helped BJP improve its tally
Delhi at 45, Barmer at 47.5. What exactly is behind this scorching heat wave over north and central India?