How the Gupta brothers are hurting South African politics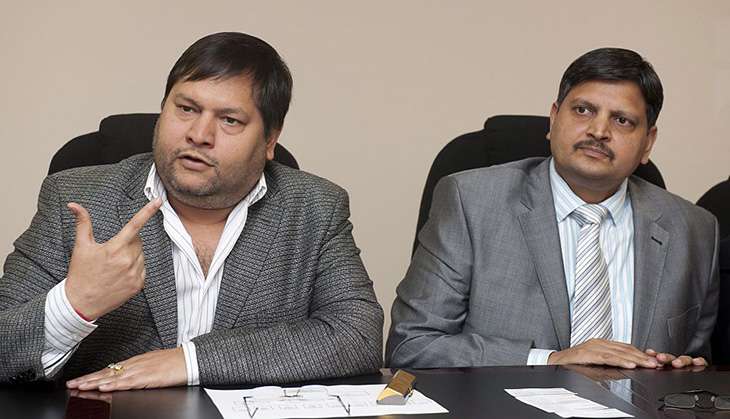 The flamboyant Gupta Brothers - Ajay, Atul and Rajesh Gupta - who are among the richest business families in South Africa and are infamous for their link with President Jacob Zuma have announced that they are selling off all their business interests in the African nation.
Multiple investigations are reportedly underway against the family even as investigators are yet to bring any formal charges against them. The opposition Democratic Alliance's David Maynier has likened the decision to 'rats abandoning the sinking ship'.
Trouble for Zuma
The allegations of cronyism and corruption levelled on Zuma, largely due to his proximity to the Gupta brothers, have snowballed into a national controversy.
Also read - Zuma scandal: Billionaire Gupta bros flee to Dubai over corruption charges
The African National Congress is reportedly on a downward slide and has performed badly in the just concluded municipal elections, with its vote share down to 54%, and the opposition winning Johannesburg.
Earlier, a move to impeach Zuma on charges of offering sweetheart deals to the Gupta family was turned down by the African National Congress.
The family, which originally hails from Saharanpur in western Uttar Pradesh, shot into limelight in 2013 when a chartered jet with 217 people flew to South Africa to attend a wedding in the Gupta family. These included Samajwadi Party heavyweights Azam Khan and Shivpal Yadav and the plane landed at the sensitive Waterkloof Airforce base.
That did not work out well for President Zuma as his decision to let the plane land their led to a furore.
The family's proximity with Zuma is well known. One of Zuma's wives, Bongi Ngema-Zuma, used to work for the Gupta family-controlled JIC Mining Services as a communications officer. His daughter Duduzile Zuma also worked as a director at Sahara Computers - their flagship firm. President's son Duduzane Zuma is also a director at one of the conglomerate's companies.
Exit stage left
The move to sell their business interests comes after months of speculation on the future of their business interests, which are under investigation not just for financial misgivings, but also on allegations of indulging in pushing political appointments largely due to their proximity to the African National Congress leadership including President Zuma.
In April, the brothers had vanished to Dubai, fuelling speculations that they left fearing investigations. The brothers had then relinquished all official positions in all companies of the groups. In April, several top politicians alleged that the Gupta brothers had reached out to them, offering plum portfolios in the South African government.
Deputy Finance Minister Mcebisi Jonas and veteran MP Vytjie Mentor have also claimed that the Guptas offered them promotions into top jobs in Zuma's cabinet provided they agreed to help promote their business interests.
"As a family, we now believe that the time is right for us to exit our shareholding of the South African businesses which we believe will benefit our existing employees and lead to further growth in the businesses," a statement by the family said. "As such, we have announced our intention to sell all of our shareholding in South Africa by the end of the year. We are already in discussions with several international prospective buyers and will soon be in a position to make further announcements," the statement added.
The assertion that the decision will benefit employees doesn't cut ice, for at least in one of the family owned enterprise, the ANN7 News channel, several employees have been fired lately
The empire
The Gupta brothers have a large stake in the African nation in many areas - including the information technology giant Sahara computers, Oakbay investments, which is a shareholder in a number of private equity investments and joint ventures, in various industries including mining (JIC Mining Services and Oakbay Resources and Energy), media (The New Age Newspaper and ANN 7 News TV which it runs with India's Essel media group), Manufacturing (VR Laser Services and Leisure with Clifftop Lodge).
Oakbay, according to its website also holds interests in the leisure and real estate, and owns a number of prime properties in locations such as Johannesburg, Durban, Cape Town and Rustenburg. The family was also instrumental in aiding the edition of Indian Premier League which was held in South Africa.
In April, auditor KPMG, exchange sponsor Sasfin, and bankers FNB and Absa snapped their ties with Oakbay, fearing reputational risks. While the group and its proximity is being probed by Hawks, a special unit of the South African police, the ANC, too, had also initiated investigations into the relationship between Zuma and the Gupta family.
There are allegations that the Guptas control several decisions of the government run companies through their relations with Zuma, and other 'friends' who serve on the boards of these companies. One example is Salim Essa, a longtime confidante of the Gupta family, is said to be connected to several top executives in state-run companies like Eskom Transnet and the department of mineral resources, according to a report on a South African website.
More in Catch - Beyond the hype: India's trade with Africa is a throwback to the Raj
PM Modi thanks South Africa for supporting India's NSG membership bid