Hawaii blocks POTUS' latest travel ban; Trump calls it 'unprecedented overreach'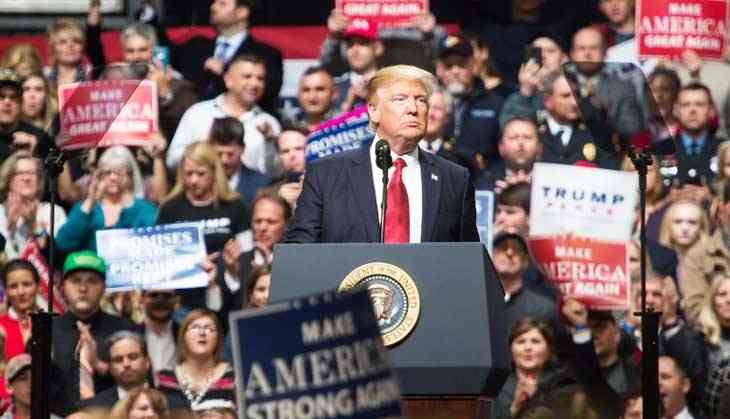 President of the United States of America Donald Trump, at the moment, is at a historic low in approval ratings for a new president.
After being sworn in on 20 January, Trump called for the first 'Muslim travel ban'. On 15 March, hours before his revised 'Travel ban' that excluded Iraq was to go into effect, a United States federal judge in Hawaii issues an emergency halt to the implementation of the order. On Thursday, president Trump was dealt another blow. A federal judge in Maryland suspended a portion of the ban preventing issuing of visas to nationals of the six countries.
The new ban - banning citizens of Iran, Libya, Syria, Somalia, Sudan and Yemen from entering the country for 90 days - had been signed on 6 March. Besides calling the order 'unprecedented overreach', Trump also said it "makes us look weak".
This 'emergency halt' is the latest in a series of legal blows to the Trump administration's attempts at fulfilling their leader's election campaign promise of temporarily banning refugees and travellers from predominantly Muslim countries in the name of national security.
Trump has moved to appeal against the federal judges emergency halt and take it "as far as it needs to go". He signed the bid seeking to overcome the problems with 'Muslim travel ban' part 1. That executive order, signed in January, caused multiple protests and massive chaos at airports across the nation. It was eventually stopped by a federal judge in the West Coast state of Washington.
The new travel ban was blocked by U.S. District Judge Derrick Watson in Hawaii. Watson said that the order did not name Islam but "a reasonable, objective observer ... would conclude that the Executive Order was issued with a purpose to disfavour a particular religion". It might be noteworthy that Watson is former president Barack Obama's appointee.
Nashville rally
On 15 March, Trump was speaking at a rally in Nashville. He called the revised executive order a "watered-down version" of the first one back in January. "We're going to fight this terrible ruling. We're going to take this as far as we need to, right up to the supreme court.
"I think we ought to go back to the first one [executive order] and go all the way … We're gonna win it, we're gonna win it."
What comes next
For now, the travel ban cannot be implemented and the ruling applies nationwide. "Defendants and all their respective officers, agents, servants, employees, and attorneys, and persons in active concert or participation with them are hereby enjoined from enforcing or implementing Sections 2 and 6 of the Executive Order across the Nation. Enforcement of these provisions in all places, including the United States, at all United States borders and ports of entry, and in the issuance of visas is prohibited, pending further orders from this Court," the ruling states.
It's a temporary restraining order (TRO) issued by the court. A further hearing must take place - for which the judge has expedited - to see whether or not the TRO should be extended.
The next step for the Trump administration to contest the Hawaii judge's ruling is to go to the United States Court of Appeals for the Ninth Circuit. For those who don't remember, three judges of the Ninth Circuit had upheld the restraining order on the first travel ban that was issued by a Washington judge.
A few other cases
This, however, isn't the only case on the matter going through the rigour of the courts on Wednesday. There have been cases in Maryland and Washington.
Maryland: National Immigration Law Center (NILC) and American Civil Liberties Union (ACLU) argued on behalf of refugee resettlement agencies for a restraining order. U.S. District Judge Theodore Chuang issued a preliminary injunction applicable nationwide.
Washington: U.S. District Judge James Robart - judge instrumental in the first ban - was asked by a group of plaintiffs applying for a visa to put the order on hold.
There is a chance that this 'narrowly crafted' revised order might pass on an appeal. "This new travel ban is different. I think the administration addressed some of the deficiencies in the due process area and there is nothing on the face of it which discriminates against Muslims," criminal defence attorney Page Pate told CNN.