Giant iceberg alert! Tourists flock to Newfoundland for 45-metre spectacle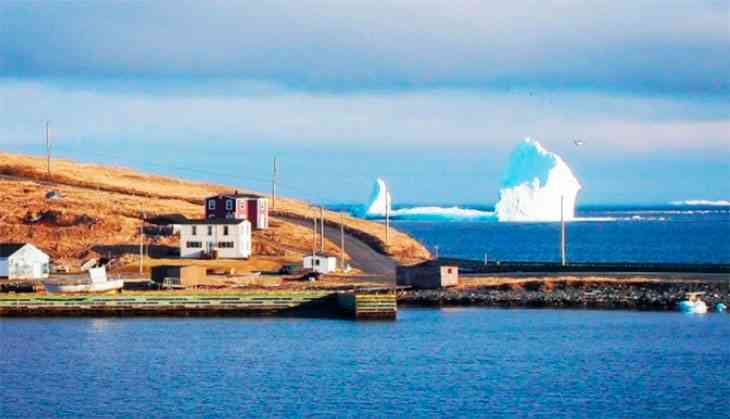 The 45-metre towering block has become an unexpected tourist attraction in the small town of Ferryland, which is about an hour south of St.John's on the east coast of Newfoundland and Labrador.
The Canadian Ice Service has classified it as "large", which means it has a height of 151-240 feet and is between 401 and 670 feet long. This makes it arguably taller than the iceberg that RMS Titanic collided within 1912.
another great shot of the infamous helicopter by another friend Gerry Whelan #newfoundland #iceberg #helicopter #canada pic.twitter.com/4TwvWOpDv2

— Sunshine Squad (@SunshineSquadNL) April 19, 2017
The iceberg season runs from spring through late summer and then refreeze in mid-September. It is the combination of currents that bring the Arctic ice southward along the Newfoundland coast and that is why it is often called, "Iceberg Alley".
As of now, this small town has become a sudden tourist spot because of this massive iceberg.
This particular iceberg is quite large and has taken up the entire backdrop of the coastline. It, therefore, offers a good opportunity to amateur and professional photographers to photograph and share it on social media.
Experts are attributing its arrival to uncommonly strong counter-clockwise winds that are drawing the icebergs south. Then there's global warming which is drifting the chunks of Greenland ice sheet to break off and float away.
Although every iceberg is different, about 90 per cent of the berg is actually waterline, according to the Navigation Center of Excellence.
Giant iceberg seen near Ferryland, off the Newfoundland coast: https://t.co/hQlnpVfNY6

(Credit: YouTube/Alick Tsui) pic.twitter.com/RqhLy2zSbg

— Yahoo Canada (@YahooCanada) April 18, 2017