Geelani's ignored memoir: Musharraf wanted a deal, I refused
Catch Team
| Updated on: 13 February 2017, 3:18 IST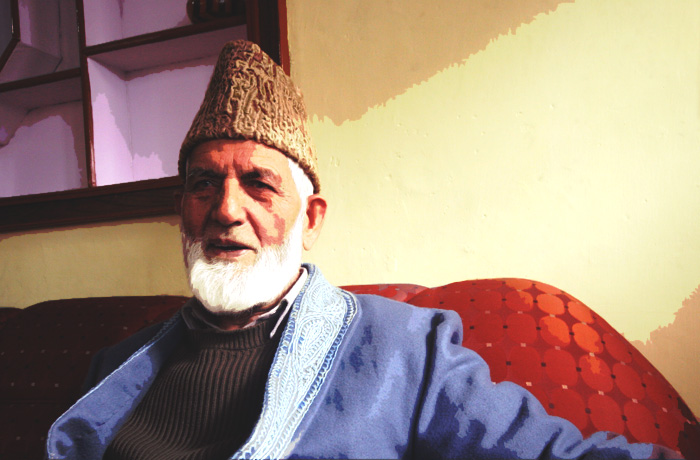 Former RAW chief Amarjit Singh Dulat's book Kashmir: The Vajpayee years has cast a rare spotlight on New Delhi's handling of Kashmir through the 1990s, laying bare some closely guarded secrets or confirming what has long been a street knowledge in the state.
Amid all the attention lavished on Dulat, another book by a key player in Kashmir's contemporary history escaped notice.
Wular Kay Kinare (On the bank of the Wular), the third volume of Hurriyat Conference leader Syed Ali Shah Geelani's memoir was released about a month before Dulat's book. And it's no less revelatory.
The separatist leader, whom Dulat calls 'Bub Jihad', or the Father of Jihad, has also written in detail about the Kashmir of the '90s, the peace process during the Atal Bihari Vajpayee years, the mistrust among separatist groups and his own uneasy relationship with Pakistan.
Here are the six major revelations made by Geelani.
1) When president Parvez Musharraf came to India in 2005, determined to push for a settlement on Kashmir within the framework of his four-point formula, he tried hard to get the hardliner Geelani on board.
At the meeting at the Pakistan High Commission in Delhi, he told Geelani: "India is an outsize country with a population of more than one billion people. It is a nuclear power and even the western powers are backing it. We have also fought three wars. Kashmiris have also sacrificed. But nothing was achieved. Now we must adopt a path of compromise and reconciliation."
He added that "George Bush and Tony Blair were with him" on the peace process with India.
Khurshid Mahmud Kasuri asked for a 'compromise' with India. When Geelani refused, Kasuri lost his temper
Geelani, however, refused to go along and told Musharraf that he was "killing his own people" by collaborating with the US.
Musharraf was lewd. He asked Geelani why he was "speaking the language of Pakistan's opposition".
Returning to Pakistan, a furious Musharraf called the press to the presidential palace and told them that "people like Geelani will hold us back". It was only on the intervention of his Kashmiri-origin information minister Sheikh Rashid that the media didn't carry the story.
2) After Musharraf, Geelani met the then Pakistani foreign minister Khurshid Mahmud Kasuri, who, too, made a case for a "compromise" with India. When Geelani stood his ground, Kasuri lost his temper and left the room.
3) Later that year, Geelani went on Hajj after the Indian government granted him permission for the pilgrimage.
In Mecca, he stayed in the same hotel as Hizb-ul-Mujahideen supremo Syed Salahuddin and Ghulam Muhammad Safi, a senior Jamaat-i-Islami leader from Baramulla who had crossed over to Pakistan in 1990.
Later, Ghulam Nabi Fai of the Kashmir American Council, who was arrested in 2011 by the US authorities on charges of being an ISI agent, joined them, as did Muhammad Ghalib, the head of the Britain-based Tehreek-i-Kashmir United Kingdom.
"We deliberated and discussed the freedom movement in Kashmir," Geelani writes. "Staying in America, Fai Sahib now appeared more liberal and diplomatic."
4) Also in Saudi Arabia, Geelani had a scheduled meeting with three unnamed "senior Pakistani officials" at a "high-rise hotel on the Arabian Sea". He had been asked by Islamabad for this meeting before he left for Hajj.
Geelani was an'unlikeable person' in the undivided Hurriyat and nobody wanted him to lead it in 1998
"They gave reasons in support of the policy of the Pakistani government (four-point formula) and urged me to back it, but I disagreed," he writes.
The head of the group, Geelani writes, was polite and respectful towards him but the other two were "bossy".
5) Geelani was an "unlikeable person" to his colleagues in the undivided Hurriyat. And none of them wanted to see him as chairman in 1998.
The leader was chosen through a draw of lots. Mirwaiz Umar Farooq, the outgoing Hurriyat chief, wrote the names of all seven executive members of the conglomerate on pieces of paper and picked up one.
"Nobody was happy when the chosen piece of paper had my name on it," Geelani writes. "In fact, after my name was announced as the new chairman, Malik Sahib (Yasin Malik) and Hubbi Sahib (Ghulam Muhammad Hubbi, a stand-in for the then jailed Abdul Gani Lone) proposed that the chairman's term should last for one year instead of two so that everybody gets a chance to become the chairman."
6) When moderate Hurriyat leader Abdul Gani Lone was assassinated at a rally in downtown Srinagar on 21 May, 2002, his son Sajjad Lone blamed Geelani. "When I went to meet the family, I was stopped at the gate by a police officer who told me it was not safe for me to go inside."