Forty years of measuring the world's cleanest air reveals human fingerprints on the atmosphere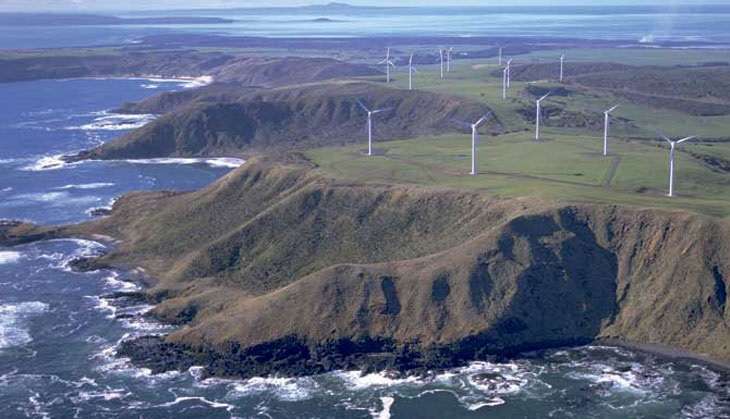 In 2016, an isolated scientific outpost in northwest Tasmania made a historic finding. The Cape Grim Baseline Air Pollution Station measured carbon dioxide levels in the atmosphere exceeding 400 parts per million.
This wasn't the first time the world has breached the symbolic climate change threshold - that honour was reached by the northern hemisphere in 2013 - but it was a first for the south.
Behind these recent findings is a history of Australia's role in global scientific advancement. The Cape Grim station has now been running for 40 years and the resulting data set chronicles the major changes in our global atmosphere.
A national response
In 1798, Matthew Flinders' encounter with Cape Grim confirmed to Europeans that Tasmania (then Van Diemen's Land) was separated from the mainland of Australia.
Fast forward to the early 1970s and a small group of innovative scientists were hatching a plan to take advantage of Cape Grim's isolation and unique geographical position. The site soon became one of the world's most significant atmospheric measurement sites, meticulously measuring and recording some of the cleanest air that can be accessed on the planet.
There were two threads to the beginnings of Cape Grim. One was the young scientists at CSIRO, keen to pioneer an emerging field of science. The second was a call from the United Nations for global governments to work together to set up a network of monitoring stations. The Australian response was championed by Bill Priestley and Bill Gibbs, the respective senior climate figureheads at CSIRO and the Bureau of Meteorology.
The scientific community decided that Cape Grim was the most appropriate site for a permanent monitoring station, thereby establishing in 1976 the Cape Grim Baseline Air Pollution Station.
The first set of instruments lived in an ex-NASA caravan. Today the station is managed by the Bureau of Meteorology and housed in a permanent building that features state-of-the-art infrastructure, including a tower fitted with important monitoring equipment. Many of the early pioneering scientists are still actively involved in this research.