Donald Trump's refusal to accept climate change could doom the world
Catch Team
| Updated on: 10 February 2017, 1:39 IST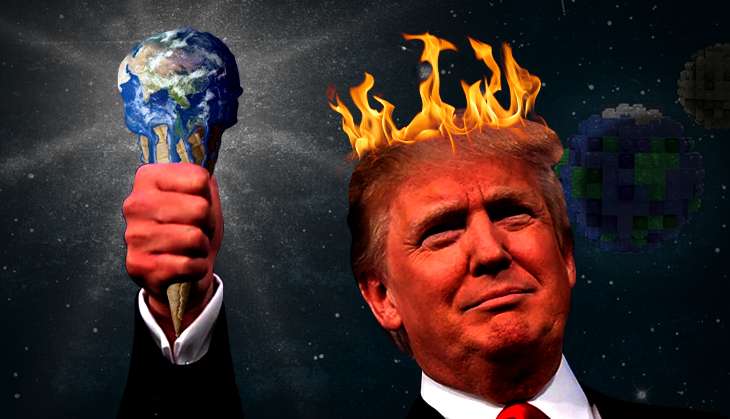 So, the Mayan 2012 prophecy was evidently off by a few years. But who can blame them? They couldn't have known that Trump would defer his candidacy for a further four years. But now that he's been chosen to be the US' next president, we can be sure that he'll leave the world in worse shape than he found it.
No, we're not talking nuclear war. We're talking about what he's going to do to the world thanks to his disdain for climate change.
Climate change what?
Trump has never made any secret of his disdain for climate change, once even tweeting that it was all a conspiracy to benefit the Chinese.
The concept of global warming was created by and for the Chinese in order to make U.S. manufacturing non-competitive.

— Donald J. Trump (@realDonaldTrump) November 6, 2012
In a tweet that preceded the one above, China pointed to wintery conditions in New York as proof that not only does global warming not exist, but that the world could use it.
And that was years before he announced his candidacy for President. One would hope things would have changed since, but they haven't.
Trump told conservative news host Bill O'Reilly that scientists were secretly laughing at the public fear about global warming and his campaign manager has even stated on record that "He believes that global warming is naturally occurring."
It's bad enough for a billionaire businessman to hold these views, but a sitting US president with such backward beliefs could severely derail the fight against climate change.
Killing the Paris Agreement
All of this spells trouble for the Paris Climate Agreement, a global pact Trump has repeatedly slated and wants to pull out of. The agreement is vital as it asks countries to adhere to standards which will prevent global warming from rising above a 2 degree centigrade limit - a limit above which scientists predicts there will be no return. The agreement was also a landmark event as it brought together almost 200 countries under a common goal.
Now, all of that is in jeopardy. While Trump cannot pull America out of the agreement before 2020 when his term ends, he can simply choose to ignore the pledge the US made to reduce emissions by 28% from 2005 levels as there is nothing in the agreement that forces a country to stick to its goals.

The US' withdrawal would be disastrous for global warming levels, as, with 13% of global carbon emissions, it is the second largest emitter of greenhouse gases after China. Worse, analysts have predicted that a Trump candidacy will increase greenhouse gas emissions rather than decrease them as Obama was doing or Hillary Clinton planned to.
The US' withdrawal from or non-participation in the agreement could jeopardise the agreement as a whole. Other leading emitters, especially China, could stop following it as well, choosing instead to focus on industrial growth. This would set the fight against global warming back majorly, leading to an acceleration of climate change.
Also read -Donald Trump + Boris Johnson = climate catastrophe
Even worse, $800 million in annual funding that the US had promised to developing nations to incentivise emission cutting is now potentially off the table. This could mean a global shift away from fighting climate change.
Think global, act local
While most of Trump's anti-global warming rhetoric has been directed at the international Paris agreement, his plans for the US also spell doom for the planet.
Trump has already tapped Myron Ebell, a leading climate change skeptic, to lead the US' Environmental Protection Agency (EPA) in its transition phase. Trump as well as Ebell have previously called for the scrapping of the EPA's Clean Power Plan, which is aimed at fighting man-made global warming by curbing carbon pollution from power plants.
While scrapping the plan altogether will prove to be a litigious and laborious process, Trump could water down EPA regulations on greenhouse gas emissions.
Further, Trump isn't very big on clean and renewable energy. He has stated his opposition to wind power, claiming wind turbines kill a million birds a year (they kill far fewer according to official estimates). Instead, Trump wants to double down on coal, a far dirtier fuel that is also less economically viable.
With the man wanting to ease regulations around the coal industry and talking big on fracking, America's environment could be in real trouble. One can only hope that the damage a Trump presidency will do to the environment is reversible once he's out of office.