Doklam: China daily calls Sushma Swaraj a liar, says no peace at cost of lost territory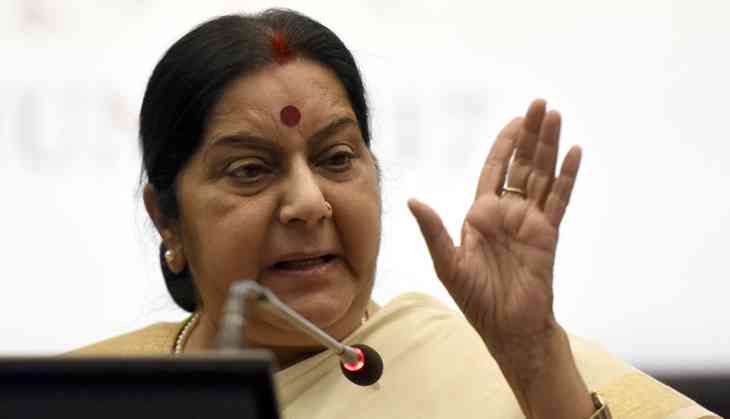 (Sonu Mehta/Hindustan Times /Getty Image)
Following a series of blistering opinion pieces on the ongoing India-China standoff in Doklam on the Sikkim-Bhutan-Tibet tri-junction, an editorial in China daily Global Times has accused Foreign Minister Sushma Swaraj of "lying to the Parliament".
It also ruled out any chance of withdrawing Chinese troops from the disputed region, going as far as to describe that notion as a "fantasy".
On 20 July, Swaraj had spoken in Parliament about why India had to "intervene at the tri-junction point to stop China's unilateral attempt to change the status quo because this would impact our security".
She had also said that India had the support of "all countries" and was "willing to talk but both sides should take back their armies to their original positions."
'Non-diplomatic means'
Interpreting these calls for "both sides to withdraw troops" as a change of "New Delhi's guilty conscience".
Warning New Delhi to not be stubborn, the editorial warns of "a potentially grave escalation of tension in the future" and that India should be "prepared for all possibilities".
Describing those possibilities, it says that "if Indian troops continue trespassing into China's territory, what Beijing may do next is to get prepared for a military confrontation against New Delhi and resolve the conflict through non-diplomatic means".
More so, it clearly states that "India will surely lose" if the standoff escalates and the "row has to be resolved through military means."
It also reminds the Indian people that "back in 1962, India underestimated China's resolution to safeguard its territory".
"We hope India won't repeat this mistake," it warns.
Comical comparisons and a stern message
"First, India's invasion of Chinese territory is a plain fact. No other country will support India's aggression. Second, India's military strength is far behind that of China," it says.
"China cannot afford to 'lose an inch' of territory. This is the sacred wish and request of the Chinese people. The Chinese government will not breach the fundamental will of the people and the PLA will not let the Chinese people down," the editorial makes clear.
Going into the logistics if by chance it does come to a show of military strength, the editorial says that the "way some Indians compare China's military strength with that of India at the border is extremely comical".
"They fail to realize that the PLA's strong capability to deploy troops can reverse the balance of power at the border within a day. The PLA's long-range combat capability can also allow its troops in remote area to provide fire support to troops at the border. China's military spending is four times that of India where its GDP volume is five times that of India," it says.
"Lastly, we must say that the later India withdraws troops, the greater the risk that it will face from a military counteraction and the more clout it will lose politically. China's military pressure on India will increase every day and India will end up losing face and be totally disgraced," is the editorial's parting shot.