Did Russia kill ISIS chief Abu Bakr al-Baghdadi?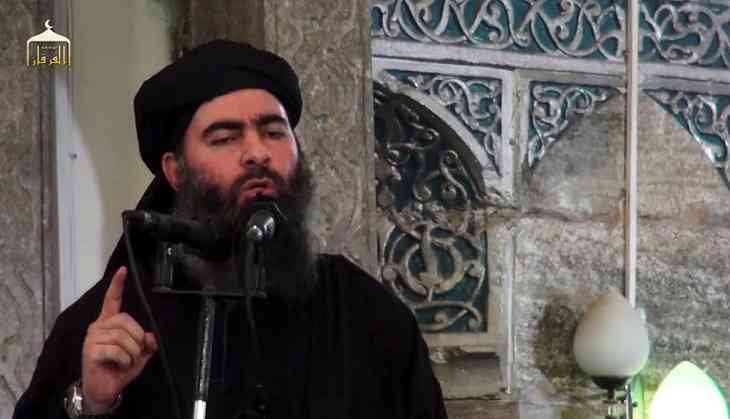 Russia's defence ministry, on Friday 16 June, claimed that an air strike in Syria on 28 May may have killed Islamic State group's supreme leader Abu Bakr al-Baghdadi along with 330 other fighters. The information about Al-Baghdadi's death was "being verified through various channels". Russia's foreign minister Sergey Lavrov said that he can't definitely confirm the death when asked at a news conference in Moscow. "I don't have a 100-percent confirmation of the information".
If confirmed, Al-Baghdadi's death would be a major blow to the terror group.
The statement posted by state-funded Sputnik news agency said that the air strikes targeted a meeting of IS leaders in the city of Raqqa. Raqqa, in Northern Syria, is the group's de-facto capital This isn't the first time that al-Baghdadi has been reported dead and may not be the last. The spokesperson for the US-led anti-Islamic State coalition, Colonel John Dorrian, says that the US cannot confirm the reports.
Russian Defence Ministry reports about the elimination of a number of leaders of ISIS in #SYRIA by Aerospace Forces https://t.co/JHxrvGPRLm

— Минобороны России (@mod_russia) June 16, 2017
"According to information that is checked through various channels, IS leader Ibrahim Abu-Bakr al-Baghdadi, who was killed as a result of the strike, was also present at the meeting," the statement added.
The planning of the air strikes, according to the military statement, began after word got out that IS leaders were gathering for a meeting to plan their exit to the South. Thereafter, the Russian military sent in drones to monitor the area. It then dispatched a group of Su-34 bombers and Su-35 fighter jets to hit the IS gathering.
The Russian military has said that up to 30 of the 330 fighters it claims to have killed are mid-level militant leaders. The meeting was organised to discuss the group's withdrawal from Raqqa. This report is crucial as it is the first time that the Russians have claimed that they have killed the IS leader. In fact, it is the first confirmation from outside of Syria. Previous media reports claimed that al-Baghdadi had been killed or critically injured by US-led coalition air strikes.
As of Friday, 16 June, an official comment is yet to come from the Syrian government.
Syrian state TV
In another report, Syrian state TV claimed that al-Baghdadi, the world's most wanted terrorist was killed on 10 June. The statement was published by Islamic State's Wilayat al-Raqqa. No official sources, other than the Syrian state TV, have confirmed the news of al-Baghdadi's demise.
Abu Bakr al-Baghdadi
Abu Bakr al-Baghdadi's birth name is Ibrahim Awad Ibrahim al-Badri and he was believed to have been born in 1971 in Samarra, just north of Baghdad. Little is known about Abu Bakr al-Baghdadi, the head of the Islamic State militant group, lesser is known about his whereabouts.
Rumours of al-Baghdadi's death did the rounds of the media last year where it said that he was 'seriously wounded' in an air strike conducted by the US-led coalition. As we now know, that was a false claim. al-Baghdadi broke a months-long silence last May when an audio tape was released urging Muslims to emigrate to the "caliphate".
Al-Baghdadi's one and only public appearance on the video were to deliver a sermon in Mosul. This was after IS had taken over the northern Iraqi city in 2014. Before that, there were only two photos of him that were authenticated.
At the beginning of the US-led invasion in 2003, al-Baghdadi was a cleric in a mosque. By 2010, things had changed and he emerged as the leader of al-Qaeda in Iraq. Al-Qaeda was one of the groups that went on to become the Islamic State of Iraq. A year after that, the United State officially labelled al-Baghdadi a 'terrorist' and offered a reward up to $25 million for any information that led to his capture or death.
Neither the Pentagon nor Iraqi or Syrian militaries have ever confirmed media claims
Although numerous media reports have speculated on al-Baghdadi's death, neither the Pentagon nor the Iraqi or Syrian militaries have ever confirmed those claims.