'Corbynmania' and the changing face of British politics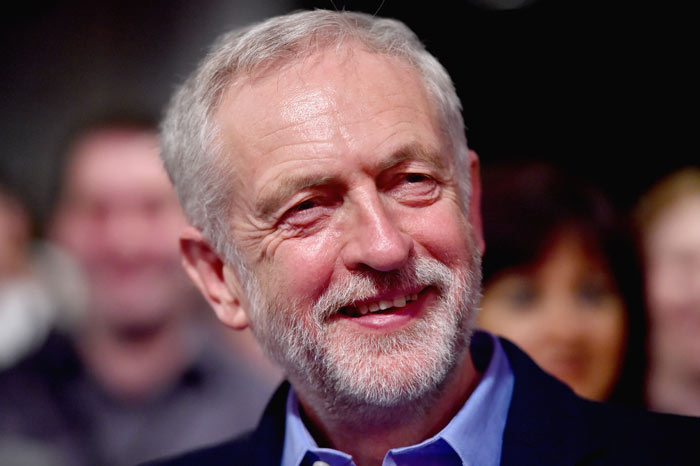 The leader
Jeremy Corbyn is 66 years old, and holds extreme left-wing views
He won 59.5% of the vote in the Labour Party\'s leadership election
Former Labour PM Tony Blair warns that Corbyn\'s leadership will lose the party the next election
His policies
Corbyn has radical economic policies like ending austerity cuts
His foreign policy is of extreme concern - for example, he calls Hezbollah and Hamas \'friends\'
He could engineer the UK\'s pull-out from the European Union
He also wants the UK to pull out of NATO and abolish its nuclear arsenal
Last week ended with a bang in British politics when some stunning news was announced: Jeremy Corbyn, a British MP from Islington North, won the election to be the next leader of the UK Labour Party.
The win came as a shock. That's because Corbyn is well known for his radical left-wing views and comments. For example, he once referred to "our friends from Hezbollah" in Parliament.
When Corbyn emerged as the No.4 contender for the 'throne' a few months ago, pollsters gave him a 100-to-1 shot.
Former Labour Prime Minister Tony Blair himself took to the Guardian to write an op-ed where he said, "If Jeremy Corbyn becomes leader, it won't be a defeat like 1983 or 2015 at the next election. It will mean a rout, possibly annihilation."
UK's media circles have gone into a complete tizzy over Corbyn's radical views on colonialism, big business and republicanism. Many criticisms have been levelled at Corbyn. Some have even called him a Communist and "a threat to national security".
The Labour establishment itself is going berserk: there are reports that several leading Labour politicians will resign from the party's leadership in Parliament.
Despite this, 'Corbynmania', as the British press has dubbed it, has swept the Labour Party. Here's how it happened.
Why is everyone going berserk?
The man is so left wing compared to the average Labour Party Joe that it's bound to make things uncomfortable. Several reports have said that Corbyn's fans see his win as proof that the party will now willy nilly renounce its centrist 'pretension' and embrace its left-wing roots.
Several opinion pieces have remarked that his ideas are extreme enough to make the party unelectable.
The BBC did an overview of what his actual policies are. It includes several major changes - from renationalising Britain's railroad system and energy companies, to abolishing tuition in universities, imposing rent control to deal with the housing problem and even the possible reopening of coal mines.
Corbyn also seeks to end Britain's austerity cuts, which had actually damaged the UK's recovery from the Great Recession.
He also proposes something called 'people's quantitative easing', in which the Bank of England would print money to invest in infrastructure projects. This won him praise from the Financial Times's Matthew Klein, who described it as a good way to get money into the hands of ordinary Brits and thus stimulate the economy.
Jeremy Corbyn won the Labour Party leadership election in a landslide, with nearly 60% of the vote
It's his foreign policy ideas that most people find 'frightening' and 'extreme'.
Corbyn has called for a 'radically different international policy', based on 'political and not military solutions'. In the Middle East, Corbyn says you have to 'talk to everybody' to secure peace.
He wants to withdraw from NATO and abolish the UK's nuclear arsenal. He's even suggested that Tony Blair should face a war crimes trial for his role in the Iraq War. Corbyn is also opposed to air strikes against ISIS in Iraq and Syria.
Notoriously, in 2009, Corbyn referred to members of Hamas and Hezbollah as 'friends', and invited Hamas representatives to speak in Parliament.
Why have Labour supporters voted Corbyn to power?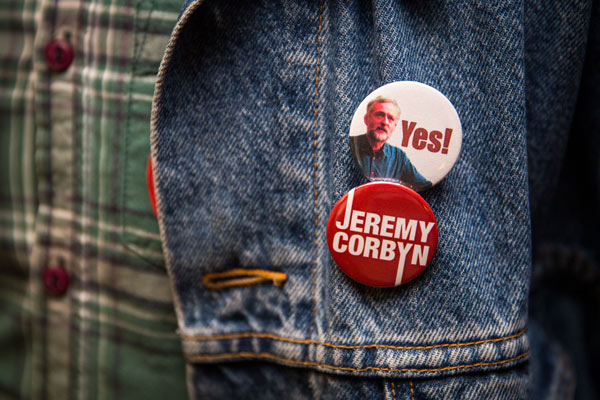 It's definitely interesting to note that it's an odd political win for Corbyn. When the Labour Party tried to move left in the last election with Ed Miliband (sometimes called "Red Ed") at the helm, they lost so badly to the Conservatives that Miliband was forced to resign.
An interim boss was then put in place while the contest to find a successor started. The three initial candidates included Andy Burnham, Yvette Cooper and Liz Kendall - all of whom hover ideologically around the centre of Labour politics. All three had been shadow ministers.
And then a fourth contender - Corbyn - jumped into the fray, literally at the last minute. Anybody wishing to enter the contest for the leadership had to be nominated, with the support of thirty-five Labour Members of Parliament.
By noon on 15 June; with hours to go before the deadline, Corbyn was still short of that figure, and it was not until 11.59 am, apparently, that the final nomination for him was registered.
Just hours after the deadline, Corbyn gave a candid interview to the Guardian, in which he confessed he was surprised to be in the race at all, and said he had only agreed to try it because 'unfortunately' it was his turn to be the sacrificial left-wing fall guy. His aim, he said, was to "promote some causes and debate by doing this".
With Corbyn at the helm, the party looks like it is moving even further left. He gained 59.5% of votes in the election, leaving rivals Burnham, Cooper and Kendall in the dust with 19%, 17% and 4.5% respectively.
While the Right has been rearing its head across Europe, several left-wing parties in economically distressed countries like Greece and Spain have also surged ahead as part of a populist reaction to austerity cuts.
So far, the Labour party has been quite timid with regard to challenging Prime Minister David Cameron's spending cuts. Corbin now presents an alternative with his full-throated rejection of austerity.
This possibly proved to be an appealing vision for a lot of Labour voters, who have been frustrated with the direction their party has taken till now. Something about the Islington North MP struck a chord with Labour leadership voters in a way that his three younger, more polished, more careerist rivals patently did not.
In fact, Corbyn seems to have energised a newer wing of the Labour party. "People who joined the Labour party between 2010 and 2015 are more pro-Corbyn, and people who have signed up since 2015 are extremely pro-Corbyn," YouGov's Anthony Wells writes.
Who exactly is Jeremy Corbyn?
Corbyn is 66 and has been married three times.
BBC's Brian Wheeler put it succinctly: "To his critics, he is almost a caricature of the archetypal 'bearded leftie', an unelectable throwback to the dark days of the 1980s, when Labour valued ideological purity more than winning power.
"But to his army of supporters, he is the only honest man left in politics, someone who can inspire a new generation of activists, and make them believe that there is an alternative to the neo-liberal Thatcherite consensus that has let them down so badly."
Corbyn has been ever present at demonstrations and marches, has been on many committees and has even been called 'a champion with a megaphone'. His politics is based on older socialist principles that the Labour Party once represented before it marched toward the right under Tony Blair and Gordon Brown.
He always insists he doesn't do personality politics, and has never tried to cultivate a following among MPs - something which makes him a rarity among politicians. His frugality is also legendary - he had the lowest expenses claims of all MPs.
Corbyn is a vegetarian and has won the 'Parliamentary Beard of the Year' award four times
"Well, I don't spend a lot of money, I lead a very normal life, I ride a bicycle and I don't have a car," he told the Guardian earlier this year.
He's always been vehemently opposed to the monarchy, privatisation, nuclear weapons and the Iraq war and been a staunch supporter of trade unions, Palestine and Irish unity.
Corbyn has written a weekly column in the Communist-leaning Morning Star for more than a decade.
He is a vegetarian and abstains from alcohol entirely. He's also won Beard of the Year in Parliament no less than four times. No, really!
"Jeremy is a saintly figure of enormous personal integrity. He is a man who lives his life according to his beliefs," former Labour MP Chris Mullin says.
How are the Conservatives reacting?
The Conservative Party is facing ridicule after it responded to Corbyn's landslide victory by warning that he is a 'threat to national security'.
The below email was sent to thousands of people on the Conservatives' mailing list within hours of his victory on Saturday.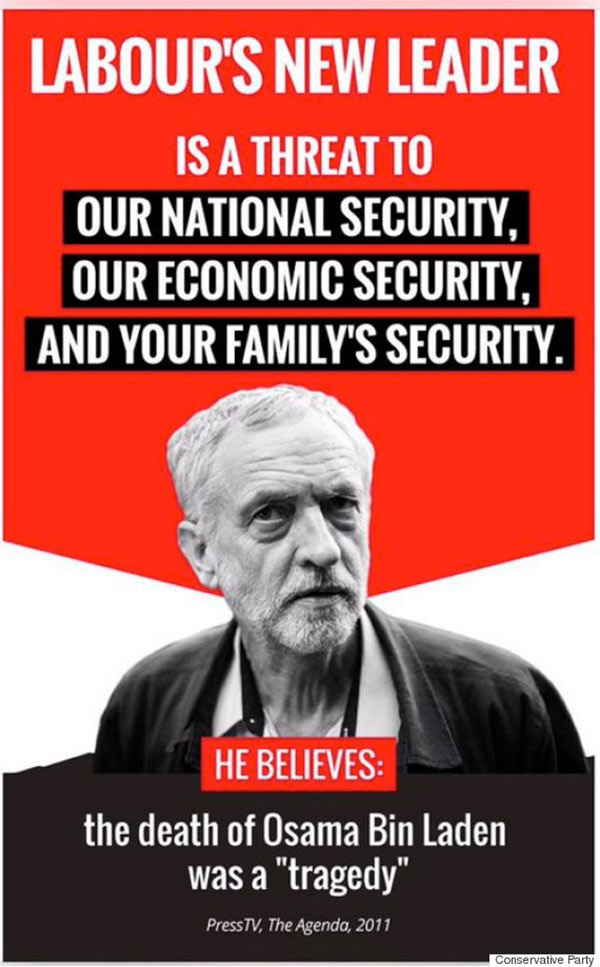 As you can see, it's not exactly a friendly congratulatory handshake. In fact, it's in ALL CAPS so you understand the severity of the situation.
The Tories also released an attack video early on 14 September, amid the chaos of Corbyn's first shadow cabinet appointments.
Since then, they've been forced to pull down the video due to a breach of copyright.
It shows black and white images of Corbyn set against the backdrop of sinister music and highlights his comments in which he described Osama bin Laden's death as a 'tragedy'.
It also picks up on him describing 'known terrorists' within the Hezbollah and Hamas groups as 'friends' before warning that Labour is 'a threat to national security'.
The video also says that Corbyn wants to 'surrender our nuclear defences' and to 'dismantle our Armed Forces'.
The video has been pulled from YouTube, but the video posted on the Conservative Party's Facebook page appears to have edited out the footage relating to the copyright dispute. It has received more than 700,000 views.
The footage in question showed him calling for NATO to be scrapped. It belongs to YouTube user Adrian Cousins, who took the video of Corbyn speaking at the Dangerous Times festival in 2014:
David Cameron tweeted this in reaction to the victory:
Despite this attack, several party members have told the press that Corbyn's elevation may have just handed them the next election on a platter.
According to Anthony Lane in The New Yorker: "If you are a member of the Conservative Party, currently governing with a healthy majority, you will solemnly pour a glass of champagne and then, midway through your first sip, start laughing so hard that bubbles come out of your nose."
Labour MP Simon Danczuk claims the Conservatives would 'lay a number of traps' for Labour.
Will the Labour Party now campaign for exiting the EU?
Veteran Labour MP Frank Field on 15 September said it was 'not impossible' that Labour could campaign for a so-called 'Brexit', and that by doing so, it may help Corbyn to win public support.
He said the public wants 'serious negotiations' and warned that the ongoing migrant and refugee crisis was changing the 'Euro debate' in the UK.
Danczuk, who has been an outspoken critic of Corbyn, has said that the new party leader must 'moderate' his views on the European Union.
Corbyn also opposes the Transatlantic Trade and Investment Partnership (TTIP) deal outright.
What's a shadow cabinet and why did Corbyn come under fire for his appointments?
A shadow cabinet is one where, if your party is our of power, you 'shadow' your rivals in government by challenging their policies in the House of Commons and constructing your own versions. By doing so, you're preparing for the day when you win an election and step into ministerial offices.
On 14 September, Corbyn revealed what he called his 'unifying' shadow cabinet and named his left-wing ally John McDonnell - the man who allegedly wanted to assassinate Margaret Thatcher - as shadow Chancellor of the Exchequer (finance minister).
Corbyn came under fire for not having women in top positions, despite the fact that more than half the posts went to women. The shadow cabinet is made up of 16 women and 15 men.
It was widely suggested that Angela Eagle would have made a fitting shadow Chancellor, but she was instead given the business brief.
Corbyn responded to his critics by accusing them of being stuck "in the 18th century", and saying that posts such as education and health, both held by women, were just as important these days.