Come catch me: Syrian children demand attention through Pokemon Go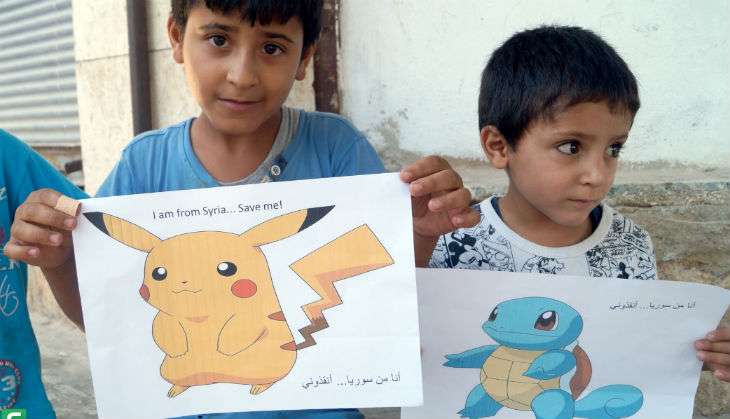 "I am a Pokemon at Idlib in Syria, would you please come and save me?"
"I am in Kafr Zeta, save me."
"I live in Kafr Nabl, the Aleppo countryside. Come catch me."
"I am in Kafrnabol in #Idlib countryside, come find me."
Come save me. Come find me. Come catch me.
These are the gut-wrenching messages written in Arabic that contrast the happy looking Pokemon they feature under. What makes them all the more troubling are the people holding up these messages - children in war-torn Syria.
Syrian #flowers... save them!!#PokemonInSyria #PokemonGO#PrayForSyria pic.twitter.com/IqohB60DyQ

— إعلام قوى الثورة (@RFS_mediaoffice) July 22, 2016
A grim message through a happy medium
Revolutionary Forces of Syria (RFS), a coalition group, mobilised little children to carry an uncomfortable reminder: You can afford to waste your lives playing Pokemon Go while they fight to live.
Also read -The advent of refugee porn. And what makes it so wrong
Carrying this message through Pokemon Go has been a genius move. A global phenomenon hogging headlines everywhere, the game has caught the urban imagination in ways reality doesn't. This social media initiative by RFS comes closest to them physically holding us by our shoulders and giving us a good shake.
Syrian children holding Pokemon photos in hopes the world will find them and save them pic.twitter.com/pjnSMwSdTn

— Teymour (@Teymour_Ashkan) July 21, 2016
As RFS Social Media Editor Abo Bakr was quoted by NBC News as saying, "We will keep trying to incite the world to stop Assad killing machine.
"We are talking about 7 or 8 years [old] children whom don't know what is Pokemon is!! Imagine their lives if there is no response, no change to policy or action taken to stop the bombing!! They are dying in different ways from the brutal and indiscriminate attacks that Assad and his allies doing every day from cold in winter, hot in summer or starved.
And after all of this, if there is no action, we can say RIP humanity."
The pictures of these children staring into the camera, sometimes lost, sometimes playful, sometimes challenging, starkly communicate what they need: the comfortable reality that you and I have traded for the augmented reality of Pokemon Go.
Children of War
According to UNICEF, a deeply disturbing total of 35,000 children are currently trapped in and around Manbij, the Syrian city recently struck by aerial bombardment.
A recent study further highlights how bad the plight of children caught in Syria's war is. Between March 2011 and January 2015, a total of 78,000 deaths were recorded, over 4,000 were children who died in air strikes.
With so many children helpless and unsafe, RFS' initiative, if nothing else, appears to be a novel effort to rehabilitate them.
#PrayForSyria
I am from #Syria come to save me!!! pic.twitter.com/lRbSlGsWrB

— إعلام قوى الثورة (@RFS_mediaoffice) July 20, 2016
"With the media spread wide for Pokemon game we decided to publish these images to highlight the suffering of the Syrian people from the bombing of the forces of order and Air-Assad to the Syrian people and besiege them," an RFS spokesperson told The Independent.
"Syrian children are victims of the war and the brutal and indiscriminate attacks that are carried out on a daily basis by regime and Russian jets," the spokesperson added. "The Syrian children are paying the price for the international inaction to stop the Assad killing machine."
The children in the pictures with their innocent faces and colourful Pokemon pictures grasped in their tiny hands at first look like they're proudly displaying their artwork. On closer inspection, however, the pictures hit one with a terrible sense of guilt.
Because had we, the privileged, not been so busy in conserving (battery), developing (games), and moving up (in Pokemon levels), we may have had the time for more humanitarian concerns. But who cares unless you're actually exposed to a certain reality, right? Hence, the PokeIntervention.
Also read - Search for Pokemon, find love instead. Say hello to PokeDate
#PokemonInSyria #PokemonGO#PrayForSyria pic.twitter.com/7CZILs8XPC

— إعلام قوى الثورة (@RFS_mediaoffice) July 22, 2016
Let's not fool ourselves here. This picture series is not going viral because we've all suddenly started caring about the children for Syria. It's going viral because it picks up on the trivialities of our lives and rubs it in our smug faces.
And for that feat, yes, it is significant.
But safety of the children is a wholly different, but just as significant, a concern.
Social media saviours
Gone are the days when social media was just a plaything for the armchair revolutionary. A lot of rescue operations, especially in the times of a natural disaster or a terror attack, have been made possible via social media lately.
Also read - Banksy just reminded us that Steve Jobs was the son of a Syrian immigrant
Before the RFS campaign, Pokemon Go was first used to highlight the horrors faced by Syrians through Saif Aldeen Tahhan's work on Facebook.
Tahhan placed basic necessities in place of Pokemon in the images that he created against the backdrop of war-ravaged Syria.
"Everyone is now searching for Pokemon, however, Syrians are searching for the basic necessities of life. Honestly, I don't think the world feels for us," Tahhan told Al Arabiya.
A portal for complaints, concerns, questions, assistance, and genuine aid, the social media of today is indeed an effective means to bring attention to global concerns like the Syrian war. But it can also backfire.
Good intentions but unforeseen consequences?
The children in the photos have been identified with their names and locations. While the pictures may have been taken with their consent, they couldn't possibly imagine the reach or the implication of their faces being plastered all over media. The means through which help can reach them can also be an open line for threat, and in that regard this ongoing photo-essay is irresponsible.
Also read - Bombed MSF centre is the 17th hospital to be attacked in Syria in 2016
Also, using unwitting children to get attention is inherently exploitative. On that account, while the images serve their purpose in making us sit up and take notice, they leave the subject vulnerable to our scrutiny. Their pain and our momentary involvement in trying to understand their pain puts the power right back in the privileged world's hands.
Syrians have more pressing concerns than catching #Pokemon. If only augmented reality could save lives here is #Syria_Pokemon.

— Syria Solidarity SSC (@SSCupdate) July 20, 2016
Come tomorrow, there will be some other distraction in place of Pokemon Go and Syria. But these pictures will remain on the internet. Who will save them then?
Besides, apart from highlighting the reality of Syria's children, the campaign offers no call to action. So yes, we'll feel sadness, guilt even, but will it translate to anything tangible? Probably not.