China-Pakistan Economic Corridor: The new great game between Russia, China, Pakistan & India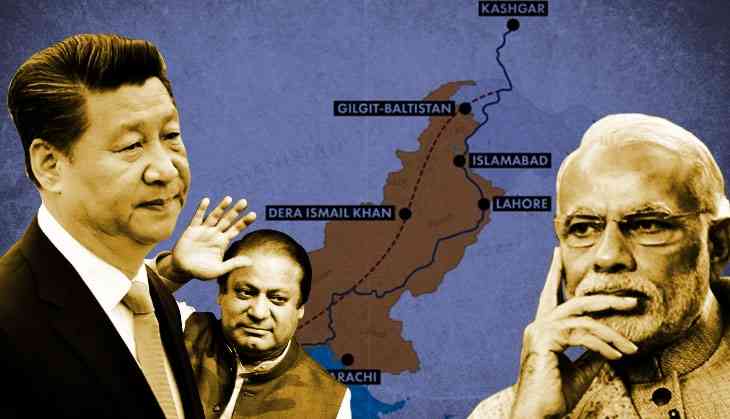 The partition of 1947 created two sovereign nations out of India and Pakistan. But the story didn't end there. The partition not only geographically divided the land, it also divided the people and shattered relationships by erecting physical and psychological walls of hatred.
As a result, hundreds and thousands of people, on both sides, became victims of communal frenzy and an arch rivalry that lives up to this day. And one of the most vital sites of conflict is Kashmir.
The Maharaja of Jammu & Kashmir, after the unwanted tribal raids, acceded to India. Essentially, as a per the instrument of accession and the position taken by the then Maharaja, J&K, Ladakh, Pakistan administered Kashmir (PaK) and Gilgit-Baltistan including Aksai Chin – was a single geographical unit.
Despite that, India and Pakistan fought three wars over the claim and counter-claim of J&K and four armed revolts – 1948 (Home Front), 1965 (National Liberation Front), 1968 (Al-Fatah) and the 1988 armed resistance that is still going on today. Several political resistance groups have been formed since.
Over time, with the change of the dynamics of warfare and the ever-present rivalry, instead of cooperation, both these now-nuclear neighbours chose military competition.
Now, besides the issue of Kashmir, there are two more burning issues that have taken centre stage in the Indo-Pak conflict – Gilgit-Baltistan's provinciality question and the China-Pakistan Economic Corridor (CPEC).
Of course, the Shia religious elite of Gilgit-Baltistan (GB) who are closer to Iran's desire to be in de-facto power, want GB to be a Shia-dominant province. However, the Sunnis mainly identify themselves with the PaK and want GB to be a separate state to make it a part of the greater Kashmir perspective.
The Buddhist population of the province is divided in affinity between China and India. Some like India because of Dalai Lama factor while others like China because they are culturally more associated with the Chinese.
These formations need to be kept in view as they may prove important in simulating cultural and social integration alongside the CPEC which happens to pass along the old Silk Route. The said corridor may enhance the land and sea route putting far-off Africa and the Gulf states within easy reach of Chinese goods and petro-money.
It will also create opportunities for Pakistan by bringing it close to Gulf-friendly countries and can also solve the problem of energy crisis. There's definitely a bifocal boost for Pakistan and China with the inclusion of Russia, but the savagery with which the US has been left out might come at the cost of strained relationships with India.
The Russia issue
The CPEC might open a new Pandora's box in the shape of Afghanistan and Mujahideen's US-sponsored Jihad against the Soviets. The Russians in 2011 had strongly condemned the NATO strike in Pakistan. The then Russian foreign minister had stated: "It is unacceptable to violate the sovereignty of a state, even when planning and carrying out counter-insurgent operations."
There are also few incidents that suggest that Russia has lost interest in India – its old friend. At the recently concluded BRICS Summit in Goa, Russia refused to support India's claim that Pakistan "sponsors terrorism".
Second, Russia doesn't want to get economically isolated. The economy of Asian countries amounts to about $18.51 trillion, out of which China contributes $11.4 trillion, while the size of Indian economy is $2.30 trillion and that of Pakistan is $284 billion.
So, if Russia joins the CPEC, it will definitely benefit the project and strengthen the Pakistan economy alongside.
China is traditionally a Pakistan ally and Russia has had normal relations with China for a while now. By getting both Russia and China on its side, Pakistan stands to gain a lot.
Islamabad, which has close ties with the US and Saudi Arabia, has now realised that neither Washington nor Riyadh really care about its interests. Pakistan has now come to see that the US and Saudi have been sending all those funds in order to prevent the country from becoming an intimidating force in South Asia and becoming financially independent.
Russia and China, meanwhile, are offering that independence as well as the prospect of becoming the most powerful country in the region.
China, navy & power projects
Meanwhile, China has deployed its naval vessels, in coordination with the Pakistan Navy, to safeguard the Gwadar Port and trade through the bilateral trade corridor.
On 16 January 2016, China handed over two ships to the Pakistan Navy for joint security along the sea route of CPEC.
India has for long expressed concerns about the Chinese Naval involvement in the Gwadar port, which is at the heart of the CPEC.
On 23 January this year it was learned that the Interior Ministry of Pakistan issued a notification to establish the Special Security Division (SSD) to protect the $55 billion CPEC and to raise nine army battalions and six civilian wings with 13,700 personnel.
China has already expressed their satisfaction over security arrangements during the sixth Joint Cooperation Committee meeting held in Beijing.
On the other side, two tracts of land, 175 acres each, have been provided to a Chinese company by the Pakistan government for the $1.57 billion Matiari-Lahore power project.
The China Electric Power Equipment and Technology Company Ltd (CET), a company owned by the State Grid Corporation of China, was given possession of the land after the National Transmission Dispatch Company Limited (NTDCL) acquired it from the landowners. One is located near Balloki, Lahore and the other is in Matiari, Hyderabad.
The Matiari-Lahore 660kV high voltage direct current transmission line will have the capacity to transmit about 4,000MW of power and is Pakistan's first mega direct current (DC) project. The power project is also a part of the CPEC.
A consortium led by Chinese firms has signed a strategic agreement to acquire 40% equity of the Pakistan Stock Exchange for $85 million, in a move aimed at mobilising funds for the $46-billion CPEC project and facilitating China's entry into the Pakistani market. The Sale and Purchase Agreement (SPA) was signed on 20 January this year.
Other plans
The CPEC will also help converge the civilizations or give flip to further divisions through small and large interests in the areas through it will pass. This, the USA might look at as an advantage and can heavily invest in some Kohistani ethnic groups surrounding the start point of the CPEC in Gilgit through Khyber Pakhtunkhwa (KPK).
Another dimension of the CPEC is that the areas from Gilgit to PaK as an alternative road is not yet clear. But if it is made it can act as natural protection to the 750 km-long LoC, 198 km working boundary and the 150 km strip of Actual Ground Position Line (AGPL) in Ladakh.
Love lost between India & Russia?
However, the bigger question is – why whould Russia lose interest in its long-time ally India? Why, in a sudden change of heart, has Russia has warmed up to Pakistan, its Cold War rival and India's biggest historical enemy?
One of the answers can be – global relations.
Russia has been very smart about global relations in terms of strategic and long-term plans. Indian officials have been very careful in choosing their words about the Pakistan-Russia friendship, as Moscow and New Delhi are currently negotiating the purchase of S-400, stealth frigates and even a second nuclear submarine from Russia.
Russia's diplomatic protege, Iran, and the Iranian ambassador to Pakistan, Mehdi Honardoost has said that they are ready to use their special influence over and relations with Pakistan and India to mediate in the Kashmir issue and help bring sustainable peace in the region. And they might start doing this by asking India to come on board for the CPEC.
New Delhi is not happy with Beijing striking the $46 billion economic corridor deal with Pakistan; with India being the regional power in South Asia, China should have asked India first.
On the other hand, Pakistan might look for 'quid pro quo' Russian involvement to motivate New Delhi for a breakthrough on Kashmir.
In such a scenario, Russia's role in South Asian politics is inevitable and can act as a game changer. A new alliance between Russia, China and Pakistan is highly likely and once formed, protecting the CPEC will be top priority for them.
And that will also send a signal to the US – that neighbours play a bigger role than outsiders in regional politics and that geographical proximity can bring peace and stability in the region and eradicate terrorism by addressing issues that lead to violence and mistrust.
Also now, Washington's willingness to mediate between India and Pakistan in a desire to still keep its influence in the region is an offer that has been outright rejected by New Delhi.
Without a doubt, Russia can play a big role in bringing the South Asian countries together and help resolve issues pertaining to them, of which, Kashmir being the most pivotal. The Kashmir issue has become a nuclear flashpoint. And Russia has done this before – it had played its part in South Asian politics as the former Soviet Union in 1965 and in the Indo-Pak wars of 1971.
Edited by Jhinuk Sen