Change in strategy: Pathankot latest example of ISI & Pak Army's new track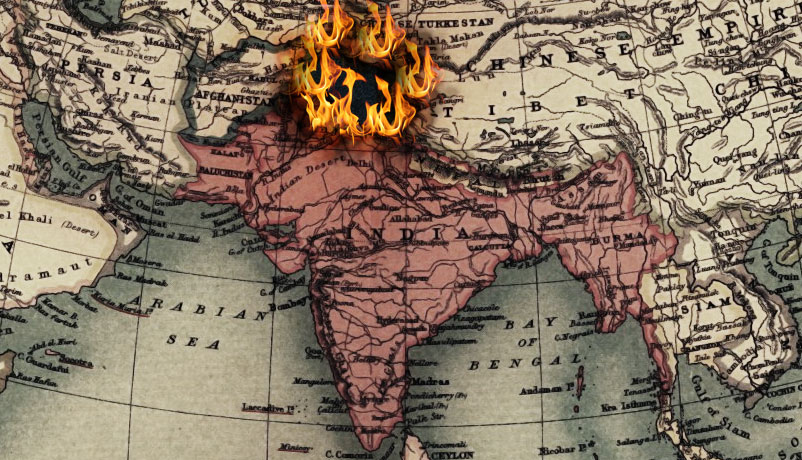 The trend
In the last three years, five attacks - in Hiranagar, Samba, Kathua, Gurdaspur and Pathankot - have followed a similar pattern
Each of these attacks has been targetted at security and defence installations
The inference
It\'s clear that Pakistan\'s ISI and army are intent on disturbing peace along the international border
This signals a change in their strategy of attack towards India
More in the story
The modus operandi of moving militants across the border, and recruiting locals
How the protests and stone-throwing incidents in Srinagar tie-up with this new tack
Five attacks - in Hiranagar, Samba, Kathua, Gurdaspur (Deenanagar) and the recent one in Pathankot - all point to the same fact: the Pakistan ISI and army are bent upon disturbing peace along the international border with India. They don't want to allow any diplomatic initiative to fructify.
Somehow, there's a feeling gaining ground in Pakistan's intelligence and army circles that India's response options are defensive and limited.
Linked to this, the Kashmir valley is witnessing a change in the strategy of Pak-based and local militants. They are trying to push the levels of violence, coupled with aggressive demonstrations and stone pelting in Srinagar. The waving of Pakistan flags and ISIS banners after Friday prayers is an ominous sign in this regard.
Read- Exclusive: India was tipped off on 25 Dec about #PathankotAttack. Even as Modi met Sharif
The change in Pakistan's offensive strategy towards India has been perceptible over the last three years. Over this period, they have targetted security and defence installations along the vulnerable international border, which Pakistan has never accepted and prefers to call a 'working' border.
The offensive has manifested itself in the escalation of border firing in the Rajouri and Poonch areas in Kashmir, the infiltration of action groups for fidayeen attacks on defence and security posts on the National Highway from Jammu to Pathankot, and using narcotic smugglers to guide terrorist infiltration.
Different approaches
The ISI and the Pakistan Army are on the same page as far as secessionist and coordinated militant operations are concerned.
For some time now, local youth in south and central Kashmir have been getting lured towards militancy by erstwhile militant cadres in their areas. These cadres have recently returned from Pakistan and are getting the youth to do odd jobs like killing constables and attacking patrolling parties. They also initiate attacks, which the security forces retaliate to, leading to collateral damage and inciting further violence.
Although this is being done covertly to activate local militant cadres in these areas, the orders are coming from Lashkar-e-Tayyeba and Jaish-e-Muhammad in Pakistan, using sophisticated internet-based communication channels.
Also read- #PathankotAttack: The framework for talks has to change drastically: G Parthasarthy
In north Kashmir, however, the Pakistan Army is trying to push in more Pakistani cadres to increase the strength of militant groups. Recent infiltration patterns have shown that hardened, well-trained and equipped LeT and JeM cadres have come into J&K.
There is every likelihood that security installations, isolated patrolling parties and logistical movements of the army and other security forces could be targetted.
Old pattern, new objective
In the light of the recent Pathankot operation and all the indicators that link it to ISI and JeM, an old pattern is getting revived with changed objectives.
During the peak of militancy in 1995-96, there was an active push to get militant cadres across the international border and into Doda and the upper reaches of Udhampur. Pakistan's objective was to strengthen the cadres of the Harkat-ul-Ansar and, later, the LeT.
The new pattern is that ISI and the Pak Army are only interested in breaching the border between Akhnoor to Pathankot, and strike at pre-planned security targets and cause maximum damage to assets.
Over the last three years, militants have breached the security cordon on the borders many times, and they've managed to cause serious collateral damage to security and army installations from Samba to Kathua.
The Pathankot offensive is very much on the pattern of the ISIS offensive in Paris, having being fully planned and rehearsed in Pakistan by JeM cadres under the supervision of the ISI and the Pak Army.
Luckily, the objective of maximum damage to security assets at the Pathankot air base could not be achieved, due to timely defensive action by security forces.
Also read: #PathankotAttack: Modi has 3 choices. He needs to pick one and stick to it
However, it doesn't seem Indian forces are learning their lessons very well. There's a lack of proper coordination in exchange of intelligence and information between the border-guarding forces, the army and the state police. That's why there seems to be a gap when it comes to joint actions to safeguard defence and security installations.
Impact of Mufti's death
While the Pak Army and the ISI would like to escalate violence both in Jammu and Kashmir with different objectives, they would also like to keep pressurising the state government with 'civil' demonstrations, stone pelting and show of flags in Srinagar. For these activities, they will bank on leaders like Syed Ali Shah Geelani and Masarat Alam.
The change in leadership forced on the state government by the demise of CM Mufti Mohammad Sayeed will now be put to test.
Also read: #PathankotAttack: are Badal regime and Punjab police to blame?
The state government needs to tackle these problems with a strong resolve, to keep the secessionist and violent forces at bay. The state police forces need to revive their old operational capabilities so that the militant cadres in known areas of south and central Kashmir do not have free access to move without fear in the valley.
The myth of the Indian response - that it will not strike no matter what the Pakistani provocation - has to be dispelled. We must build up striking and offensive capabilities and place them at strategic locations on the international border and the Line of Control, which could instantly respond to blatant Pathankot-type action.
It's imperative that aggressive and time-bound diplomacy be followed by quick and hard-hitting military response.
Also read: #Pathankot shows Pak army disapproves of peace process. Pay heed, Mr Modi