Brussels attack: 2 Jet crew injured, here's how the company responded
Catch Team
| Updated on: 14 February 2017, 6:01 IST
It turned out to be a very bad day for Jet Airways (India) Ltd. Two crew members of the airlines were injured in a bomb attack at Brussels airport in Belgium. Jet Airways, is one of the largest airlines operating out of Brussels Airport.
Back in India, bomb threats were reportedly made to 5 Jet Airways flights. Three of the five flights, all going from Delhi to various locations, have landed already.
The Delhi to Chennai flight landed in an isolated area at IGI Airport after the bomb threat while passengers on a flight from Mumbai to Dehradun were evacuated at Jolly Grant Airport in Dehradun.
Also read: Terror hits Brussels. Blasts at airport & Metro station kill 28 people
At Brussels, actor and Aam Aadmi Pary Leader, Gul Panag's husband Rishi Attari, who is a Jet Airways pilot, was trapped in an aircraft that he was piloting. Attari's flight had landed at the airport minutes before the bomb attack took place. The pilot, along with other crew members and the passengers, were trapped in the aircraft for hours before they were rescued.
The Brussels airport and metro were hit by blasts on Tuesday, killing 34 people and injuring over 130 at the time of publishing this story.
A number of Jet Airways flights were about to depart from Brussels at the time of the attack. The departure hall, where the blasts took place, was full of Indians at that time.
The departure hall at Brussels airport was full of Indians at the time of the attack
Earlier in the day, the airline said its aircraft at the airport were safe, citing first information.
As a result of the situation in Brussels, the following Jet Airways flights have been cancelled:
22 March, 2016: Flights from Brussels to Newark, Toronto, Mumbai and Delhi
22 March, 2016: Flights from Newark and Toronto to Brussels
23 March, 2016: Flights from Mumbai and Delhi to Brussels
Jet Airways guests in Brussels were shifted to a safe location by the Brussels Airport authorities.
The company has not taken a decision on resuming flights in the coming days. It will announce its decision soon.
"Jet Airways is closely monitoring the situation in Brussels and will provide further updates as information becomes available," the airline said in a statement.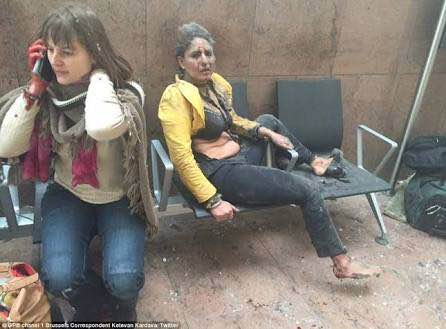 Jet Airways had started using Brussels as a hub for its flights to Europe in September 2007, making it the first Indian airline company to have full-scale operations outside the country besides state-owned Air India.
Also read: 10 things you need to know about the Brussels attacks
Four of its aircraft touch down daily at Brussels airport out of which three of the flights had arrived and another was expected to arrive, when the bombs blasts took place.
However the company had announced its plans to shift its operations from Brussels to Amsterdam from 27 March.
European security officials were expecting a major attack for weeks, and warned that ISIS was actively preparing to launch an attack in the continent. The arrest of Salah Abdeslam in Brussels last week had heightened those fears, as investigators said many people involved in the November 2015 Paris attacks that killed 130 people, were still on the loose.