Brits using Bollywood songs to annoy ISIS. Here's a playlist to help!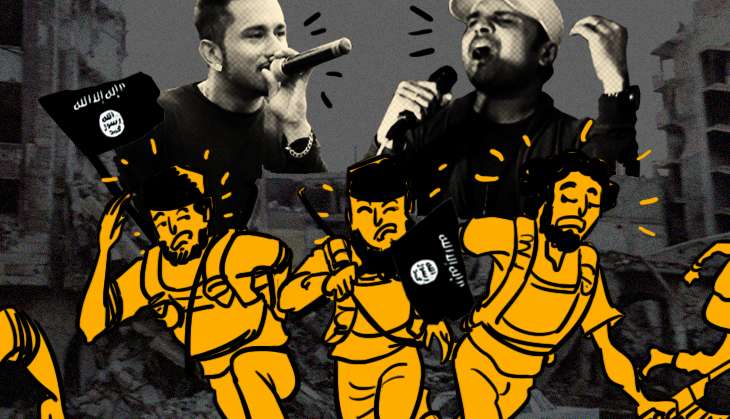 It had to happen eventually... after all, when you are at war with an organisation like ISIS, which prides itself on staying one step ahead (while still being 800-odd years behind), you have to think outside the box.
And so comes the news that British troops have taken to playing Bollywood music, in a bid to annoy Daesh fighters.
Apparently, ISIS fighters consider this music un-Islamic, and thus, get irritated upon hearing it.
This ingenious idea for psychological warfare came from a Pakistani-origin intelligence officer of the British army. But hey, doesn\'t matter who thought it up, the idea is pure genius!
In the 80-odd years that Bollywood has been a talkie, there have been enough pieces of music that could annoy ISIS. Heck, some are so terrible they could be used for psychological warfare and bring ISIS to its knees. And hey, if we can use some subliminal messaging and tacky videos too, then why not! Here\'s Catch\'s specially curated Bollywood playlist to bring Daesh to an end.
What better place to begin than with a song that literally urges you to get started?
The hero, Jitendra, and his sidekick, Mehmood, proceed to wreak havoc upon each other, and on the junior artists/paying members of whatever club they're supposed to be at. No one in the video knows quite what hit them and when ISIS's soldiers hear this blaring over the speakers, they won't either.
Message to ISIS: We're going to knock the stuffing out of you. And you're going to be very confused while we do it.
ISIS fighters are brainwashed enough to qualify as 'possessed'. And what would you do if an evil spirit possessed you? Why of course, scare the spirit out with a Tantric ritual performed by Hema Malini!
Message to ISIS: Death to America is nothing compared to death by Malini.
Four men dressed in black and carrying backpacks. An army of white tennis skirt-clad women keeping them at bay with their jhatkas. Watch out ISIS, this is Indian girl power (with an unhealthy dose of Bollywood sexism) and voices shrill enough to make even the deafest Daeshbags wince with pain.
Message to ISIS: Scared of hell? Hell hath no fury like a woman scorned.
Also read:ISIS responds to Sri Sri Ravi Shankar's peace message with photo of beheaded man
She's no less than a Bollywood star, she's an atom bomb (cue three Diwali 'atom bomb' crackers dancing along). He's no less than a Bollywood star, he's also an atom bomb (the 'atom bombs' are back!).
If you thought Diwali's atom bomb menace was the worst thing to have happened to your ears, you haven't heard this Atom bomb yet.
Message to ISIS: You brought a surface-to-air missile to an atom bomb fight!
What bigger weapon do we have than Sunny Deol? A man so violent that even the love in his song of undying love is undying only because nothing can rest in peace with this music. His ground-shaking dance moves will leave ISIS fighters running for their lives.
Message to ISIS: Be afraid of Sunny Deol. He can literally move mountains - and that's when he's happily in love!
Of course, subliminal messages don't always work. Sometimes you just have to take out your big guns, and assault the opposition's ears.
Yo Yo... 'nuff said.
What Yo Yo can do, Himesh Reshammiya can do better. He will officially sound the bugle of war about 23 seconds into the song. And not only does he officially sound the bugle of war, it sounds like he's let loose the dogs of war too.
Yo Yo and Himesh, the one-two punch. We dare you, Daesh, to survive this aural onslaught.
Some songs are so bad, they're good (see: mid-90s Govinda). Others aren't.
This will assault almost all your senses - ears, eyes, skin (which will crawl) and taste (there'll be a bad one left in your mouth).
PS: A tip of the hat to the director of the song, the great Mr Pahlaj Nihalani, our current censor board chief and protector of India's moral fibre!
This is an answer to ISIS in its own currency. If the members' own insanity gives them a reassuring feeling of strength, this will be a sobering realisation that there's always some one crazier. After all, if they can murder a song this brutally, just imagine what they'll do to you!
Sure, it's a slight cheat, since this is not a Bollywood song. But just look at it. There can be no greater call to arms, that too in the name of God.
Also read: Bizarre Jihad recruitment video: come for the wildlife, stay for the afterlife!