Blogger deaths: Islamists at war with Bangladesh's freedom once more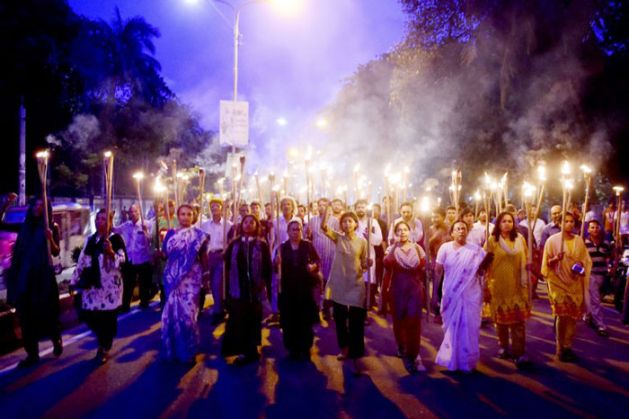 The killing
Niloy Neel was murdered in his apartment in Dhaka in broad daylight on 7 August
He is the 4th blogger to be killed in Bangladesh this year
He reported facing threats to the police. But there was no action
The battle
Bangladesh has been facing the challenge of Islamic fundamentalism since its birth
Fundamentalist groups acted as Pakistani proxies in 1971, opposing the nation\'s independence
They expanded after the death of Sheikh Mujibur Rahman in 1975
The groups behind the bloggers\' murders are the ideological heirs of the enemies of Bangladesh\'s freedom
Sheikh Hasina government is committed to fighting fundamentalists. But it has failed to contain them so far
Niloy Neel was killed in broad daylight in his own apartment on 7 August, the fourth blogger be murdered in Bangladesh in 2015. Originally Niladri Chatterjee, Niloy Neel was the name by which the 28-year-old blogger was known among his foes and friends.
Hours after the gruesome murder, a group identifying itself as Ansar al Islam claimed responsibility for it. The 'Bangladesh branch' of Al-Qaeda in Indian Sub-continent (AQIS) also claimed responsibility, just as they had done after the previous killing of bloggers.
Forensic experts found 12 wounds inflicted by sharp weapons on Niloy's body. They said the pattern of the assault was similar to those unleashed on other slain bloggers.
The killers, four in number, walked casually into the apartment complex Neel was staying in, posing as possible tenants. They completed their operation and walked away without any hindrance.
Enemies of independence are back
Liberal Bangladesh is engaged in a long drawn struggle against political Islam and a resurgent militancy. These militant outfits are the political heirs of groups which acted as Pakistan's cohorts against the independence of Bangladesh in 1971.
After being defeated during Bangladesh's war of independence, these groups resurfaced after the assassination of Sheikh Mujibur Rahman in 1975. They expanded during the subsequent military and pseudo-democratic regimes, as the opponents of country's freedom were rehabilitated under a well orchestrated plan.
The main goal of these killers and their sponsors is to destroy free thinking and progressive values and to transform Bangladesh into a theocratic state. This goes against everything the nation had achieved in 1971.
Could Niloy have been saved?
In a Facebook post in May, Niloy said he had been followed by two persons on his way back home and that the police also refused to register a general diary. On 3 August, Niloy said he had been mentioned in the list of "anti-Islam" individuals prepared by Hizb ut-Tahrir leader Shafiur Rahman Farabi. But no action was taken. Farabi, believed to be the mastermind, has recently been arrested for the murder of Avijit Roy.
Niloy desperately wanted to file a general diary try with the police after he suspected he was being followed. Instead of giving him protection, the police 'advised him to leave the country as early as possible'. His wife Asha Moni alleged that the police refused to file any complaint, passing the buck to another police station.
Niloy Neel said he was mentioned in Hizb-ut-Tahrir leader Farabi's list of 'anti-Islam' individuals
The police, however, claimed that Niloy never sought their help. That Niloy was so scared for his safety was evident when the house-owner, Shamsul Haque, disclosed that he had not known his tenant's real name who rented the flat identifying himself as Niloy Chowdhury. The landlord thought him to be a Muslim.
Fearing for his life, Asha Moni said that her husband had been looking for an opportunity to leave the country. "If there was justice in this country, then so many killings [of freethinkers] would not be taking place," she lamented.
Even though senior police officers have claimed "success" in the murder probes, there has been very little success in the investigations. Even the cases where people have been caught, the prosecution is taking place at a snail's pace.
Sheikh Hasina's response
A day after Niloy's murder, Prime Minister Sheikh Hasina warned that the government would not allow anyone to play politics over people's religious sentiments.
Hasina's government has also been pursuing the landmark war crimes trials, braving many odds. "The wave of terrorism and militancy that spread to different parts of the world, has also hit Bangladesh," she said at a function in Dhaka.
"We're trying to stop these incidents with an iron hand...Bangladesh is a non-communal country... we have zero tolerance towards terrorism," she asserted.
On the murder of bloggers by al Qaeda affiliates, she said,"Muslims are killing Muslims by carrying out suicide attacks. They are killing people and bloggers for writing against religion...Those who pollute Islam do not believe in any religion".
Ideally, such political commitment from the regime should have acted as a deterrent. But that did not happen. Free thinkers are being killed brutally one after another. If this continues, Bangladesh's liberal polity will be destroyed.
This isn't a problem for the government alone. It is a question of survival of the ideals for which millions of people laid down their lives in the war for freedom in 1971. It is of paramount importance for those who dream of a secular, democratic future for Bangladesh. Therefore, the brutality must be checked immediately.
Despite government's claims, a section of the media and civil society blame it for "lack of commitment" in acting against the murders of the secular bloggers. They also blame the police for their "inaction".
They allege that the police made little or no progress in any of the cases except the case murder of Ahmed Rajiv Haider in February 2013. This inaction has emboldened the fundamentalist killers.