Beirut Blast: Terrified father tries to save his son from explosion; spine-chilling video goes viral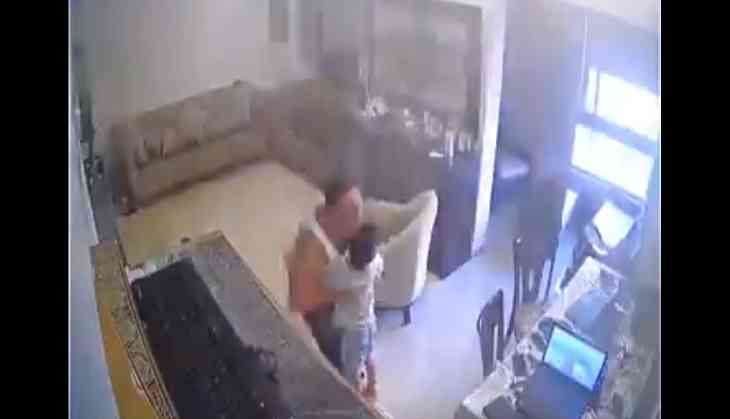 Lebanon's capital city, Beirut witnessed a massive explosion on Tuesday and killed over 70 people and left over 3,000 injured. The impact of the blast was so high that huge buildings were collapsed and sent the shock waves across the city.
Citizens have shared several videos of an explosion, which showed buildings rattling and glasses windows were broken.
You can see the mushroom cloud looks like Hiroshima & Nagasaki#Beirut #Beirut_Explosion#PrayForLebanon#لبنان pic.twitter.com/k07B4niJNO

— علی عبداللہ سندھو (@AliAbdullah1205) August 5, 2020
However, the exact reason behind the blast is yet to be ascertained. But, the state officials are assuming that the explosion happened due to the storage of highly explosive materials in a warehouse for over 6 years. Police are probing the matter.
The videos of the incident have left netizens stunned and everyone is praying for the citizens of Beirut.
One such terrifying video has surfaced the Internet which showed how a father tried to save his son after his building shaken due to the explosion.
The father was trying his best to keep his son safe.
In the CCTV footage, the man can be seen carrying his son in his arms. He was so helpless that he was running hither and thither in a bid to protect his child from being hurt.
See video:
A father doing his absolute best to protect his son from the explosion in Beirut..

Pray for Lebanon 💔pic.twitter.com/c1Sfm8zvTs

— 2020 Predictions (@2020concepts) August 4, 2020
The heart-wrenching video has left many teary-eyed.
In the wake of the incident, Lebanese President Michel Aoun declared a three-day mourning period and also announced the release of emergency funds.
Also Read: Lebanon PM Hassan Diab says guilty 'will pay price': Over 70 killed in Beirut blast