Bangladesh PM Hasina to visit India from 7-10 April, dozen MoUs expected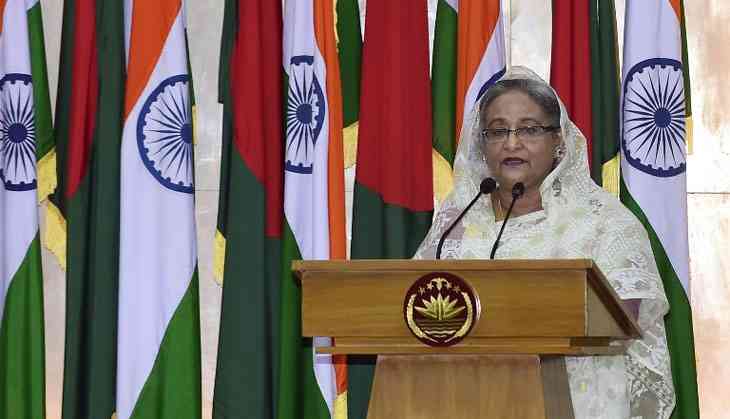 After a few hiccups and scheduling issues, Bangladeshi Prime Minister Sheikh Hasina will finally visit New Delhi from 7-10 April. Hasina was supposed to visit India in December, but the plan was shelved. However, in February, a new plan was firmed up when Foreign Secretary S Jaishankar visited Dhaka.
During her visit, India is pushing to sign a comprehensive long-term defence agreement with the important eastern neighbour, and a draft document to take forward the long pending Teesta Water Sharing issue, which Dhaka has been keen on.
The two countries are expected to sign at least a dozen MoUs when Prime Minister Narendra Modi and Sheikh Hasina meet on 8 April. That India accords highest priority to the visit is obvious in the fact that the visiting PM will stay at Rashtrapati Bhavan.
Defence agreement
China delivered two submarines to Bangladesh in November, a move that had unnerved India. Manohar Parikkar, the then-Defence Minister, had promptly gone to Dhaka to take forward the talks on the defence pact.
During the visit, Parrikar had put forth new initiatives to shore up the capacity and capabilities of the Bangladeshi armed forces.
Earlier, during the visit of Chinese President Xi Jinping in October, China signed 27 deals with Bangladesh, amounting to around $25 billion. India has also been wary of the Chinese plans to use Bangladeshi ports to house its naval weaponry, including submarines. This had caused a lot of discomfiture in New Delhi.
According to reports, India is looking for a pact which would include training, sale of military hardware and military-to-military cooperation. India may also propose to extend a credit line of $500 million, the first of its kind, for defence cooperation.
India and Bangladesh have seen close cooperation since the Awami League-led government has been in power in Dhaka. The two countries have been closely working together on issues like terrorism, with the government in Dhaka taking proactive steps against terror groups which would take refuge in Bangladesh. When Hasina met Modi in Goa during her visit to attend the BRICS-BIMSTEC summit, the latter had thanked her for condemning the attack in Uri.
However, it is still unclear if Bangladesh is ready for any comprehensive defence agreement with India. Reports in the Bangladeshi press indicate that Hasina's team may be more comfortable with an open-ended Memorandum of Understanding rather than time-bound agreements or treaties. Bangladesh is wary of upsetting the delicate balance between its ties with both India and China, and hence, is looking for a less formal understanding to begin with.
Bangladesh is heavily dependent on the Chinese when it comes to its military needs, and that could give the Indian proposal an advantage in the long run, if Dhaka wants to move away from its single-source dependence.
Bangladesh and China had signed a Defence Agreement in 2002, when the Bangladesh Nationalist Party was in power under Begum Khaleda Zia.
The BNP, currently the main Opposition party in the country, has long complained about the Awami League leadership's proximity to New Delhi. Expectedly, it has opposed any such agreement with India.
New Delhi is, meanwhile, also reportedly pushing for coordinated operations against mutually perceived threats.
Teesta water sharing pact
Even after 18 years of continued dialogue, the two countries have been unable to sign a pact to share the waters of the river Teesta, making things difficult for Prime Minister Hasina at home. The next general elections are due in January 2019.
While it is expected that there will be some forward movement on Teesta water sharing, it is unlikely that any pact on the issue will be signed during Hasina's visit. The talks to seal the treaty have been inconclusive since 2011, largely due to West Bengal's Chief Minister Mamata Banerjee's opposition.
It is understood that when Hasina comes to Delhi, the PMO may invite Banerjee to meet the Bangladeshi Prime Minister, and hope that she may soften her stand.
New Delhi may also propose a draft document on the contentious issue, which could be signed at a later stage.
Hasina's visit is one of the most important bilateral visits this year, after the visit of Abu Dhabi's Crown Prince on Republic Day. India shares its longest boundary with Bangladesh.