Bana Alabed disappears from Twitter: Why has the Syrian girl gone silent?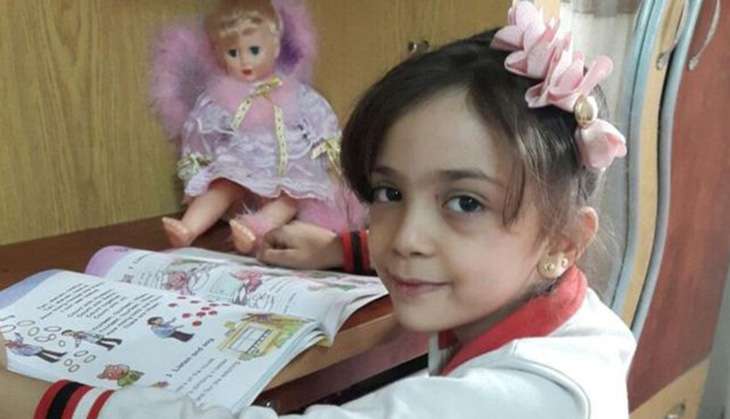 UPDATE: @AlabedBana is functional again but she's yet to tweet on it.
When the earth shakes, do we have the common sense to flee or do we tweet "#Earthquake!!"? Mostly the latter these days, isn't it?
And that's possibly because most of us have been too lucky to face any real threat to our lives. It's our disbelief that comes out on social media, the shared excitement at a potential threat, and the complete inexperience of actual danger.
It is important to point out our social media privilege in times of crisis because what makes us tweet isn't what made Bana Alabed, a 7-year-old girl from Aleppo tweet. Bana, with the help of her mother Fatemah, tweeted about death haunting her family, their bombed home, having no access to the library where she could read Harry Potter, losing friends, and much else that no child should have to see.
But she has stopped tweeting. Bana's account has been suspended and the last post, put out by Fatemah, reads, "We are sure the army is capturing us now. We will see each other another day dear world. Bye. - Fatemah."
It seems @AlabedBana account was deleted. #SyrianArmy forces reportedly advanced into their neighborhood earlier today. #BanaAlabed pic.twitter.com/sTio0BlFBH

— Mirnes Kovac (@MirnesKovac) December 4, 2016
Is Bana safe?
The young girl, often compared to Anne Frank for her resilience shown during war, may have escaped, as some accounts on Twitter suggest.
#BanaAlabed & her mam r fine & still n #aleppo. They decided 2 disappear 4 a reason. Plz respect that & let them have thier privacy. #Syria

— Zaina Erhaim (@ZainaErhaim) December 4, 2016
But the larger picture here is grim. Fatemah and Bana's cries got their 100,000 followers to notice, but none to reach out and help them flee their heavily documented reality. JK Rowling, troubled at Bana's anguish of not being able to read Potter, gifted her ebooks. But beyond comforting, Fatemah's attempts to translate sympathy for her and her daughter into tangible help didn't work.
Many on social media have criticised Fatemah for using her daughter's face in gaining sympathy. That she chose to write for a 7-year-old, an age too young for consent, and released pictures of her and her family for the world to access, hasn't gone down too well with the likes of people not threatened by bombs every day.
Bana (far right) photographed with her friends by her mother. (Photo: Twitter/AlabedBana)
Social media is a place for judgement and backlash. But it is also a powerful tool to stay alive in human memory. The truth about Aleppo and many young children like Bana is that we're quick to forget them. And Fatemah seemingly found a way to counter that.
For Bana's safety to be a concern at all for the rest of the world meant that her mother updated her reality on social media. After all, privacy is a privilege of the elite.
Fatema's social media skills gained Bana popularity enough to result in multiple fake accounts named after her. Namely https://twitter.com/alive_bana, https://twitter.com/Banaalabed1 and https://twitter.com/alabed_bana.
But is Bana real?
The other theory that has been floating on the internet is that Bana Alabed doesn't really exist. Before one entirely dismisses this out of compassion towards children suffering in Aleppo like Bana, there might be some merit in this argument.
Those who support this conspiracy theory claim that @AlabedBana is a Twitter account run by the US against Russian control of Aleppo.
#BanaAlabed and her family (as u can see they're fine) pic.twitter.com/Nh5s5W2fL9

— Navstéva يزور 🐐 (@Navsteva) December 4, 2016
Referring to one of Bana's tweets, a Global Research blog reads, "Even the 7 years old Bana Alabeb [sic] now tweets from east-Aleppo about her tragic fate under indiscriminate Russian assaults. This in perfect English and with an excellent WiFi and Internet connection as her many "White Helmets" photo attachments and her videos attest. But the whole city is devastated and in ruins she says, with phosphor bombs going off right in front of her house."
The tweet in question read: @AlabedBana: "Dear world, it's better to start 3rd world war instead of letting Russia & assad commit #HolocaustAleppo"
Bana holds up a sign that reads 'Pleas [sic] Assad, Putin, stop the bombing.' (Photo: Twitter/AlabedBana)
The writer questions who's to gain from such an account, a theory dismissed by Elizabeth Renzetti of The Globe and The Mail.
Renzetti writes, "There is a substantial number of people who believe that Bana's Twitter feed is a hoax, just as many people have denied the authenticity of Anne Frank's diary over the years. In both cases, questions of technology (how does Bana's family access WiFi? Were the annotations in Anne's diary written in ballpoint?) are spun into full-blown delusion. Conspiracy theorists look for any tiny angle to exploit their agendas.
"Syrian bloggers have responded that WiFi does, in fact, exist, and is accessible, if patchy, even in Aleppo."
She further refers to Eliot Higgins, founder of Bellingcat, who had his team look into Bana's account. Higgins notes that the account was "certainly posting images from a certain location in Aleppo, so seems genuine." He claims that the details weren't published "for her family's safety" and that he wouldn't "publish our findings until she is a refugee, or dead."
What matters more
If Bana's account is truly a conspiracy, it most definitely serves a political purpose. But does it threaten the life of a real mother and child? Perhaps not.
Some on social media make the humanist argument that perhaps it would be better for Bana to be propaganda rather than a real person caught in a horrific crisis.
I'd rather "she" have been a propaganda tool than to hear a little girl's life was lost. If you're out there, #BanaAlabed, we are praying.

— Savannah Mullins (@savannahnatasha) December 5, 2016
For if she is a real child who has in reality gone silent, we have all, by repeatedly debating over her identity, failed her. Because no matter how much we compare her innocent Twitter updates to Anne Frank's The Diary of a Young Girl, the truth is we didn't make these observations in retrospect.
The truth is that we were all constantly updated. And we chose to watch.