Antonio Guterres, the next UN chief: the right man for the refugee crisis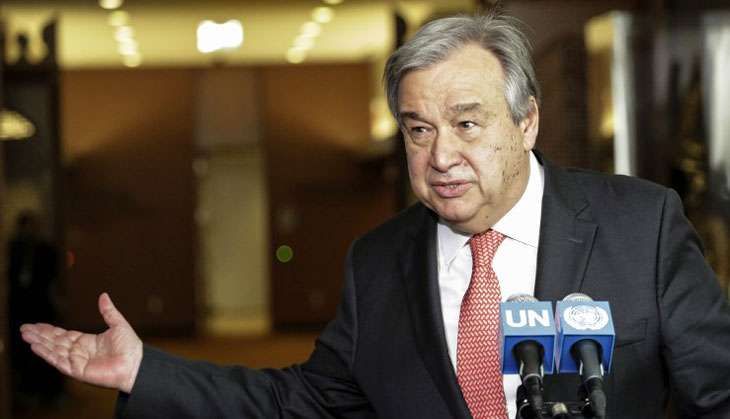 With the incumbent secretary general of the United Nations Ban Ki-moon set to step down on 31 December, the man who will step into his shoes has already been decided: former Portuguese prime minister Antonio Guterres.
It was a swift decision even though the 67-year-old has been a frontrunner for months - the leadership race usually gets dragged on well into late October. In all, he won with 13 votes in his support and two abstentions. No one voted against him.
It was also surprising that all 15 ambassadors from the security council came to an agreement because Russia has long been vying for an eastern European in the top UN job. Rightfully, since the rotation happens region-wise, it was Eastern Europe's turn to produce a secretary general.
Also read - Antonio Guterres: 5 interesting facts about the next probable United Nation's secretary general
Another reason why his win is unexpected is because he is at the forefront of human rights causes. According to the Guardian, "Both Russia and China in particular have been resistant to outspoken activists in top UN posts."
Guterres, who was UN high commissioner for refugees for a decade, from 2005 to 2015, has promised to continue being a spokesman for the downtrodden while serving in his new post. He has a reputation for repeatedly challenging richer countries to do more to help vulnerable nations.
Earlier this year, Richard Gowan, a UN expert at the European Council on Foreign Relations, said that insiders believed Guterres "could give the UN the kind of kick up the backside it needs".
"We need a surge in diplomacy for peace," Guterres said, while addressing UN ambassadors in April. "The international community spends much more time and resources managing crises than preventing them. A Secretary-General must continuously seek to contribute to reducing the number of conflicts and consequently the number of victims."
Who is Guterres?
Born in Lisbon in 1949, Guterres has been a politician for most of his life. After Portugal's fascist dictatorship was brought down in a coup in 1974, he helped set up the Socialist Party, When the part won the election in 1995, he became prime minister - a post he held till 2002.
Guterres has often been described as a very capable and pragmatic man to depend on when a crisis is looming. During the '90s, to tackle the severe heroin addiction problem in his country, he passed an unprecedented law that decriminalised the use of all drugs. The policy went a long way in cleaning up the problem.
In fact, according to VICE, Portugal's drug addiction rate is five times lower than the European Union average. Not just that, there were other positive effects: the number of new HIV infections per year have fallen by 95%.
In 2002, Guterres - who is fluent in English, Portuguese, Spanish and French - shifted gears to international politics after his party fared poorly in the elections. In 2005, after a stint at leading Socialist International - the global organisation of all socialist democratic parties - he was appointed as the UN high commissioner for refugees.
Also read - Europe's migrant crisis: why did three year old Aylan Kurdi have to die?
The decade in which he held the post was one where the number of displaced people grew to its highest level since the end of the World War II as the world was shaken by one crisis after the other.
More so, he was instrumental in trimming the fat at the agency's Geneva head office when he decided to deploy staff to crisis hotspots around the world.
Positive reception
Guterres' reception has been fairly positive across the board.
Louis Charbonneau, UN director at Human Rights Watch, said: "With Antonio Guterres, the Security Council has chosen an outspoken and effective advocate for refugees with the potential to strike a radically new tone on human rights at a time of great challenges."
In the final ballot, the highest-placed woman candidate - Irina Bokova, the head of Unesco - finished fourth. Another woman candidate, Costa Rican diplomat Christiana Figueres described the result as "bittersweet".
Bittersweet results #NextSG. Bitter: not a woman. Sweet: by far the best man in the race. Congrats Antonio Guterres! We are all with you.

— Christiana Figueres (@CFigueres) October 5, 2016
Even the 1 for 7 Billion Campaign, which has lobbied for more inclusivity, openness and meritocracy in the selection process of the new secretary-general, called Guterres' top showing "a triumph" for its goals.
"He was 'wrong' in terms of gender and region, but was widely considered to have done well in his General Assembly dialogue and in other events, with many commenting on his experience and ability to inspire," said campaign co-founder Natalie Samarasinghe.
It's almost certain that Guterres will select a woman as deputy secretary-general. He said in an interview that one of the things that is "crucial" at the male-dominated UN is "to have gender parity".
Guterres will hold the position for a long time, taking over from the soft-spoken Ban Ki-moon, who hasn't been vocal about many issues. So even though the post of general secretary is more about the perception of power, as it is more of a nominal post, it remains to see how differently Guterres will handle the UN's affairs.
More in Catch - UN chief Ban Ki-moon urges India, Pakistan to resolve disputes
Why 35,000 people died trying to cross the Mediterranean in one year