Another Florida shooting averted? Chinese student in US arrested for buying two rifles and showing troubled behaviour, will be deported from country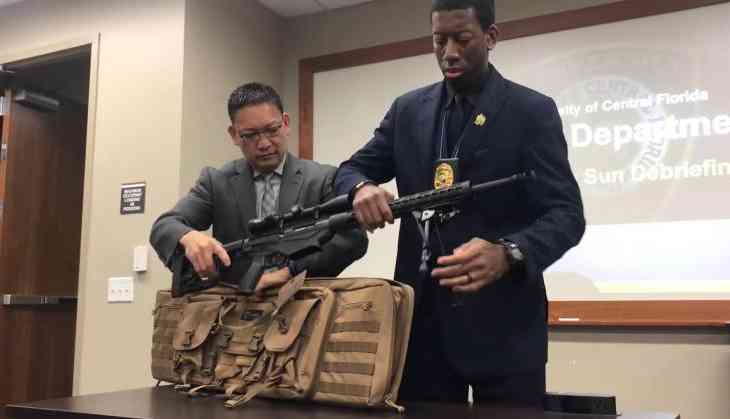 With so much going on in the United States of America like gun violence and hate crime, a Chinese student studying at Florida university in the United States will be sent back to his nation as he exhibited "disturbing behavior," and bought a weapon after coming into the radar of police.
The Police authority at Orlando school said that though they were warned by the college officials in a few months back that their student Wenliang Sun, 26 from China was a "student of concern," UCF police Chief Richard Beary said. They spoke to Sun recently after he made unspecified "unusual statements" to a counselor, police authority informed.
According to the investigation, police found that Sun owned an AR-15-style rifle and ammunition.
"A person in distress who owns a high-powered firearm, we just cannot ignore that," Beary said. "We have a duty and an obligation to ensure our people are safe every time and everywhere. I think a big disaster was about to happen and we stopped it," the chief said.
Chinese Student at Florida University, Sun Wenliang will be sent back to China for his 'disturbing behaviour'. (UCF Police Tweeted)
An unusual behavior was observed by the college officials like when he stopped attending the classes all of a sudden, colored his hair and bought an overpriced car by paying cash. The UCF Police Chief Richard Beary said these actions led them to take actions against him which raised alarms as he was already in the picture.
Since, he was not attending any classes which were very important for him to do in order to secure his visa, as he was an international student. His (student) visa was revoked and he was taken into police custody. An immigration judge ordered him that he should be sent back immediately. He will be spending his remaining time in the prison awaiting deportation. Sun is not allowed to return to the United States for the next 10 years as per the federal judge.
Close-ups of the guns they confiscated from Sun. #WFTV pic.twitter.com/QTVCVp5R1r

— Field Sutton (@FSuttonWFTV) March 29, 2018
Sun is currently at a US Immigration and Customs Enforcement holding facility in Macclenny, Florida.
Official Beary said investigators believe "we just saved a bunch of lives."
Also Read: Shark bumps, bites man on Hawaii's largest Kukio beach